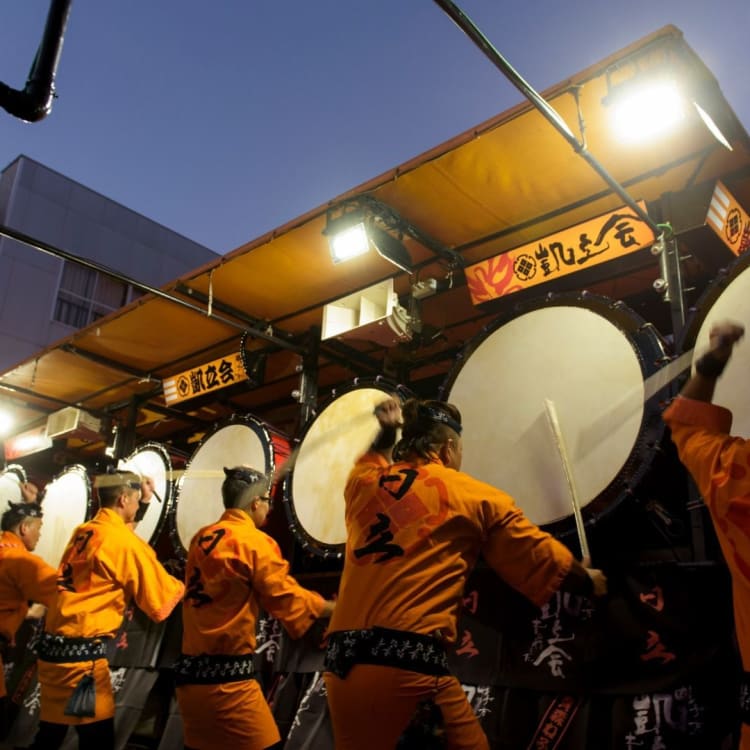 GUIDE
Experience Awesome Summer Festivals in Tohoku!
by JNTO on 05 July 2019
It has to be said that every season in Japan has its particular charm. Romantic sakura in spring; charismatic momiji (maple leaves) in autumn; and of course, powdery white snow in winter. Given all these, some people may have neglected summer in Japan. One of the main features of the Japanese summer is the celebration of countless traditional festivals, or "matsuri", across the country. If you want to experience another side of Japan, this is definitely not to be missed! Matsuri takes many different forms such as parades of floats, portable shrines, lantern festivals, or fireworks displays.
The Tohoku region of northern Honshu in particular has spectacular events that are well worth the trip. We have selected three of the best summer festivals for you. Just continue reading and find which one you like most.
Akita Kanto Matsuri (pole lantern festival) is a celebration held in Akita City related to Tanabata (literally "Seventh Night"). Tanabata, or the Star Festival, derives from the Chinese Qixi Festival. It celebrates the reunion of two lovers Orihime and Hikoboshi who became the stars, Vega and Altair.
Akita Kanto Matsuri is held from 3 to 6 August. The highlight of the festival is the extraordinary sight of performers balancing long kanto (bamboo poles) with paper lanterns attached on their palms and forehead or Shoulder,waist in a fantastic display of strength and technique. The kanto come in a range of sizes up to 12 metres long. They can weigh as much as 50 kilograms and carry as many as 46 paper lanterns illuminated with real candles.
he climax of this festival is the Night Parade. It is held every night along about 800 metres stretch of Chuo Dori street in the centre of the city. Different groups of performers will gather and line up on the street, carrying about 280 kanto poles. At a given signal, they uniformly lift up their poles and show off their acrobatic skills in a performance lasting about 90 minutes. At the end of the parade, the audience is free to chat with the performers, take pictures, and even try hoisting a kanto.
There is some paid reserved seating to watch the matsuri, but otherwise it is free to find any spot on the pavement along the performance route to watch like the locals do.
Address: Kanto Odori (junction), Akita City, Akita Prefecture
Access: From Akita Station West Exit,about 15-minute walk
Night Parade time: 6:50 p.m. - 8:50 p.m.
With a fireworks display on 5 August along the banks of the Hirosegawa River to kick off the festival,the Sendai Tanabata Matsuri is held every year from 6 to 8 August. There are Tanabata celebrations all over Japan, but this is one of the largest and most famous festivals, attracting more than 2 million people. The Sendai Tanabata Matsuri is one of the Three Great Festivals of Tohoku, together with Akita's Kanto Matsuri and Aomori's Nebuta Matsuri.
Starting from 6 August, the whole of downtown Sendai is given over to the celebrations. One of the festival's main highlights is the forest of colourful paper decorations with long streamers hanging along the downtown shopping arcades low enough to touch as you walk through. These streamers, which can be up to 5 meters long, are all handmade by local residents, schools, and community groups. They are made of washi paper and bamboo, and are suspended on long bamboo poles.
The decorations incorporate other symbolic motifs into their designs such as kimono to wish for good health; nets for good fish catches; cranes for good health and longevity; purses for fortune; and even waste receptacles for cleanliness. There are also votive strips of paper or bamboo whereby people write their wishes and hang them on bamboo branches.
Thereis plenty more going on than just the decorations. Most of the events are held at Shimin Hiroba Square, Kotodai Park and along Juzenji Dori street. Activities include live stage performances, live music, entertainment, traditional dance, and of course stalls selling delicious food. Thousands of paper cranes will be hung up outside the Fujisaki department store.
The biggest displays of the huge hanging street decorations can be found along the Ichibancho and Chuo Shopping Arcades, which you can access by a few minutes' walk from JR Sendai Station.
Address: 3-2 Ichibancho, Aoba-ku, Sendai, Miyagi Prefecture
Access: 12-minute walk from Sendai station
Festival times: 10:00 a.m. - 10:00 p.m. (6 and 7 August), 10:00 a.m. -9:00 p.m. (8 August)
Aomori Nebuta Festival is one of Japan's largest festivals, which is held from 2 to 7 August in Aomori City. the Nebuta Matsuri is one of the largest in the country, Over 2,800,000 people gather each year to attend this Nebuta Matsuri. The festival consists of parades of huge illuminated washi paper floats, accompanied by dancers wearing traditional "haneto" costumes with small bells tied on and musicians with taiko drums, flutes, and cymbals. The two dozen or so 20 giant graph lantern can be as big as 9 metres wide and 5 metres high, and are pushed along the 3-kilometre route only by manpower. These lantern floats are constructed out of paper and wire, and decorated with incredible details. They usually depict gods or demons from Japanese mythology or scenes from kabuki stories and take a whole year to prepare.
Every night during the festival, the floats are pushed out onto the streets for the procession and the accompanying haneto dancers perform a skipping dance while chanting "Rassera! Rassera!" On the last day, the parade will be held in the afternoon and in the evening and some of the floats will be paraded on boats in bay before the festival closes with a fireworks display.
Anyone can take part in the procession as a haneto dancer as long as they wear the haneto costume which is widely available for rental at many shops in the city and help you put them on. It's equally fun to watch the festival from roadside.
There are 2 types of paid seating available: road side seats and elevated viewing platform, both giving an unobstructed view of the parades. These seats can be reserved in advance or purchased on the day if there's a seat available.
Aomori Nebuta Matsuri
Address: Shinmachi shopping street, Aomori City, Aomori Prefecture
Access: 5-20 minutes' walk from JR Aomori Station
Parade times:7:10 p.m. - 9:00 p.m.(2-6 August)
1:00 p.m. - 3:00 p.m.,7:15 p.m. - 9:00 p.m.Harbor parade / Fireworks display(7 August)