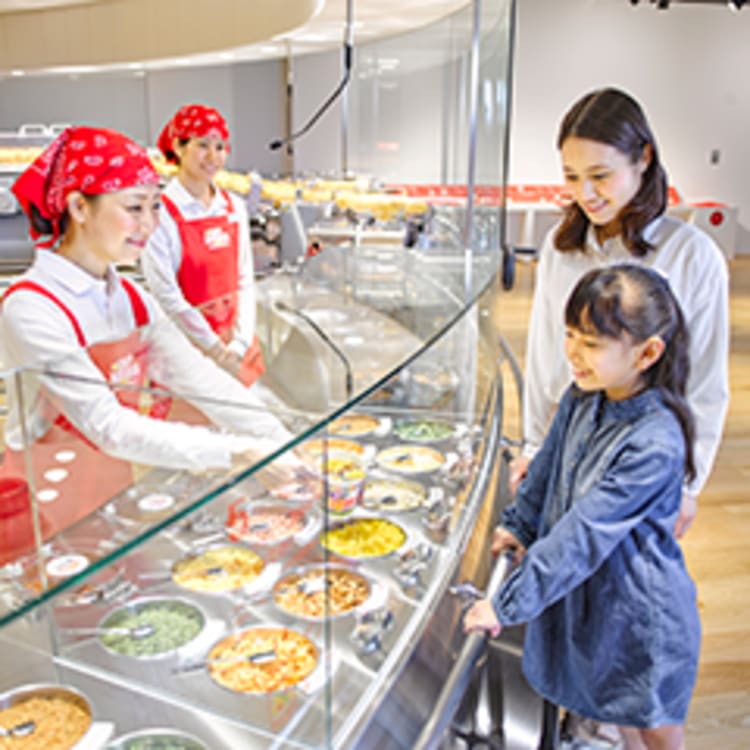 GUIDE
Family Travel: Hands-on experiences for learning and fun
by JNTO Family on 20 July 2018
Japan is not only about picturesque temples, colourful festivals, and fancy bullet trains, it's also peppered with plenty of museums and cultural attractions – perfect for any family to learn about one of the oldest yet cutting edge cultures on earth. Fancy making your own instant noodles, participating in a tea ceremony, or checking out an ISS replica? Here are some fun excursions the whole family can enjoy.
Family bonding through food
CUPNOODLE MUSEUM
Out of all of Japan's unique food inventions, one of the most popular is probably Nissin's CUPNOODLES. Created right after WWII as a means to provide affordable meals for the masses, Nissin is the first company in the world to pioneer their unique method of drying noodles that we know and love today. You can learn about its innovation and Momofuku Ando, the father of instant noodles, through lively exhibits at the CUPNOODLES MUSEUM in Osaka.
You can also get hands on and create your own ramen flavour at the MyCUPNOODLES Factory–after you've designed your cup, pick your own toppings for a unique flavour. Or make your own instant noodles from scratch at the Chicken Ramen Factory! You can also enjoy Nissin's limited edition CUPNOODLES that are only available in parts of Japan at the Tasting Room, or head to the Museum Shop for unique souvenirs. If you're in the Kanto area, there is another CUPNOODLES MUSEUM in Yokohama.
Practicalities
Address: 8-25 Masumi-cho, Ikeda-shi, Osaka 563-0041 Japan
Entry: Free entry; 300 yen per MyCupNoodles, Chicken Ramen Factory (Adult 500 yen / Child under 12 years old: 300 yen)
Access: 5-minute walk from the Masumi-cho Homen Exit, Ikeda Station, operated by Hankyu Railway. The Hankyu Tourist Pass (valid for Hankyu Railway) and the Kansai Thru Pass (valid for all private railways in Kansai) can be used for this stop.
Opening Hours: 9:30 to 16:00 daily
Tokyo Nagashi Somen experience
A perfect dish for Japan's hot summer days is the unique nagashi somen, where you try to catch the chilled noodles with your chopsticks as they slide down an icy bamboo canal! Bamboo plays a vital role in Japanese culture, and is featured in every aspect of Japanese life from architecture to art and cuisine – in this case, it's used to make utensils.
On this excursion, not only will you get to sample somen, you'll get to make your own plates, bowls, and even chopsticks for the meal out of bamboo! There's nothing more satisfying than slurping cold noodles and eating off tableware you made with your own hands. Top off your fun with suikawari, a traditional Japanese summer game where you try to split a watermelon with a stick while blindfolded.
Practicalities
Meeting Point: In front of Nagatacho GRID
Fee: Adult 5,000 yen, Child below 12 years old 2,500 yen
Access: 10 minutes from Shibuya Station via Tokyo Metro's Hanzomon Line to Nagatacho Station. It's also serviced by Yurakucho Line and Namboku Line.
Timing: 10:30 to 13:30 (by reservation only)
Cultural Expereinces
Iyashi no Sato
Perfect for families who like to explore, Iyashi no Sato is an open-air craft village with over 20 houses constructed in traditional thatched roof architecture, converted into shops, restaurants, and craft workshops. It's located in the Fuji Five Lakes region, famous for its views of Mt. Fuji.
Each shop specialises in a traditional craft, ranging from pottery to incense and silk thread weaving. Kids can try making owl figurines at a pottery workshop or participate in a creation of Kaleidoscope, make their own incense, or create accessories from Japanese crepe cloths. At the Hinomi-ya museum, you can dress up in a kimono or samurai armour and have your photos taken with Mt. Fuji as the backdrop.
If you're feeling tired, there are two houses specifically for you to relax in (and even doze off). Feeling peckish? Try some handmade stone-ground soba noodles, or houtou (flat udon), a local specialty. You can also have a meal with its spectacular view of Mt. Fuji at Wazenya Saiun.
Practicalities
Address: 2710 Nenba, Fujikawaguchiko Town, Minamitsuru-gun, Yamanashi Prefecture
Admission: Adult 350 yen, Child below 15 years old 150 yen (workshops are charged separately)
Access: From Kawaguchiko Station, it's a 20-minute bus ride on the Omni Bus Green Line (Saiko Line).
Opening hours: 9:00 to 17:00 (March-November), 9:30 to 16:30
Website (Japanese only)
Kyoto Matcha Tea Culture
One of the most quintessential Japanese experiences is chado, the matcha 'tea ceremony'. Kyoto, its birthplace, remains the best place to soak in this cultural activity. The Chado Research Center within the Urasenke Center on Horikawa Street has a two-part gallery, where educational chado-related exhibitions are mounted several times yearly. Exhibition ticket holders are welcome to take a seat in the tea service area and partake of a traditional wagashi confection and matcha tea while observing a tabletop matcha preparation procedure.
Chado ceremonies are oases of calm, where you can truly appreciate subtle flavours – a small wagashi is served before the frothy matcha to balance out the bitterness. You can either be a participant or make your own bowl of matcha under the guidance of an instructor. Chado can experienced at venues like private houses like Camellia near the Kiyomizu-dera Temple, or even at temples like Shoren-in, which offers a tea ceremony in their Kobuntei tea room overlooking a zen garden.
Practicalities
Urasenke Center
Address: 682 Teranouchi Tate-cho, Horikawa-dori, Teranouchi agaru, Kamigyo-ku, Kyoto
See map and access information at 
http://www.urasenke.or.jp/texte/ici/image/access01.pdf
Check the Chado Research Center Galleries web page, 
http://www.urasenke.or.jp/texte/organ/konnichian/gallery/index.html, for exhibition dates, open hours, and admission prices.
Shoren-in Temple
Address: 69-1 Sanjobo-cho, Awataguchi, Higashiyama-ku, Kyoto
Admission: Adult 500 yen, Students (aged 13-18) 400 yen, Child 200 yen (1,000 yen for chado ceremony)
Tea ceremony season: Twice a year: Spring from end of March till 5th May (Sat, Sun, public holiday) and Autumn (weekends for first half of November and every day for rest of November)
Access: 5-minute walk from Higashiyama Station, Tozai subway line
Opening hours: 9:00 to 17:00
Take the kids to the future
The National Museum of Emerging Science and Innovation (also known as Miraikan) hosts various educational and fun activities – including science workshops – for families, focusing on cutting edge science and research designed and overseen by active scientists.
Located in Tokyo's Odaiba, the museum is big on robotics – watch a performance by Asimo, the famous humanoid robot, or check out Android Alter. You can't miss the iconic Tsunagari, a massive globe suspended near the entrance that simulates how the Earth looks from outer space. Peppered with temporary exhibits, their permanent attractions can take up half a day.
Check out a scale model of the ISS living quarters, or exhibits on the human body, including new research on stem cells. Not to be missed is the 112-seater Dome Theater Gaia, where you can watch 3D movies explaining all sorts of science, presented in pioneering and entertaining visual effects.
The museum is not only where kids can discover all aspects of science with specifically-tailored workshops, parents can also learn about new innovations in the fields of robotics, space, and more.
Practicalities
Admission: Adult 620 yen, Child below 18 years old 210 yen
Access: Short walking distance from Fune-no Kagakukan station and Telecom Center station (Yurikamome Line); 15 minutes' walk from Tokyo Teleport station (Rinkai Line)
Opening hours: 10:00 to 17:00