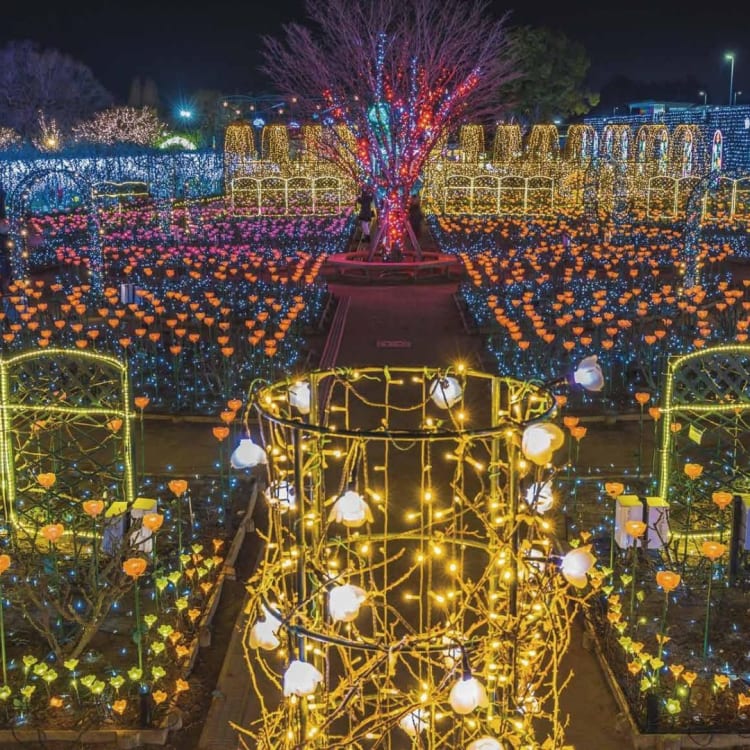 STORY
A Fantasy World of Snow and Light! Must-see Illuminations in Tohoku
by JNTO on 27 November 2019
As the year draws to a close, the Christmas decorations go up and festive cheer is in the air. There is only one thing at the foremost of our minds – winter is here!
Let's Hang out to Have Fun! – Ways to Enjoy Winter in Japan
With winter comes snow, countless visitors flock to Japan to partake in a vast array of snow activities. Adrenaline junkies may choose to head to ski resorts for some heart-pumping actions, while onsen lovers might think about braving the brief cold before settling down in a "Rotenburo" (open-air bath) surrounded by fresh snow. There could even be winter festivals, where magnificent snow and ice structures are put on display for all to be in awed at!
There are also region-specific ways that people might choose to enjoy the winter season – for example, in places such as Akita Prefecture, igloo-like snow houses known as "Kamakura" are built at various locations, where each structure houses an altar that is dedicated to Suijin, the Shinto god of water. Visitors may be invited into each Kamakura to snack on rice cakes and rice wine, and as a form of appreciation they give an offering at the altar.
ILLUMINATION - A galaxy of light amidst fresh snowfall
Another popular attraction that has become a staple during the frostier season is winter illuminations. Winter illuminations vary greatly in scale – some are small and intimate, that passers-by can briefly appreciate while walking past; others are full of grandeur and boast hundreds of thousands of lights, drawing thousands of visitors from afar who are looking to be bedazzled.
While winter illuminations have become a common sight across Japan, the Tohoku region (Northeast Japan) is worth noting of for those seeking the complete winter experience. Snow here starts to fall from end-November onwards, so the powder snow makes it suitable for winter sports,onsen, winter festivals, and winter illuminations, all at a spot.
If that is not enough to convince you, picture this – you are walking down a pathway with a canopy of light, which looks like someone has draped a blanket of stars over the path. The landscape in the distance is a cloud of white, while fresh snow drifts down from above, creating a magical atmosphere. Does that not sound absolutely captivating?
Here are three winter illuminations that the Tohoku region offers!
Arts Towada Winter Illumination(Aomori Prefecture)
Sitting near the tip of Japan's main island of Honshu in Aomori Prefecture, Towada is a region best known for Lake Towada, which is the largest caldera lake on Honshu. The nature here has drawn many tourists to the area, but nature is not all that Towada offers.
Towada Art Centre, located in Towada City, houses an eclectic collection of contemporary art pieces which were created exclusively for the museum. Contrary to being displayed as individual exhibitions, these art pieces are cleverly matched with and fused with their surrounding environment, both in and outside the museum.
It is here, at the Art Plaza that sits outside the museum, that approximately 300,000 blue LED lights spread over its open space every December. This carpet of dazzling lights forms a breathtaking ocean of blue that somehow resembles stars and immediately pulls you into a fantasy realm, giving the Art Plaza and its exhibitions a decidedly different atmosphere from that which can be experienced in daylight.
The museum itself charges an admission fee but the illuminations are free for viewing. Consider exploring the museum at a leisurely pace in the evening hours while waiting for sundown, or enjoying a hot drink from the museum café, before you head outside with your camera in hand to immortalize the sights.
 
Arts Towada Winter Illumination 2019
Address: Nishi-sanbanchou 3, Towada, Aomori
Access: From JR Shichinohe-Towada Station, take the Towada Kankou Dentetsu Bus for about 35 minutes and get off at "Towada-shi Gendai Bijutsukan-mae".
Event Date: 6th December 2019 - 14th February 2020
Event Time: 4:30 p.m. – 9:00 p.m. daily (launching ceremony at 5:50 p.m. on the first day, 6th December 2019)
 
SENDAI PAGEANT OF STARLIGHT (Miyagi Prefecture)
Those looking for something truly romantic and whimsical would do well to turn their sights towards Sendai of Miyagi Prefecture. Easily accessible within the Sendai City area, the Pageant of Starlight lives up to its name with over 600,000 lights installed on a long line of zelkova trees.

Photo: SENDAI PAGEANT OF STARLIGHT

The lights bracket the silhouettes of the trees, branching out above the pedestrians below to form a canopy of lights resembling the sky filled with bright stars that fill ones with wonder; this long path of lights makes for a bedazzling stroll, and the busy city streets only add to the celebratory atmosphere here.
In addition to the illuminations, there are many activities and attractions that are set up expressly for the year-end festivities – booths serving hot chocolate and stews are always welcome additions to warm one up in the winter nights, while a skating rink is also set up in the area for that additional, special winter touch. There is even a parade of Santa Clauses that form a marching band with musical instruments and snazzy dance moves!
The countdown to the very first light-up is a highly anticipated event, with people readying their cameras to capture the moments of the lights coming on. If you miss it though, fret not – the lights are usually turned off for one minute three times daily, then re-light in unison at "Starlight Wink", which will guarantee you plenty of chances to experience that magical moment again.
SENDAI PAGEANT OF STARLIGHT
Address: Jozenji-Dori, Aoba, Sendai City, Miyagi
Access: From Sendai City Metro Nanboku Line Kotodai Koen Station, about 1-minute walk on foot
Date: 6th December to 31st December
Time: 5:30 p.m. – 10:00 p.m. daily (until 11:00 p.m. on Fridays, Saturdays, 22nd and 24thDecember 2019, until 0:00 a.m. on 31st December 2019)
Koiwai Winter Illumination (Iwate Prefecture)
To the lower-right of Aomori Prefecture and facing the Pacific Ocean is Iwate Prefecture. Located at the base of Mount Iwate and spreading across 3,000 hectares of land is Koiwai Farm, a popular tourist attraction which boasts over one hundred years of history.
At Koiwai Farm, visitors have a chance to interact with animals up close and try out a variety of farm activities, or even take tram rides to see more of the farm's large expanse of land. You get also get sumptuous treats, like ice-cream or omelets, made using the fresh dairy products of the farm here. The openness of the land, as well as the surrounding nature, makes Koiwai Farm a great place to refresh one's senses and get away from a city's hustle and bustle.

When nighttime falls, the lights go up, and the farm transforms into a magical spectacle to behold. The entrance alone is decorated with an estimated 50,000 LED lights! Venture past the entrance and you will come to the Welcome Tunnel – this aptly named, 20-metre tunnel is lined with glittering lights, welcoming you into the farm and making you feel as though you are entering another dimension.
Pass the entrance, most of the farm grounds are similarly decked out with multi-coloured lights that ramp up the festive feeling of winter, so those hunting for photo opportunities will have much to explore and pose with. Do try and time your visit to fall on Saturdays, as you will also be treated to stunning firework displays, lighting up the winter sky.
 
Koiwai Winter Illumination
Address: 36-1 Maruyachi, Shizukuishi, Iwate
Access: From JR Morioka Station, head to bus stop 10 and take the bus bound for "Koiwai Noujou Makiba-en" for about 40 minutes.
Date: 22nd November 2019 to 13th January 2020 (closed on 31 December 2019 and 1 January 2020)
Nighttime opening hours during illumination period: 3:30 p.m. - 8:00 p.m. daily (illumination starts from 4:00 p.m.
daily; opens until 9:00 p.m. on firework displays days), entry fee required.
※Normal daytime opening hours during illumination period: 12:00 p.m. - 3:00 p.m. daily (last entrance at 2:30 p.m.), free entry