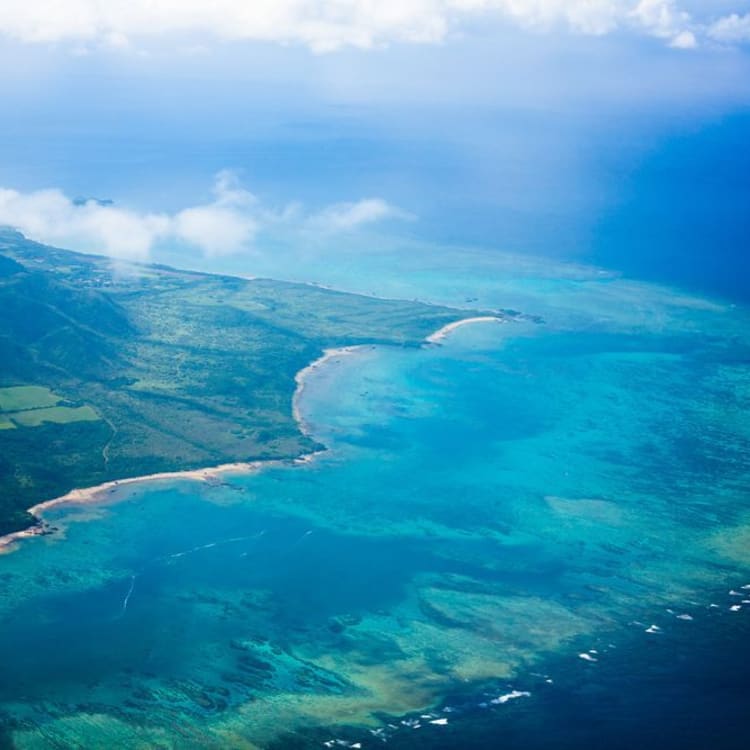 GUIDE
First time in Okinawa Where to go and what to eat!
by JNTO on 16 July 2019
We all love a holiday with a nice beach, just chilling at the resort and enjoying the sea breeze. If you ever get tired of the neighbouring beach resorts and want a unique holiday experience, Okinawa is just the place for you.
Okinawa is the southernmost prefecture of Japan, and consists of about 160 islands.
The largest of them is also called Okinawa.Although it is an island like Singapore, its climate is subtropical. That means it will be slightly colder during winter, but the temperature rarely falls below 15 Celsius. Okinawa is surrounded by what is said to be one of the most beautiful coral reefs in the world. There is a wide diversity of marine wildlife which makes it perfect for snorkelling and scuba diving. Besides white sandy beaches, beautiful Okinawa is famous for its world-class resorts, tranquil outlying islands, mesmerising traditional culture and of course, unique local food.
There are all kinds of hotels and resorts here from cosy budget hotels, to famous hotel chains and luxury resorts, so you are guaranteed to find something that suits your budget and requirements.
The must-visit Shurijo Castle, seat of power of the Ryukyu Kingdom
For 450 years until the late 19th Century, Okinawa was the independent Ryukyu Kingdom. This is why Okinawa has a unique and different culture from the rest of Japan. Shurijo Castle, as the royal palace of the Ryukyu Kingdom, is the most significant monument of Ryukyu culture. Located in the capital, Naha City, this UNESCO World Heritage Site is one of the most popular tourist destinations in Okinawa today.
The castle was almost completely destroyed in 1945 during the "Battle of Okinawa" at the end of World War 2 and was left in ruins until 1992. It was finally reconstructed and re-opened to the crowd as a national park. Due to its historical significance and unique architectural style which combines cultural elements from both China and Japan, Shurijo Castle was designated as a UNESCO World Heritage Site in 2000.
Besides touring around the castle and admiring the architecture and stonewalls, there are special events and exhibitions every year giving an insight into the fine arts and crafts of the Ryukyu Kingdom era. If you have some extra time, you could enjoy a Royal afternoon tea at the Sasunoma, an anteroom for princes used to receive officials.
As different areas have different opening hours, please check the times in advance to avoid disappointment on your trip.
Shurijo Castle Park
Address:1-2 Kinjo-cho, Shuri, Naha City, Okinawa
Access : Take the local bus from the bus stop in front of Shuri Station and get off at the Shurijo bus stop.
Eat and shop till you drop on Naha Kokusai Dori!
Okinawa has so much more to offer besides the sunny beaches and beautiful blue sea. If you love the city vibe, you have to visit Kokusai Dori (literally "International Road"). This street is Naha's main drag. It got its name from an old theatre that was built along the road after the war.
Kokusai Dori stretches for about a mile and has about 600 shops, restaurants, cafes and hotels.
Here you can shop for handmade products and accessories which are perfect for souvenirs. When you are tired or hungry, there are numerous local restaurants to satisfy your tastebuds. Many of the restaurants put on live performances so you enjoy delicious local cuisine to the accompaniment of distinctive Okinawan music. If you want to explore something more authentic, you can venture into the small sidestreets. These are less touristy and the shops are smaller than on the main thoroughfares: often just a simple booth with only one person working there.
Leaving Kokusai Dori via the Heiwa Dori shopping arcade, you reach Tsuboya Yachimun Dori, where potteries and workshops have been producing Okinawan "yachimum" pottery for hundreds of years.
Kokusaidori shopping street
Access:13 minutes by Okinawa Urban Monorail from Naha Airport. Get off at "Kenkenmae Station", 5 minutes on foot
Get close to Nature in Okinawa
Okinawa Churaumi Aquarium and Bise Fukugi Tree Street
Everyone loves an aquarium in summer where you can enjoy nature in a cool indoor environment. Okinawa Churaumi Aquarium is widely considered to be one of the largest aquarium in the world. The main attraction is "The Kuroshio Sea" Tank with its huge acrylic windows over 22 metres wide and 8 metres high. The tank houses a wide variety of marine species found in the warm waters of the Kuroshio Current such as whale sharks and Alfred mantas.
Besides aquarium exhibits, there are also interactive pools where visitors can touch live starfish and Sea cucumber.
For those who like greenery, Bise Fukugi Tree Street is a must.
It is a secret oasis away from the city and one of the last places to retain the original character of Okinawa unspoiled. The Fukugi, or Happiness Trees, are actually used as windbreak to protect local houses during typhoon season. Relax as you stroll for about 1 kilometre along the lane lined with 20,000 trees or take ride in a traditional ox-cart. However there is no public transport to Fukugi Tree Street, so the best way to get there is by car.
Address: 424 Ishikawa, Motobu, Kunigami District, Okinawa, Japan
Access: From Naha airport by expressway buses to front of Kinen Koen Mae bus stop
Operation hours:8:30 a.m. - 8:00 p.m.( from March to September), 8:30 a.m.- 6:30 p.m.(from October to February)
※ Last entry is one hour before time
※Closed on 1st Wednesday and the next day of December
Bise Fukugi Tree Street
Address: Bise, Motobu-cho, Kunigami-gun, Okinawa,
Access: From Naha airport take the Okinawa expressway, turn off at Kyoda, Drive Route 58 to destination,About 10 minutes on foot from "Okinawa Churaumi Aquarium"