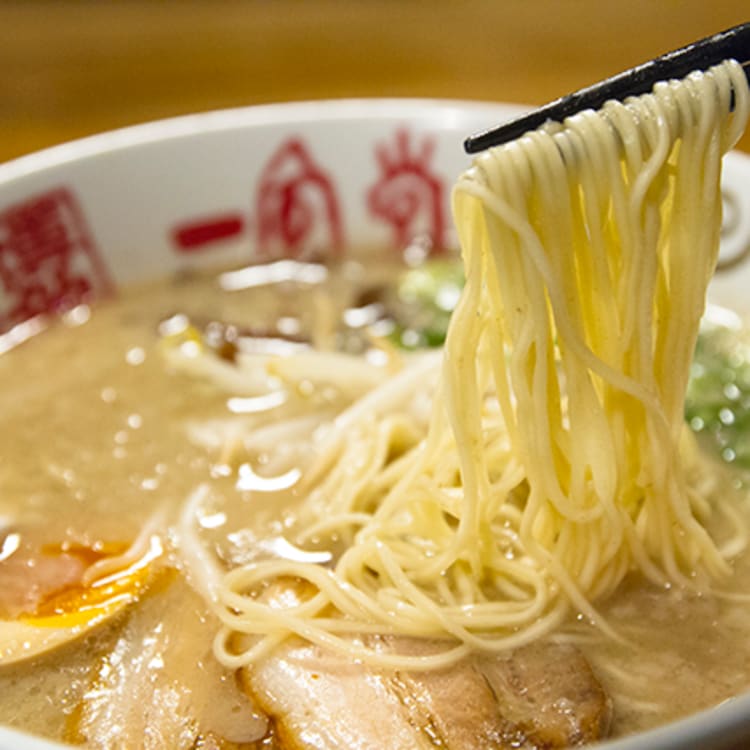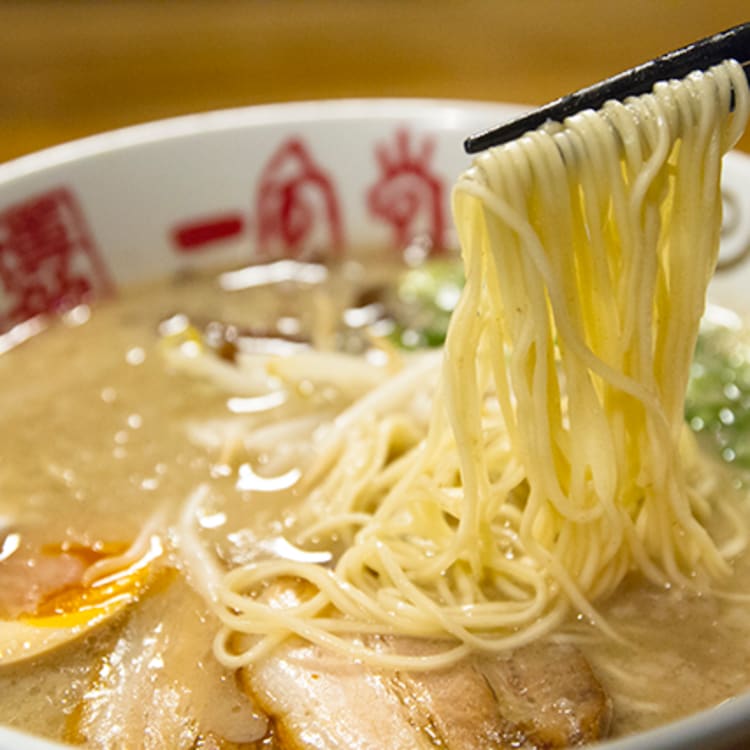 GUIDE
Fukuoka Ramen Stadium
by JNTO on 10 September 2018
Kyushu offers plenty of winter activities choose from — you can ski or snowboard in Kujyu Shinrin Koen, go trekking in Kirishima National Park, take a relaxing dip in Beppu's hot springs, or view the beautiful winter illuminations throughout Fukuoka City.
If you're in Fukuoka in winter, it's also a great time to sample one of the prefecture's most beloved dishes – Hakata-style ramen, which is renowned for its flavourful tonkotsu (pork bone) broth and thin noodles. One of the characteristics of Hakata ramen is the unique kaedama system where you can have an extra serving of noodles only if you have at least half of your broth remaining.
Throughout Kyushu, ramen typically features tonkotsu broth which is made by slow-boiling pork bones. Kurume City (also in Fukuoka Prefecture) is said to be the birthplace of tonkotsu ramen, and its popularity spread across all of Kyushu with regional varieties.
Aside from Hakata ramen, you may come across two more types of ramen Kyushu is famous for —Kumamoto ramen and Kagoshima ramen. Kumamoto ramen also has a rich tonkotsu broth, and heavily features fried garlic chips and oil to deliver its distinctive flavour. Kagoshima ramen's cloudy broth of tonkotsu is mixed with chicken stock to give it a richer flavour.
Where can you sample Hakata ramen?
If you're a ramen fan, one of the must-see destinations for the beautiful winter decorations is Canal City Hakata, Fukuoka City's most popular shopping and entertainment hub. Canal City Hakata also happens to be the perfect destination to warm yourself after a chilly winter night out — with a steaming hot bowl of ramen at Ramen Stadium.
Ramen Stadium isn't really a stadium as the name suggests, but a food court on the fifth floor of Canal City's Cinema Building. It carries not one, but eight famous ramen stalls that serves different ramen styles from across Japan — including
What Ramen Stalls Are at Ramen Stadium?
Ramen Stadium has eight ramen stalls with ramen from Hakata, Kurume, and as far as Tokyo, Kyoto, and Sapporo. You may want to start your meal with some Hakata or Kurume style ramen so you can get a taste of the variety of noodles Fukuoka Prefecture has to offer.
Here's a list of the ramen stalls at Ramen Stadium:
How do you get to the Ramen Stadium?
Ramen Stadium is located on the fifth floor of Canal City. The easiest way to get to Canal City while you're in Fukuoka City is to take the loop bus from either Hakata or Tenjin Station (100 yen). You can also opt to take a 15-20 minute walk from either station until you reach Canal City.
Date: Open year round
Time: 11am - 11pm
Entrance fee: None