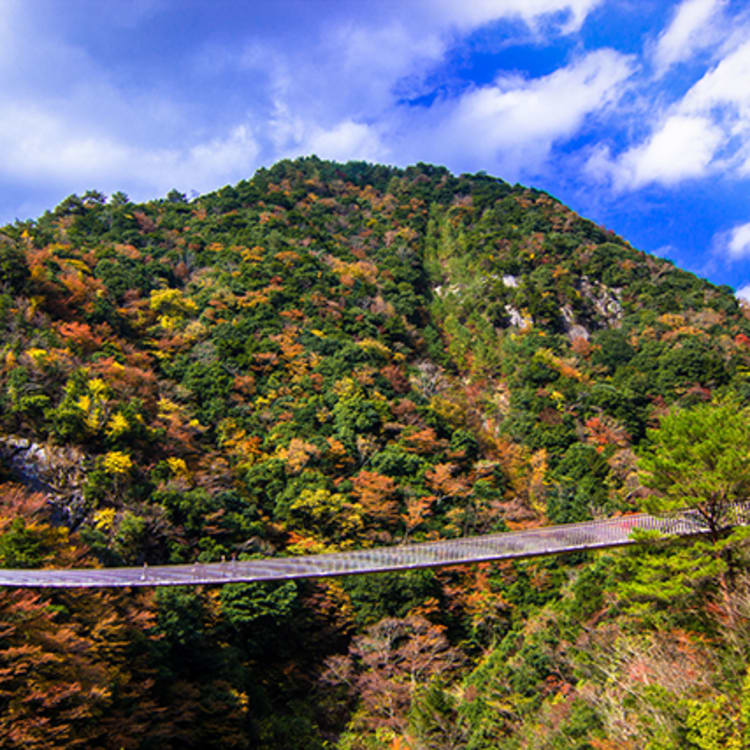 GUIDE
Gokanosho Suspension Bridges
by JNTO on 09 September 2018
Kyushu's Kumamoto Prefecture is famed for Kuma shochu, historical landmarks like Kumamoto Castle, and traditional dishes like basashi (horse sashimi). However, if you're a nature enthusiast who's looking for a secluded and scenic spot to experience Japan's sublime autumn foliage, you should definitely check out Gokanosho, a mountainous region with deep gorges.
The remote area of Gokanosho is actually the collective name of 5 villages that make up the Heike legend — Momigi, Kureko, Hagi, Nitao, and Shiibaru. The legend goes that when the Heike clan was defeated at the Battle of Dannoura by the Genji clan in 1185, the once powerful Kyoto-based clan's surviving members sought refuge and safety in the secluded Kuju Mountains and established the villages that make up modern-day Gokanosho.
To learn more about this samurai clan, there's a museum dedicated to the Heike legend at the Heike-no-Sato folk village (Entry fee: 410 yen for adult, 200 yen for children aged 6-11) that houses a museum, some traditional thatch-roofed houses, and a vermillion-lacquered theatre where traditional kagura performances (held in the first weekend of November) retell the Heike legend.
Today, most visitors come to see Gokanosho's spectacular autumn foliage – particularly from one of the many suspension bridges in the area to get an elevated view of the beautiful scenery:
Umenoki-todoro suspension bridge: A 116m-long bridge built to provide access to Umenoki Todoro Park. It is suspended 55m above the river, near the famous 70m-high Sendantodoro waterfall.
Momigi suspension bridges: A pair of bridges built to allow access across the Momigi River to Heike-no-Sato folk village. The 70m-long "upper" bridge, called the ayatori-bashi (Cat's Cradle bridge), is about 35m above the river. The 59m-long "lower" bridge, called the shakunage-bashi (Alpine Rose bridge), is about 17m above the river.
If you're intending to stay a night or two in this rural area, there are several minshukus (traditional family-run guest houses) around Gokanosho that you can stay at, including Yameme-so minshuku, Heike-so minshuku, and Sakura-so minshuku.
Local specialties of Gokanosho (and Kumamoto Prefecture)
At Heike-no-Sato, there is a restaurant that serves hand-cut soba and locally-grown mountain vegetables and mushrooms. At village minshukus around Gokanosho, you can expect locally-sourced meals of yamame (mountain trout), inoshishi (wild boar), and sika sashimi (raw deer).
If you're especially adventurous, you can try basashi (horse sashimi), Kumamoto's specialty. The lean and chewy horsemeat is often accompanied with sliced onions, garlic, and citrusy sansho berries — served with Kyushu's famous sweet soy sauce. There are several renowned restaurants in Kumamoto City serving basashi, including Kenzo and Baniku Yokocho. Kumamoto's other specialties include Kumamoto ramen (thick noodles served in pork bone soup with garlic), karashi renkon (mustard-stuffed lotus root), and taipien, a Chinese-style glass noodle dish loaded with seafood and vegetables.
Kumamoto Prefecture is known for its smooth Kuma shochu, an alcoholic beverage which is produced using a traditional distillation method that has been continuously refined over 500 years, made from local rice and groundwater from the Kuma River. Its clean and sweet taste complements almost any cuisine. You can enjoy this shochu neat, with ice, or with hot water — the preferred way to drink it in the Hitoyoshi-Kuma region (an hour south of Gokanosho) where the drink originates.
How do you get to the Gokanosho suspension bridges?
True to the Heike legend, the remote area of Gokanosho where the suspension bridges are located is definitely off the beaten track. It's so remote that you may not even get phone or GPS coverage in the area. There's no public transportation option that can take you to the suspension bridges, so that leaves just two options — renting a car or taking a tour.
Gokanosho is about 2 hours' drive from Kumamoto City; take national route 445 until you reach prefectural road 159 — a narrow mountain road that requires some skill to navigate. In autumn, you can expect this road to be turned into a one-way lane to accommodate the tour buses and vehicles entering and exiting the area.
Date: Anytime (mid October to the end of November is the best time to see the autumn foliage)
Time: Anytime
Entrance fee: Free