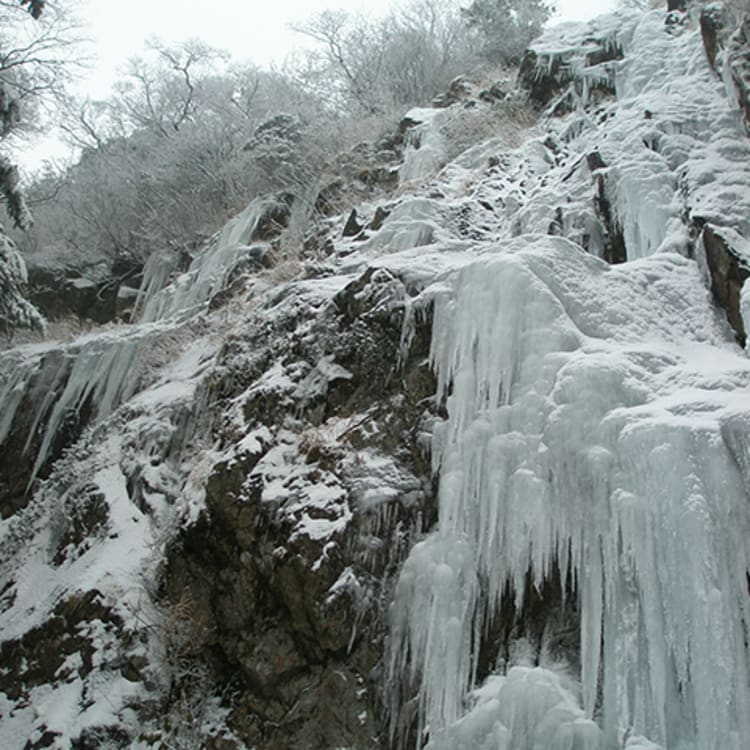 GUIDE
Gouradani (Nanshogataki) Icicles
by JNTO on 10 September 2018
Japan's Fukuoka Prefecture is known for its delicious cuisine, scenic parks, historic temples, and fantastic weather with long summers and mild winters. There's very little snowfall in Fukuoka during winter, which means that it's not too cold to visit attractions day or night. That's good because Fukuoka has many scenic outdoor destinations to visit aside from the winter illumination spots in Canal City Hakata, Ohori Park, and Fukuoka Tower.
If you're around Fukuoka City in the peak of winter (January to February), there's another nearby winter destination worth checking out — the Gouradani Icicles. Formed in the Nanshogataki falls, the Gouradani Icicles are a picturesque formation of frozen water spikes formed when the streams flowing from the mountains around Fukuoka City freeze over, creating beautiful icicle waterfalls that can reach up to 20 metres in length.
Where can you find the Gouradani Icicles?
The Gouradani Icicles can be found just outside of Fukuoka City in a sleepy town called Umi, located about 15kms east of the city. Umi is famous as the birthplace of Ojin, one of Japan's first emperors. The town is also home to a grove of sacred 2,000 year-old camphor trees, called "Kada's Forest," which is located near the Umi Hachiman Shrine.
In the wilderness east of Umi is the lush Gouradani Valley, home to the Nanshogataki waterfalls. To access the frozen falls, the main access point is at Ipponmatsu Park (Umicho Showa no Mori) Camping Ground, which is one of Fukuoka Prefecture's famous spots for forest bathing. In winter, Japanese camellias bloom in this forest.
From the park's parking lot, a 2.5-hour (5.8km) return trek takes you to the Gouradani Icicles. It's recommended that you bring a pair crampons as you make the uphill trek towards the icicles, which are located at an altitude of around 724m.
A video from Fukuoka Internet TV provides good insight into what you can expect to see when visiting the Gouradani Icicles.
Winter Gourmet in Fukuoka
Fukuoka Prefecture has no shortage of delicious food options — you can enjoy a hot bowl of famous Hakata ramen (noodles in pork bone soup broth), or fresh seafood dishes like fugu (pufferfish) and king crab, especially in winter when they're in season. There are also kakigoya (oyster huts), which only appear from the beginning of winter to the end of oyster season (November to March). These huts, which can be found west of Fukuoka City along the coastal towns of the Itoshima Peninsula, provide fresh, barbecued oysters for about 1,000 yen a kilo. Some kakigoya also sell squid, turban shell, and scallops if you're looking for variety.
If you're in the mood for more seafood, Crab House Hakata Kora is a great place to get your king crab fix — whether you prefer grilled, boiled, in shabu-shabu, or served live sashimi-style. If you're a little more adventurous, try fugu (pufferfish) at Hakata Bote. This renowned restaurant prepares the fish several ways including sashimi-style, deep fried, and lightly grilled.
For a non-seafood dish, motsunabe, one of Fukuoka Prefecture's most famous specialties, is a type of offal stew that's served during winter. This dish is made in a hot pot and consists of beef or pork tripe, cabbage, garlic, chives, and a miso- or soy sauce-based soup. Hakata Motsunabe Yamanaka Honten is famous throughout Fukuoka Prefecture for this dish.
How do you get to the Gouradani Icicles?
The easiest way to get to the Gouradani Icicles is to take the Nishitetsu bus from JR Umi Station to Shojidake bus stop —then walk about 20-30 minutes northeast until you reach the Showanomori Parking Lot. Then walk another 10-15 minutes down the trail until you reach the Umicho Showanomori Camping Ground, which is where you can find the Gouradani Icicles.
Date: All year round (Best time to see the icicles is in December)
Time: Any time
Entrance fee: Free