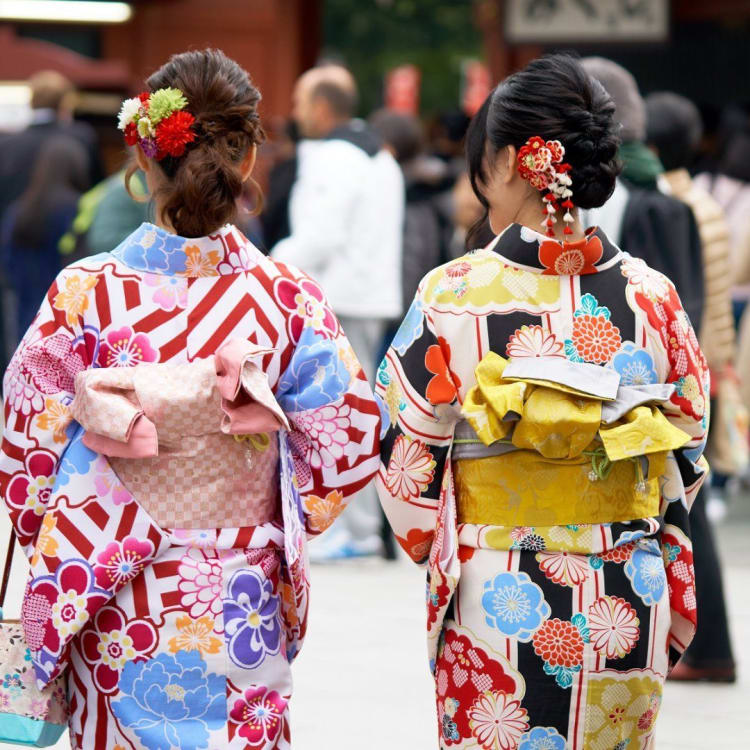 GUIDE
Guide to enjoy the Kimono and Yukata experience
by JNTO on 14 June 2019
Have you enjoyed the experience of wearing an authentic kimono in Japan?
As demand for kimono-wearing from visitors to Japan is increasing, we will share with you more information about the experience to help you better enjoy the experience and appreciate these Japanese traditional wears. In this article, we will introduce fun facts and tips on renting and wearing a kimono as well as share various experiences of our readers.
"Yukata" is the "Kimono in Summer"
The yukata is a type of kimono. They may look similar at first glance, but there are also differences.One of the striking differences is the fabric used. Kimono is made of heavy fabric, while slightly transparent and lighter fabric is used for producing Yukata.. This is because yukata is a form of summer wear, so it is designed for comfort and breathability.
Yukata was once pyjamas for Japanese
In the old days, the Japanese used to wear kimono even during summer. Can you imagine how uncomfortable it must be to sleep in a kimono! Traditionally, yukata was worn for bathes and thereafter to sleep. In modern days, habits and culture have evolved such that yukata is often just worn during summer festivals. This traditional wear is still the typically provided for guests at ryokan to wear.
Kimono and yukata are worn for different purposes
Kimono is a form of traditional formal wear, while yukata is more casual.
Kimono is usually made of silk, cotton and wool. When wearing kimono, you need to follow strict dress code and wear special undergarments such as "juban" and "tabi" socks etc. Kimono is generally worn by the Japanese for occasions like the tea ceremony, traditional weddingsand other formal occasions.
On the other hand, yukata is made of cotton or cotton mixed with hemp. You can wear it freely and enjoy summer festivals with your friends.
Recommendations from our readers
Here are three articles posted by our users about their yukata and kimono experiences !Please check them out!
The Izumi-Fumoto Samurai Residences(Kagoshima)
https://japanbyjapan.com/discover/stroll-kimono-iz...
The Izumi-Fumoto Samurai Residences
Adress:10-39 Fumotocho, Izumi, Kagoshima
Access:from JR Izumi Station, 5 minutes by car
Opening hours:9:00~17:00
Ryokan Stay at Lake Fujikawaguchi(Yamanashi)
https://japanbyjapan.com/discover/ryokan-stay-lake...
The area around Lake Kawaguchi in Yamanashi Prefecture is called Kawaguchiko Onsenkyo, and is dotted with onsen ryokans. After an onsen bath, why not relax in your yukata and enjoy delicious food?
Kyoto Prefecture
https://japanbyjapan.com/discover/kyoto-prefecture...
There are lots of shops where you can rent kimono in the vicinity of the Gion Shijo Station on the Keihan Main Line!
Here you can enjoy Japanese traditional culture, and your kimono and yukata experience.