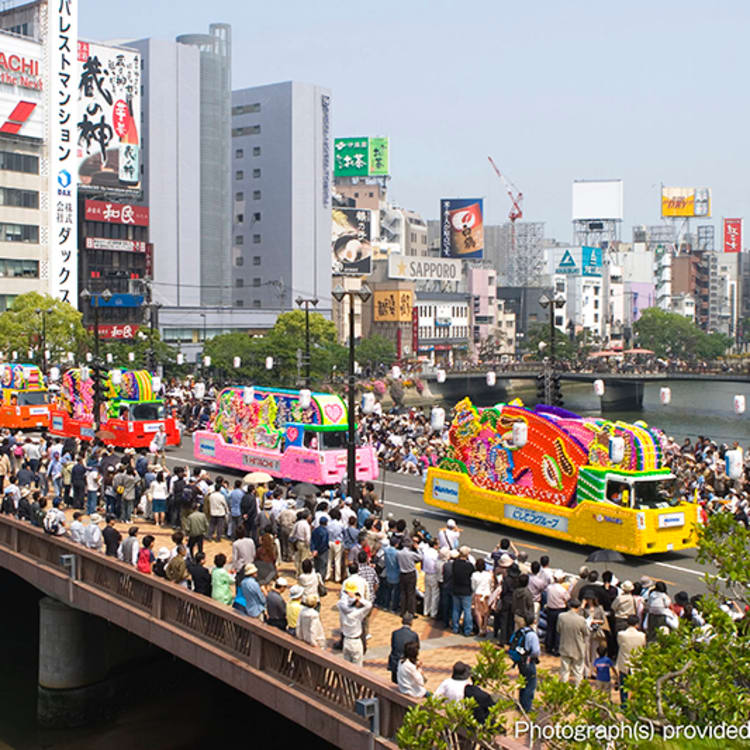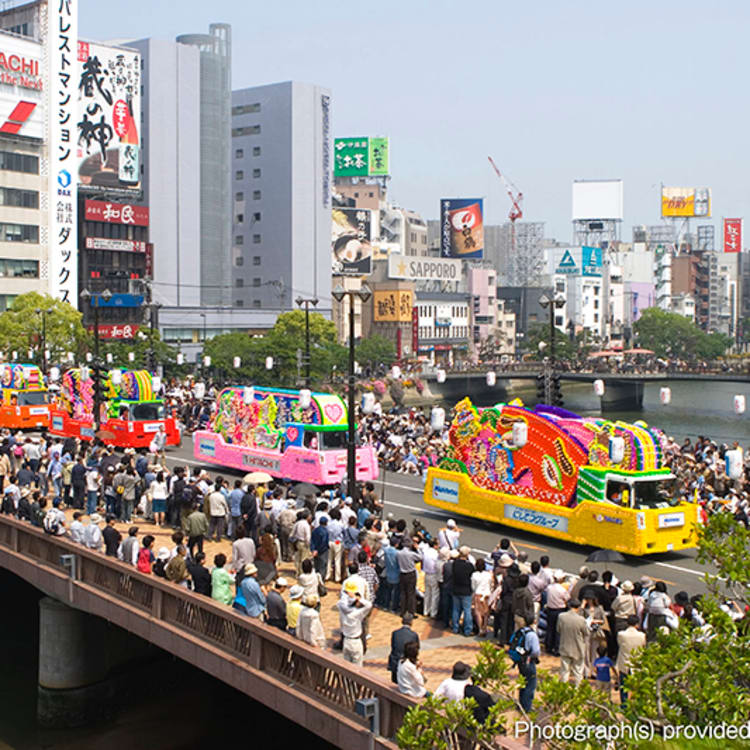 GUIDE
A guide to festivals in Japan
by JNTO Family on 25 January 2019
Japan hosts more festivals (matsuri) than almost any other country in the world. Steeped in tradition, these celebrations are often lively and colourful, involving dancing, chanting, and parading floats across town as the crowds cheer on from the sides. A festival is a great way to immerse in Japanese culture; the occasions may vary – it could be to celebrate the season or to commemorate important figures– but it's a great time to visit, when locals are dressed in traditional costumes and streets are lined with yatai (food stalls) offering street snacks.
Hakata Dontaku Festival | Fukuoka, Kyushu region
The Hakata Dontaku Festival has roots dating back 800 years when it was called Matsubayashi, a celebration to thank the local lords for their kindness. Banned in the Meiji Era for several years, it was revived to become the Dontaku Festival – 'Dontaku' is the Dutch word 'Zondag' meaning 'Sunday/Holiday'.
Today this large festival in Fukuoka attracts over 2 million people, featuring stage performances held at 30 different locations across the city, culminating in a mass dance. Throughout the festivities, many people are dress in yukata, and yatai stalls spring up everywhere.
Dontaku kicks off with a colourful Matsubayashi procession of the three gods – Ebisu (business), Fuku-no-kami (longevity), and Daikoku (wealth) – on horseback through the city over the course of the two days, followed by a parade of four vibrantly-coloured Flower Cars (these are illuminated at night). There is also a huge parade involving over 20,000 people in vibrant costumes, dancing to lively music throughout the festival.
A interesting tradition during Dontaku is clapping together shamoji (wooden rice scoops) to the beat of traditional music. This is because legend has it that a housewife rushed out to join the parade with her shamoji while she was busy preparing a meal.
On the evening of the last day is a mass dance called So-Odori, held where spectators are welcome to join! You can also get a souvenir pair of Dontaku shamoji (from 500 yen) to participate in the fun.
Date: May 3-4, 2019
Location: Fukuoka City, Fukuoka Prefecture
Website: https://www.fukuoka-now.com/en/hakata-dontaku/
Sendai Tanabata Festival | Sendai, Tohoku region
The Tanabata Festival has been around since the Edo era across Japan, celebrating a Chinese legend of two stars – Orihime and Hikoboshi – who only get to meet once every year. The custom during this festival is to write one's wishes on a piece of paper and hang it on special bamboo trees. Since Orihime was a skilled craftswoman, people often wish for acquiring talent – in fact, this festival was originally meant to recognise the importance of women's roles in culture.
Today, the Sendai Tanabata Festival is a colourful one, where paper decorations are placed across the city; celebrated in July throughout Japan, it's held in August in Sendai (Miyagi Prefecture), as it's based on the original lunar calendar. Visited by over 2 million tourists annually, it's known for its gorgeously decorated bamboo poles.
The festival kicks off with fireworks, and during the next three days, look out for the seven styles of ornaments (nanatsu-kazari) dotted throughout the city, each representing a different wish. These include tanzaku (paper strips) for education, orizuru (paper crane) for longevity, and kinchaku (purse) for wealth. There will also be Suzune Odori dances performed during the day, and Bon Odori dances at night where visitors can join in. Of course, there will be food stalls to satiate your appetite.
At night, Sendai Castle holds a samurai warrior performance, and a magical 'forest concert' awaits visitors at the candle-lit Zuihoden, the resting place of the feudal lord Date Masamune. You can take the Tanabata Night Bus (260 yen/adult; 130 yen/child) to visit these two sites which are slightly out of town.
Date: August 6-8, 2019
Location: Sendai (including Sendai Castle & Zuihoden), Miyagi Prefecture
Website: https://www.sendaitanabata.com/en
 
Tokushima Awa Odori | Tokushima, Shikoku region
Of the many dance festivals in Japan, one of the most famous is Tokushima City's Awa Odori, which has a history of over 400 years. Some say it was originally a dance for the obon (Buddhist custom to honor the spirits of one's ancestors) holiday, and now it attracts over a million spectators and dancers to Tokushima, creating a huge carnival atmosphere.
While Awa Odori takes place all over the prefecture, the most important festival dances are performed in Tokushima City (Tokushima Prefecture), where major thoroughfares are cordoned off, and stage areas are set up to view the dance competitions. There are free and paid seating available – tickets are available at the tourist information centre at Tokushima Station.
There are some events during the day, but the main spectacle takes place in the evening when the city centre shuts down –and troupes of costumed dancers (both amateur and professional) called ren parade through town, playing traditional musical instruments as they move along. Anyone can participate in the Niwaka Ren – you'll be given lessons on the spot by a professional dance group before you dance on stage.
If you miss the festival, you can check out Awa Odori Kaikan, a museum where you can catch dance performances featuring professional ren troupes who will also teach simple dance moves to visitors.
Date: August 12-15, 2019
Location: Tokushima City, Tokushima Prefecture
Website: https://discovertokushima.net/en/topics/awa-odoridance/
 
Naha Otsunahiki Tug-of-war Festival | Okinawa island
Tug-of-war rituals have been a custom in villages across Okinawa since the 1400s to pray for health and prosperity. Today, the biggest event is the Naha Otsunahiki, attracting almost 300,000 visitors annually over three days in October.
The first day of the event involves a Traditional Folk Arts Parade, including a showcase of Okinawa's colourful local dance called eisa and taiko drumming. The tug-of-war on the second day is preceded by the hatagashira, a procession involving large banners up to 60kg each.
The giant tug-of-war rope is listed in the Guinness Book of World Records as the world's biggest straw rope, measuring 200m long and weighing 43 tonnes. It consists of a "female" rope (Miinna) to the West, and a "male" rope (Woounna) to the East, joined in the middle by the kanuchibō (a wooden rod).
Before the tug-of-war begins, a battle between historical figures (shitaku) is staged atop the middle of the rope, and the game begins with the splitting of a ball confetti. The goal is to pull the kanuchibō connecting the two ropes over 5m either East or West in 30 minutes. If it doesn't reach the 5m mark, the team that moved it at least 3m will be declared the winner.
Anyone can participate in this, since the giant rope can accommodate up to 15,000 participants with hand ropes to hold onto. If you want to participate, be sure to show up at the venue two hours before the event begins (check the schedule for details). After the tug-of-war ends, participants are given parts of the rope, believed to bring prosperity and safety to the home.
Date: October 12-14, 2019
Location: Naha City, Okinawa Prefecture
Website: http://www.naha-otsunahiki.org/
 
Tips for visiting during festival season
Accommodation: Accommodations can get fully booked during major festivals, so if you plan to attend one, book as early as possible. Otherwise, you may have to look at neighbouring towns or cities.
Traffic conditions: Since many festivals often take over an entire city centre, major roads can be blocked off to traffic to accommodate the crowds. You will need to plan where you're going to stay and how you want to get around, since public transport will also be packed.
Bringing children: Festivals can get very crowded and hot. If bringing young children, leave the stroller behind, and bring plenty of water.
Toilets: Not all festivals have portable toilet facilities, so you will have to use those inside train stations and convenience stores.
Food and drink: Prepare some cash if you're planning to buy food from street stalls, although there may be long queues; otherwise, stock up at convenience stores.
General: When attending festivals in summer, dress comfortably and be prepared with sun protection as it can be very hot; hydrate as often as possible. For winter festivals, be prepared with winter attire plus gloves, scarves, and beanies since it can get very cold if you're outdoors for prolonged periods of time.
In addition to these festivals, there are plenty more which take place throughout the year. Whether you choose to be a spectator or a participant, these special annual celebrations are a showcase of Japan's vibrant and welcoming culture.