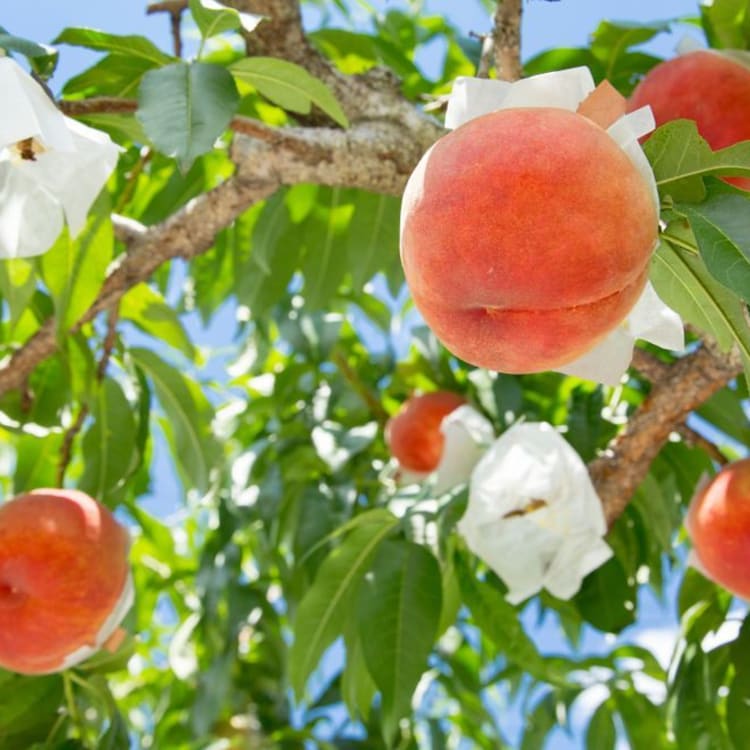 GUIDE
​Indulge in the "season-fresh" in Japan!Spots to enjoy fruit hunting
by JNTO on 30 July 2019
Watermelons in summer, grapes in autumn… There are various "season-fresh" fruits in Japan. In this article, we would love to introduce popular fruit hunting spots for the season-fresh fruits in summer. Come and have a taste of these fresh fruits in Japan!
What are the summer fruits in Japan?
Spring, summer, autumn, and winter - there are four discernibly splendid seasons in Japan, givingbirth to the culture of enjoying seasonal vegetables and fruits to experience the change of the seasons and the magnificent nature. Seasonal food refers to vegetables, fruits or fish that are naturally grown under the climate conditions of the particular seasons. They are always full of nutrients and delicious in their tastes.
Different fruits ripe in different seasons; in summer, there are peaches and plums in June, while in September, luxury melons and cherries which is commonly compared to rubies.
Indulgence in Season-Fresh Tastes at Fruit Hunting
Fruit hunting generally refers to the tours in which participants pick all the fruits they can and enjoy them right there within a limited time such as 60 or 90 minutes in farms in the countryside. There are also farms offering packages whereby participants are charged according to the weight of their harvests, and these packages come with locally made food products.
Popular among overseas visitors!
Yamanashi, the kingdom of fruits
Nakagomi Orchard
Yamanashi prefecture is well known as the land of good harvests of succulent fruits due to the large number of farming workshops located here. Nakagomi Orchard is one of the fruit-hunting hotspots - in its huge farms, there are as many as 30 different kinds of peaches and thus, it is always filled with both domestic and international visitors. Cherries, peaches, plums, nectarines, pears, grapes and many other delicious fruits are available for hunting tours from June to September. Because of the many fruit varieties, there are also exciting packages that allow the harvesting of more than one type of fruit, such as the "peaches, plums and grapes" package.
Nakagomi Orchard
Address: 2281-1, Iino, Minamiarupusu City, Yamanashi
Access: [Railway & bus] Take Yamanashi transport bus (any bus goes "via Nishino") at the bus terminal no. 1 at the south of JR Kofu station. Get off at "Sangai", which takes approximately 30 minutes. Afterwards, walk straight for around 500m. Both buses bound for "Kajikazawa" or "Hiraoka Ayamegaoka"go through the same route "via Nishino", so both can take you there.
Opening time:9:00 a.m. – 5:00 p.m. (June - September), 10:00 a.m. – 4:00 p.m. (October - November)
Fruit hunting seasons: cherries - early to late June, peaches - June to August, grapes - August to September, apple - September to November.
※Please make your reservation via the online reservation form on the official website
※Please check manners and the information of fruit hunting
information : http://nakagominouen.com/en/publics/index/58/
Around 2,300 Trees with 80 Types of Apples Hirosaki Apple Park

Aomori prefecture in the Tohoku (north-eastern) region of Japan is famous for its apples. Hirosaki Apple Park is 9.7 hectares large, with about 2,300 trees and 80 types of apples. Fuji, Jonathan, Tsugaru, Orin… there are simply many different kinds of great apples in different periods. Come and indulgein the apple ramen at just 626 yen (tax included) served by its cafe! Fill your joyful day all with apples! Various apple-related souvenirs are also available.
Hirosaki Apple Park
Address:125 Shimizu Tomita, Terasawa, Hirosaki, Aomori
Access: [Railway & bus] Take Konan bus at No. 6 of the bus pool at the central exit of JR Hirosaki station, and get off at Jobanzaka Iriguchi (entrance). The bus journey takes approximately 20 minutes. Then walk for another 7 mins.
Alternatively, take the Dotemachi 100-yen loop bus at the central exit of JR Hirosaki station, and get off at Apple Park Station (Ringo Koen Eki)
Opening time:9:00 a.m. – 5:00 p.m. (apples hunting sessions are held every 20 minutes from 9:00 a.m. – 4:00 p.m.)
Apple hunting season: August – mid-November
※For groups with over 10 visitors, please make reservations by phone.
Enjoy hunting the juicy, sweet musk melons at Izu Fruit Park!
Izu Fruit Park is an integrated sightseeing spot at Mishima city, Shizuoka. Fruit hunting events for the juicy, sweet greenhouse musk melons are available from early July to late September! On the side note, Japanese mikan citrus become available from October to December, while the period for hunting strawberries is from early January to mid-May. As such, this park is filled with joys of fruit hunting throughout the year! And, there is a restaurant at where you will be amazed by the breathtaking view of Mt. Fuji on sunny days!
Izu fruit Park
Address: 181-1 Tsukahara Shinden, Mishima City, Shizuoka
Access: [Railway & bus] Take Tokai bus bound for "Moto Hakone Port" or "Yamanaka" at the south exit of JR Mishima station and get off at "Izu Fruit Park". The bus trip takes approximately 15 minutes.
Opening time: 8:30 a.m. - 6:30 p.m. (fruit hunting goes from 9:00 a.m. - 4:00 p.m., subject to changes in different seasons)
Fruit hunting season: melon hunting- early July to late September, mikan citrus hunting – October to December
※By phone reservation
In sport wears & be mindful not to eat too much!
You need to extend your hands and squat from time to time when hunting fruit so opt for sport wears! And, be mindful that it may not be good for your stomach to eat too much unfamiliar fruit at a time!