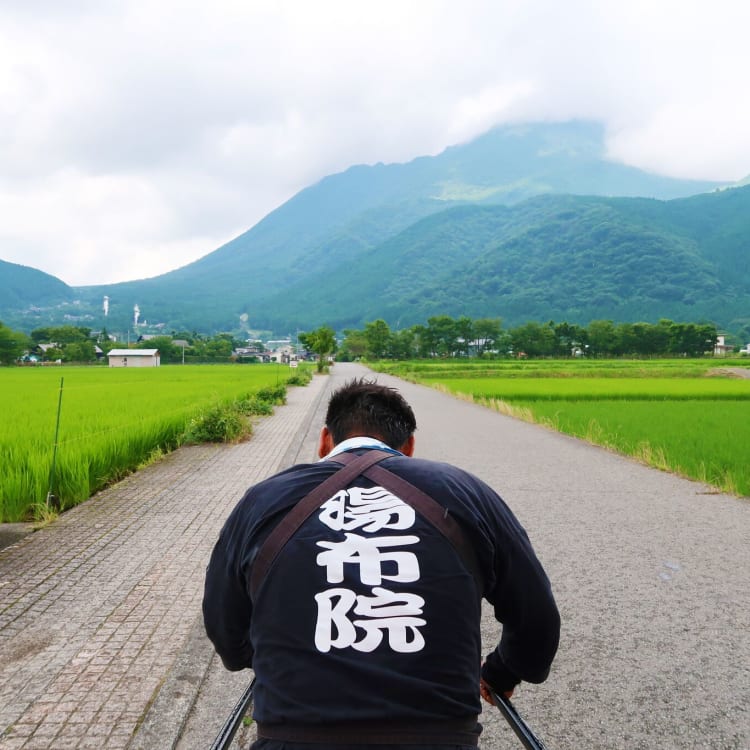 Itineraries
Enjoy summer in Kyushu driving around in a rental car
By JNTO on 7 October 2020
Day 1
Departure from Changi Airport  Arrival to Fukuoka Airport  Nippon Rent-A-car Fukuoka Airport International Terminal  Local Cuisine "Yufumabushi Shin"  Traditional Japanese Rickshaw  Yama no Hotel Musouen  Yunotsubo Kaido Street  Yufuin Milch
Day 2
Departure from the hotel  Kokonoe "Yume" Grand Suspension Bridge  Kuju Flower Park  Local Cuisine "Hanabishi"  Helicopter Tour in Aso  TAKEFUE Natural hot spring, resort & spa
Day 3
Departure from the hotel  Takachiho Gorge  Somen Nagashi "Chiho-no-ie"  Horikiri Pass & Roadside Station "Phoenix"  ANA Holiday Inn Resort Miyazaki  Seafood "Amimoto"
Day 4
Departure from the hotel  Aoshima Shrine  Nichinan Phoenix Road  Udo Shrine  Local Cuisine "Gallery Kodama"  Departure from Kagoshima-Chuo Station  Arrival to Hakata Station  Hakata Excel Hotel Tokyu  Food stalls "Nakasu-Yatai"
DAY1 (Fukuoka, Oita)
Sophia and Donna arrive at Fukuoka Airport on a direct flight from Changi Airport. Their road trip is about to start! After renting a car at the airport, they first head to Yufuin, Oita Prefecture. Yufuin is one of the most popular, top-class hot spring resorts in Japan. Soaking in an open-air bath while enjoying a splendid view of Mt. Yufudake is a real treat! All the fatigue of travel is washed away. Filled with delicious restaurants and sweet shops, Yufuin is also a great place for shopping and eating out.
Day 1
DAY2 (Kumamoto)
On the second day, Sophia and Donna enjoy an uplifting drive along the Yamanami Highway, one of the most popular driving routes in Kyushu. As they make their way to Aso, Kumamoto Prefecture, they admire mountains over 1000m high, the highest pedestrian bridge in Japan and fields covered with flowers in bloom. The endless succession of stunning sceneries fills the girls' hearts with excitement. To enjoy the vast panorama of Aso to the fullest, nothing beats a thrilling helicopter ride! That night, the two girls enjoy a relaxed and quiet stay at a luxury hot spring ryokan located in a secluded area.
Day 2
DAY3 (Miyazaki)
After leaving the hot spring resort in Aso, Sophia and Donna head straight to Miyazaki Prefecture. A land steeped in legends and mystery, Takachiko is now attracting much attention, especially from women, as the strongest power spot in Kyushu. The two girls take some time to enjoy the refreshing scenery of the gorge and waterfalls and take in the healthy, negative ions. Then it's time for lunch! Why not try "nagashi somen," a dish that is said to have been invented in Takachiho? After lunch, as they drive along the coastline, the scenery suddenly changes to a tropical-like landscape. Delicious fresh seafood is awaiting them for dinner!
Day 3
DAY4 (Miyazaki, Kagoshima, Fukuoka)
Running along the Miyazaki coastline, the Nichinan Phoenix Road is a popular driving route, featuring many scenic seaside spots and unique spiritual sites. Driving in the early summer sun makes Sophia and Donna feel extraordinarily refreshed. This is certainly one of the highlights of this trip! Finally they bid farewell to the many beautiful sights and head to Fukuoka, the final destination of their road trip. Eating at the food stalls is the best way to enjoy Hakata by night. As the two girls have a nice chat with the stall vendor and the local people, the night falls on the last day of this unforgettable journey.
Day 4