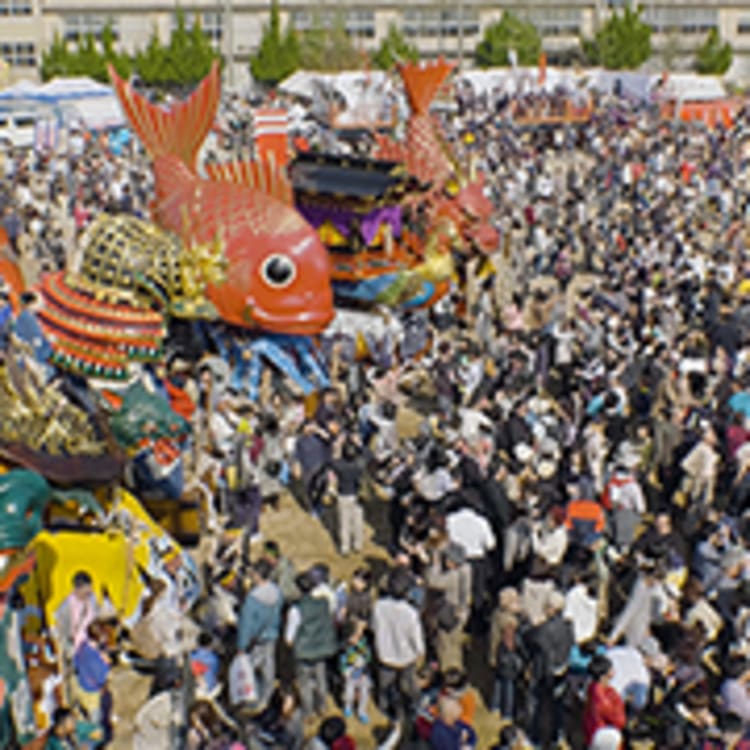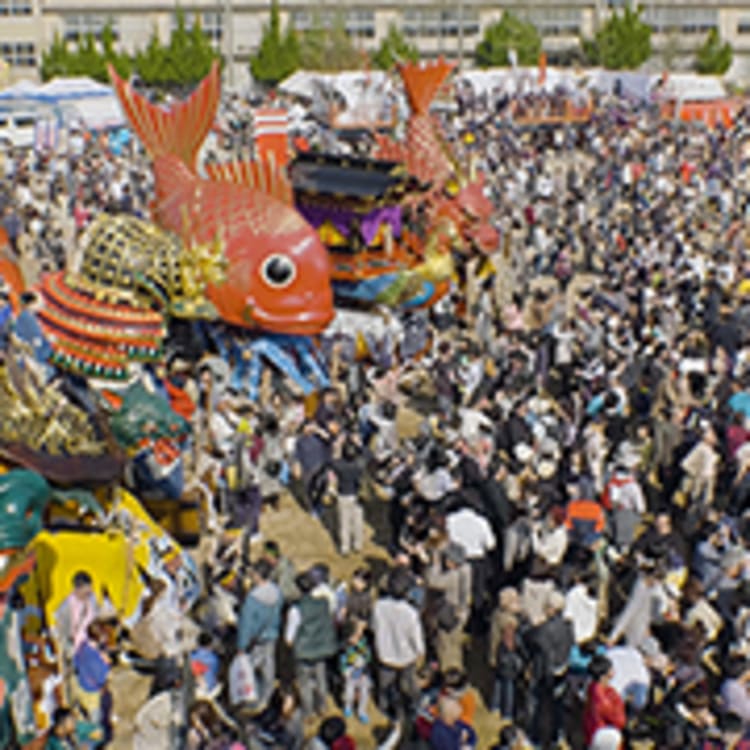 GUIDE
Karatsu Kunchi Festival
by JNTO on 09 September 2018
Autumn is a special time for celebration throughout Japan as many shrines and temples sponsor a matsuri (festival) to give thanks for a good rice harvest and prosperity. The island of Kyushu hosts many such festivals — and one of the largest is the Karatsu Kunchi Festival, which attracts upwards of 500,000 visitors.
The 400-year old Karatsu Kunchi Festival begins every year at the Karatsu Shrine in Karatsu City, Saga Prefecture, and is a ritual of sending its deity to Nishino Hama Beach, its birthplace. This festival draws a huge crowd of visitors because of the hikiyama — elaborate parade floats that depict imagery from Japanese culture and mythology such as lions, dragons, and the kabuto (samurai helmet).
The 14 hikiyama currently used for the Karatsu Kunchi Festival are over 100 years old, constructed between 1819 and 1876 — and standing up to 6 metres and weighing up to five tons, at least 150 people are needed to pull each float!
Where can you experience the Karatsu Kunchi Festival?
Karatsu Shrine is the prime destination to visit if you want to see the Karatsu Kunchi Festival. However, keep in mind that during the festival, the procession of 14 hikiyama will be paraded through different parts of Karatsu City.
Here's a breakdown of what activities each day of the Karatsu Kunchi Festival brings:
Yoiyama (2 November): The yoiyama (eve celebration) takes place at 7:30pm when the procession of hikiyama departs from the vicinity of Karatsu Shine. During the parade route through Karatsu City, the hikiyama are beautifully illuminated with chochin (paper lanterns).
Otabisho Shinko (3 November): The second day of the celebration starts around 9:30am as the procession of hikiyama makes its way to the sands of Nishino Hama Beach by noon where they are displayed on platforms — this is considered the highlight of the Karatsu Kunchi Festival.
Town Parade (4 November): On the final day of the festival, the hikiyama procession makes it way through the "old castle town" area of the city to the sound of traditional music before they are marched back to the 

Hikiyama Exhibition Hall

 

where they are kept until next year's festival.
What is there to eat?
You can expect to work up an appetite after following the hikiyama procession for a few hours — thankfully, there are plenty of food stalls lining the roads. But if you're lucky enough to have a friend in Karatsu City or meet a friendly resident that invites you to enjoy a kunchi meal, you're in for a real treat!
During the festival, many families in Karatsu City cook up kunchi meals for family, friends, and acquaintances — the centerpiece is the Ara no Sugatani, a gigantic saw-edged perch that's been stuffed with daikon radish, boiled eggs, and other ingredients before it's boiled all day in soy sauce and sake.
If you don't have the opportunity to join a local family for their kunchi meal, many inns in the area serve it, including Yoyokaku (reservations are a must), a historic inn near Karatsu Castle. There are also plenty places to have local favourites like tsugani (local river crab), kanimeshi (crabmeat rice), yobuko squid, and saga beef (Japanese black cattle), which is often served as shabu-shabu.
If you're up for a gourmet fare, Amegen is a renowned spot for local delicacies like tsugani and kanimeshi. Gepparo is another that's known for its yobuko squid and saga beef dishes. If you're interested in finding local cuisine that fits your taste and budget, check out the Kyushu Tourism Promotion Organization's Gourmet Page to search for other options.
How do you get to the Karatsu Kunchi Festival?
The easiest way to get to the Karatsu Shrine area where the festival is taking place is to walk about 10 minutes north from Karatsu station past the City Hall and Bank of Saga.
Date: 2 November to 4 November
Time: 09:30-17:30 Daily
Entrance fee: Free