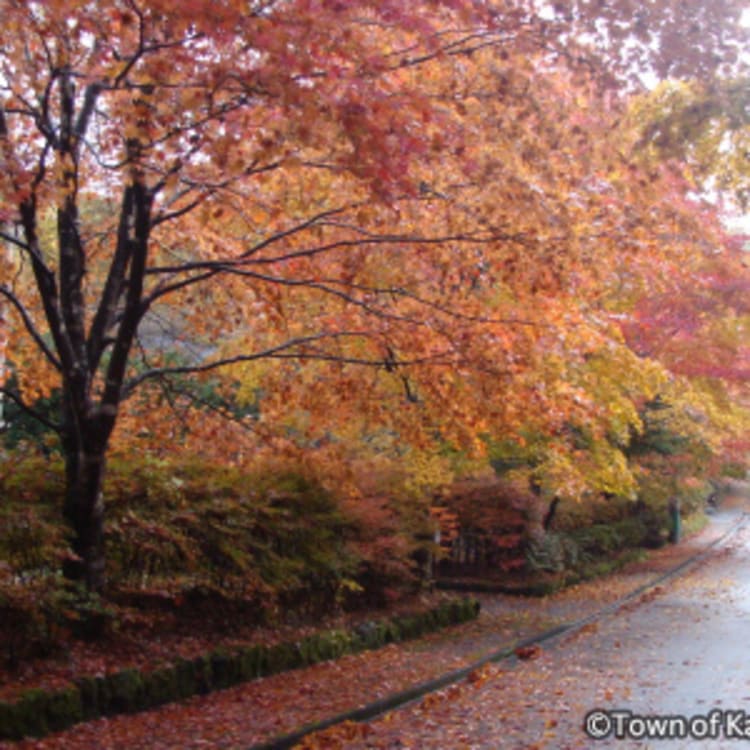 GUIDE
Karuizawa Momiji Festival
by JNTO on 11 September 2018
Autumn is one of the most picturesque times to experience Japan, especially when leaves in the countryside and landmarks turn into hues of fiery red and shimmering yellow. The Japanese call this autumn foliage koyo, and they even have a tradition called momijigari, or maple leaf hunting.
One of the best places for momijigari is in the upmarket mountain resort of Karuizawa, Nagano Prefecture. Japan's autumn foliage typically happens from mid September to November, and in Nagano the peak season is in October.
Situated at an altitude of around 1,000m at the foot of Mt. Asama, Karuizawa has been a popular mountain resort since the late 1800s, and today many wealthy urbanites have a second home here. Located along Japan's Romantic Road, a visit to Karuizawa is not complete without exploring the traditional cafes and shops of Karuizawa Ginzadori, an important merchant street that grew during the Edo Period (1603-1868).
Recommended spots for koyo
A favourite momijigari spot is Kumobaike Pond, sometimes called 'Swan Lake' because they tend to come here in winter. The fall foliage is stunning when reflected on the lake's surface, and a walking path around the lake allows you to explore it from all angles. The 20-minute stroll takes you past maple trees and dodan-tsutsuji (a native Japanese plant) that contribute to a splendid autumnal colour.
Another popular spot is the former Mikasa Hotel, a retro Western-style wooden hotel that was once used by celebrities and dignitaries from 1906 to 1970. Today the former hotel is a museum, preserved for its heritage. The grounds are famous for its autumn foliage, and the contrast of the vivid hues against the hotel's dark wood walls create a postcard-perfect photo.
Located north of Karuizawa, the crescent-shaped Shiraito Waterfall may only measure 3m high, but the beauty of its curtain-like falls is further emphasised when it's bathed in autumnal colours. From Karuizawa Station, a 25-minute bus ride takes you to the waterfall.
For an alternate view of koyo, head up to the Usui Pass Observation Platform, located on the border of Nagano and Gunma Prefectures. The summit boasts fine views of towns and mountains carpeted in the fiery hues of autumn. Nearby is the Kumano Kotai Shrine, which also sits on the border between two prefectures. From Karuizawa, there are buses (weekends only) that can take you up to Usui Pass; alternatively, it's accessible via a 40 minute uphill hike from Ginzadori shopping street.
For those who want to splurge, Karuizawa is home to the luxury ryokan Hoshino Resort, the sprawling grounds of which are gorgeous in autumn colours. Day-trippers can take advantage of their smaller onsen (hot spring) called Tombo no Yu, which has wide windows for you to appreciate the scenery outside while you soak.
Autumnal delights in Nagano
Karuizawa is a unique blend of Japanese and western influences, and home to many long-standing local brands, including Asanoya Bakery (which is also in Singapore) and Sawaya Jam which retails additive-free handmade jam that you can sample at its cafe in Kyu-Karuizawa.
Stroll down Karuizawa Ginzadori Street, and you'll find plenty of traditional snacks to indulge in, ranging from pudding-flavoured dorayaki (mini pancake sandwich) and bright green wasabi buns to senbei (rice crackers).
When it comes to local specialties, Nagano is known for its soba. Its highlands are perfectly suited for growing buckwheat which is then mixed with fresh, clean water from the prefecture's many mountains. You can sample soba at several famous restaurants in Karuizawa, including the high-end Kawakami An and the family-owned Kagimotoya. Besides the usual hot or cold soba, many regions in Nagano serve different types of soba not seen elsewhere. This includes Takato Soba which is served with grilled miso paste, while Toji Soba (served in central Nagano) is eaten like shabu-shabu where noodles are dipped – using a basket ladle – in a hotpot with vegetables.
Soba is often served with a dollop of wasabi on the side, and Daio Wasabi Farm in Azumino is Japan's largest. You can tour the farm, where you can enjoy freshly-grated wasabi, as well as sample wasabi beer and wasabi soft cream.
How do you get to Karuizawa?
From Tokyo Station, the Hokuriku Shinkansen takes you to Karuizawa Station in a little over an hour. Highway buses also ply the route from Tokyo (from multiple stations) to Karuizawa, taking about 3 hours. Most of Karuizawa's attractions are within walking distance of the town, with the exception of Shiraito Falls and Usui Pass.