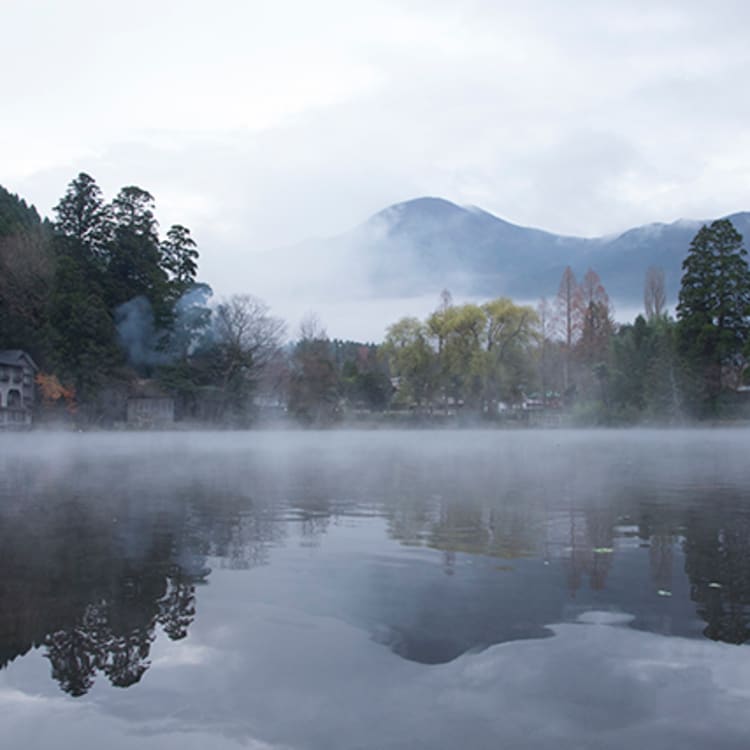 GUIDE
Kinrin Lake's Autumn Scenery
by JNTO on 10 September 2018
Kyushu's Oita Prefecture is a popular destination for visitors looking for rest and relaxation at its many onsen (hot springs) resort areas like Beppu —in fact, Oita has the most hot spring spots in Japan! While soaking in thermal waters is certainly Oita's major draw, there's another destination that's worth visiting if you're lucky enough to be there in autumn —Kinrin Lake, located in the hot spring town of Yufuin.
The lake's name, Kinrin, which means "gold scales," was devised by a Confucian monk who noted that the lake's surface shimmered like gold in the evening sun due to the scales of the lake's fish.
Aside from being a terrific location for scenic views, Kinrin Lake also has an interesting surprise —there are actually two hot springs below the lake's surface, which create a steamy morning mist that covers the lake's surface during the autumn months. Imagine the scenery of a misty lake with fiery fall colours painting the mountainous backdrop – it's one of those rare beauties that make Kinrin Lake popular with visitors during autumn.
The lake features a number of walkways close to the water's surface so you can view the local wildlife as well.
Where can you see Kinrin Lake?
Kinrin Lake is located in the popular hot spring town of Yufuin, a rural community of about 36,000 that's situated near Mt. Yufu. Unlike its more famous (and bigger) neighbour Beppu which is 10 kilometers away, Yufuin has a more serene atmosphere — there are many galleries and museums to visit such as the Comico Art Museum, Kyushu Yufuin Mingei Mura (folk craft village), and the Yufuin Trick Art Museum among others.
It's also a great place for Instagram, as the town is dotted with plenty of kitchy cafes and shops – check out Yufuin Floral Village's quirky vibe that seems to be lifted off a Ghibli scene. The majority of Yufuin town's attractions can easily be explored on foot – it takes about 20 to 30 minutes to explore the 1.5km-long main route between Yufuin Station and Kinrin Lake.
Unlike many onsen towns, the ryokans (inns) of Yufuin are spread out around town, and not clustered along the main street. If you're looking to experience the hot springs of Yufuin, there are three main areas you'll want to check out:
Yufuin Hot Springs: Located near the base of Mt. Yufu, the ryokans here are located within the confines of the town, giving you easy access from Yufuin Station.
Yunohira Hot Springs: This hot spring area – with its Edo-era stone thoroughfare – is known for its romantic and secluded atmosphere, making it a hot spot for creative types like writers and artists.
Tsukahara Hot Springs: Located north of Mt. Yufu, this secluded hot spring area is known throughout Japan for its healing properties, as its high acidity (1.4 PH) helps treat skin conditions.
What is there to eat around Kinrin Lake?
The gently rolling hills and grasslands of the Yufu foothills have always been used for livestock farming. Cows raised in the area are known for their rich milk, and therefore freshly-squeezed milk, ice cream, and cheese are popular food products in the area.
In Yufuin town, you can sample some of its famous cheese products which are made with locally-sourced milk, including cheese cookies, ice cream, croquettes, and cheesecake from many shops dotted around town, like Yufuin Milch.
Another famous food item from Yufuin is the kinsho (gold medal) croquette. They are the gold standard because they routinely win contests for "best croquette" in Japan. The spot to try for these delicious treats is the Kinsho Croquette Honten stand, which has many flavours including original, cheese, crab cream, and curry ($160 yen each).
How do you get to Kinrin Lake?
The easiest way to get to Kinrin Lake is to take a train to JR Yufuin Station, and then walk through Yufuin town to reach the lake (20-30 minutes' walk).
Date: All year round (early to late November is best for autumn foliage)
Time: Any time
Entrance fee: Free