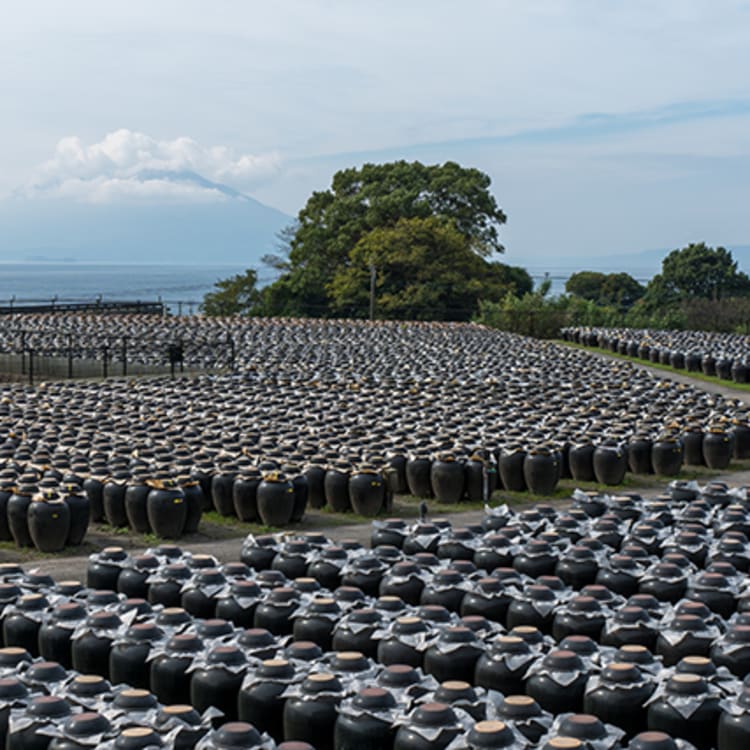 GUIDE
Kurozu (Black Vinegar) in Kagoshima
by JNTO on 10 September 2018
Black gold means different things in different cultures – but in Kagoshima their regional treasure is not oil, but kurozu, or black vinegar.
Left to ferment in the sun for several years, the vinegar takes on a whisky-like caramel colour – and draws lots of visitors to the region seeking either the medicinal qualities of the brew, or just for its intense yet delicate flavour.
Kurozu vinegar sits at the very heart of Japanese cuisine – and is largely produced in Kirishima City, in the shadow of Kagoshima's iconic Mt. Sakurajima, which is still active and its occasional smoke is visible from miles away.
An endless row of tsubo – the ceramic jars that contain the black treasure – sit in the sun while the key ingredients ferment inside. Water, steamed rice, and koji (the fungus that grows on rice) is rarely stirred over the years, and this non-invasive process eventually results in the treasured black vinegar.
Traditional rice vinegar tends to be more acidic than kurozu, which has a distinct earthy, stewed flavour and richness that makes it perfect for glazing meat or braising. The vinegar, like whisky, is available in a range of ages – from a thick, tart 7 years, to a lighter, 2 to 4 years that is more suitable for cooking.
Chinese visitors especially are drawn to the curative powers of kurozu, which includes improved blood circulation and pressure, enhanced metabolism and a decrease in fatigue. Whether because of the vinegar or the fresh air of Kagoshima Bay, the locals seem in remarkably good health regardless of age.
Where to find kurozu?
Sakamoto Kurozu Tsubobatake, founded in the 1800s, is one of Kagoshima's most famous kurozu producers. It has a museum, restaurant, and shop retailing kurozu products.
Entry and tour of the tsubo fields is free, giving you a first-hand demonstration of kurozu-making. Finish with a meal at their restaurant which features kurozu-based cuisine, with set meals that include a pre-meal vinegar drink, tea, a variety of seasonal dishes made with kurozu, pickles, rice, soup, and dessert. The restaurant overlooks their tsubo field with views of the conical Mt. Sakurajima in the backdrop.
Other Kagoshima cuisine
Kagoshima's cuisine includes treasures from their age-old farmland recipes to the coast – visitors like the bold flavours that match the richness of the landscape.
Flying fish, or tobiuo is common fare in most restaurants – and readily available thanks to the breeding grounds just off the coast. Try the dish in three ways: himono in its cured form – a little salty but still juicy, deep fried and completely crispy and edible from head to tail, or as a mild-flavoured sashimi with a dash of wasabi.
Another local specialty is this ancient-looking barnacle, Kame no Te, or Turtle Hand, which is harvested directly from its resting place on oceanic rocks. These gooseneck barnacles are a delicacy – simply twist the solid exterior to reveal the juicy, fleshy meat inside, which has a strong briny aftertaste similar to fresh crab. To savour Kame no Te, check out some of the local seafood restaurants on Yakushima Island which is famous for its lush rainforest.
Satsuma-Imo, or sweet potato, is Kagoshima's worst kept secret – and pervades every level of local cuisine from desert to main courses to drinks. Try to hit the whole range: ice-cream, deep fried, baked in a style similar to yam, and the intoxicating imo-jochu – including some sweet potato tarts as souvenirs on the way back home. It's also used in the production of imo shochu, a popular distilled drink which has the natural sweetness of sweet potato with a full body and aroma, and popularly drunk with hot water.
The region also lays claim to one of the finest pig varieties, the local black pig, or kurobuta. Wakana in Kagoshima City serves the dish in shabu-shabu style, together with other regional delicacies like fresh horse mackerel. Wash it all down with locally-brewed imo shochu.
How do you get to Fukuyama, Kagoshima?
Sakamoto Kurozu Tsubobatake is located by the bay in Fukuyama district on the outskirts of Kirishima City. It's about an hour's drive from Kagoshima City, or 20 minutes from Kirishima City. There is a bus service (Kagoshima Airport Limousine Bus) from Kirishima City to Komeguri, from where it's a 10-minute walk to Sakamoto Kurozu Tsubobatake.
Date: Open year round
Time: 9am to 5pm
Entrance fee: Free