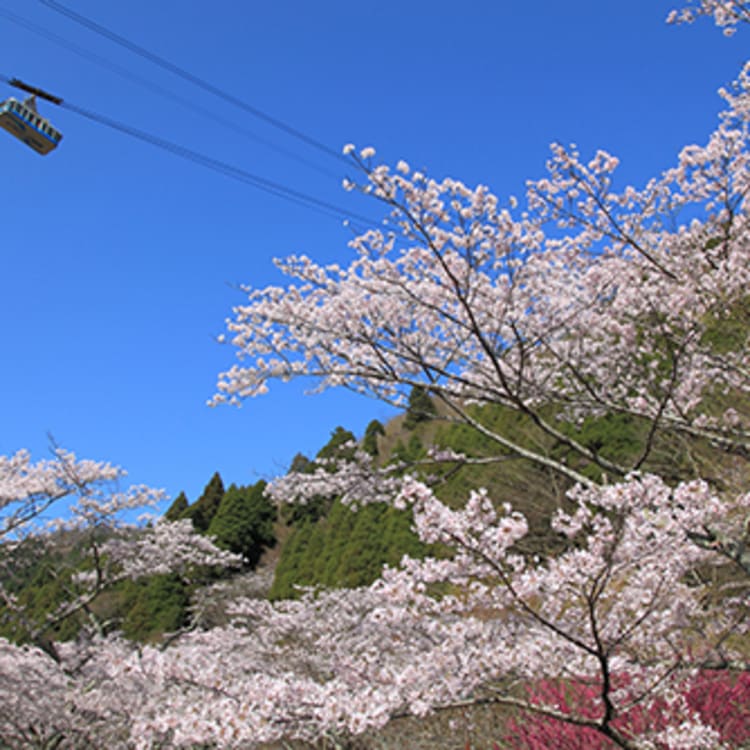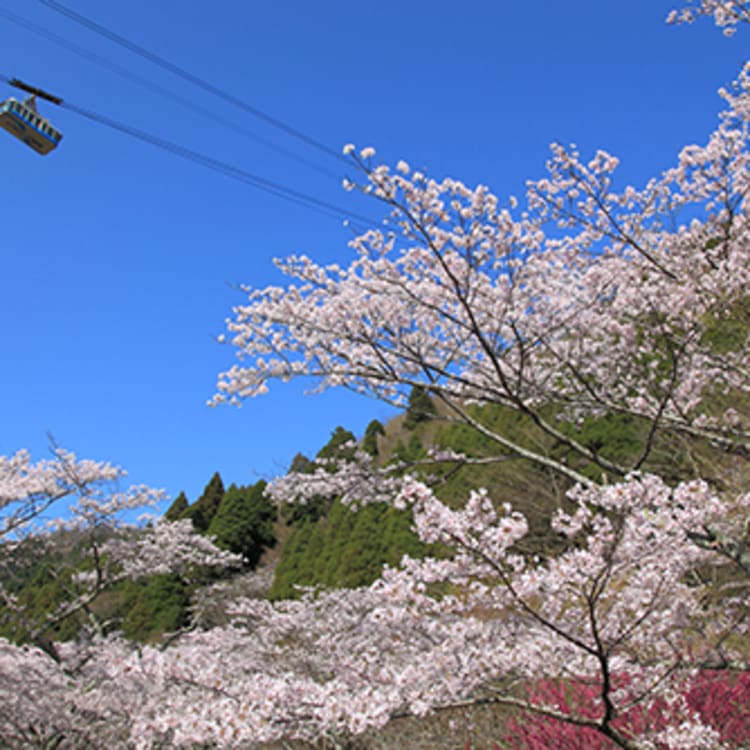 GUIDE
Kyushu: Mt. Tsurumi Cherry Blossoms
by JNTO on 12 February 2019
Oita Prefecture is nicknamed 'Onsen Oita', thanks to its profusion of hot spring resorts. One of its most famous is Beppu, which is located along the beautiful Beppu Bay. Soaring 1,375m high behind Beppu is Mt. Tsurumi, one of Kyushu's many volcanoes.
Mt. Tsurumi is a popular site that offers not only breathtaking views of Beppu City, the bay, and surrounding mountains from its observation site, it's also famous for its cherry blossoms in spring.
What's interesting about this area is that there are two kinds of cherry blossoms: from early to mid April, over 2,000 Yoshino cherry blossoms bloom around the base of the mountain near the ropeway, making it one of Beppu's most popular hanami spots. In late April, Fuji cherry blossoms bloom along the walking paths at the top of the mountain – if you're lucky, you can also witness pink rhododendrons blooming on the mountaintop when it starts blooming in May. The 5,000 rhododendrons here are a species indigenous to mountains in southern Japan.
There's more than just views and flowers at the top of Mt. Tsurumi; the mountain is actually a spiritual site. Once you pass the giant red torii gates you'll see small shrines and statues worshipping various deities that represent everything from marriage to hand and foot injuries. If you can, do spare an hour to make a pilgrimage of the Seven Deities of Good Luck.
Spring isn't the only season with spectacular scenery – the fall colours draw leaf-peeping crowds here in October, while in winter the landscape is covered in a sheen of hoarfrost from mid-December to mid-March.
Where can I find Mt. Tsurumi?
Located about 10kms from JR Beppu Station, Mt. Tsurumi's peak is accessible via a ropeway. Accommodating a maximum of 101 passengers, it takes you 800m up the mountain in just 10 minutes and it's one of Japan's biggest and steepest ropeways.
From the upper ropeway station, you can explore the various shrines, stroll along the arbour where the cherry blossom trees are, or take one of the multiple paths to the summit (15 minutes). Near the lower ropeway station is the Kyushu Shochu Hall, which is a good place to check out over 300 different types of shochu that are produced in Kyushu.
What is good to eat in Beppu?
Since Beppu is a hot spring resort, the waters are used not only to bathe, but also to cook. The steam from the hot spring has been used to cook jigokumushi (or "hell steaming") since the Edo period. Food is placed in large steamers which are then lowered into a steaming oven heated by natural hot spring (temperatures can reach 100ºC).
At the Jigokumushi Kobo Steam Cooking Center, you can either order set meals – usually a combination of tofu, vegetables, eggs, and chicken – cooked jigokumushi style, or bring your own food and cook them yourself in steamers which can be rented there. In addition, you can also enjoy a free hot spring foot bath while you dine!
Oita Prefecture is also blessed with abundant seafood – in particular, seki mackerel which are fished using a pole-and-line method and has an almost crunchy texture when eaten as sashimi. The prefecture is also famous for its chicken – toriten (chicken tempura), lightly-fried chicken in batter, is famous throughout Kyushu.
In the hotter months, a popular dish is Beppu Reimen, chewy buckwheat noodles served in cold, clear soup that's usually topped with cold seasoned beef, kimchi, and a boiled egg.
How to get to Mt. Tsurumi?
The lower station of the Beppu Ropeway – located along the road between Beppu and Yufuin – is accessible from JR Beppu Station via Kamenoi Bus (routes 34, 36, or 37), taking about 20 minutes.
Date: All year round (cherry blossom season from early to late April)
Time: 9:00 to 17:00 (closes at 16:30 from mid-November to mid-March)
Ropeway Fee: Adults 1,000 yen one way/1,600 yen return; Children (4 to 12 years) 800 yen one way/500 yen return; Children under 4 free