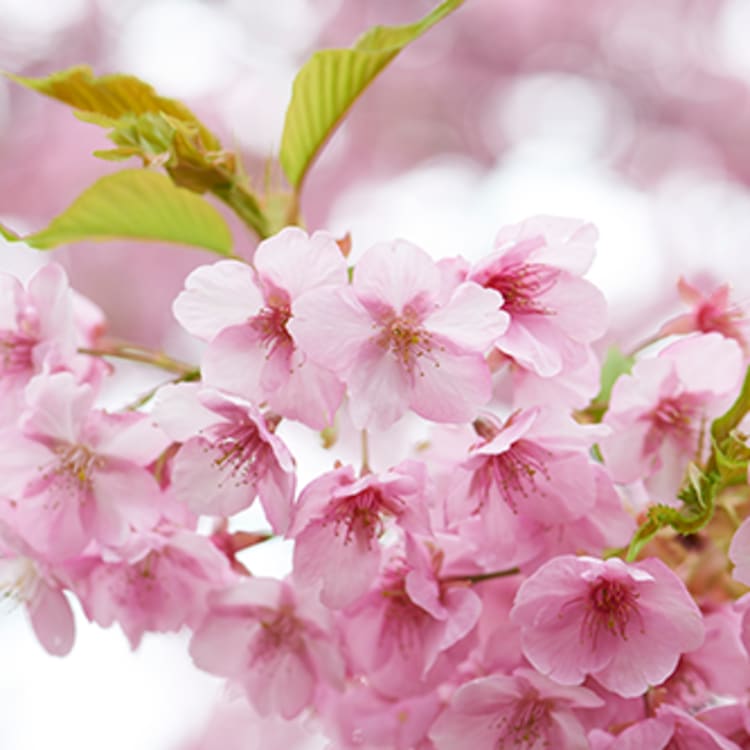 GUIDE
Kyushu's Top Sakura Spots
by JNTO on 12 February 2019
Cherry blossom trees, also known as sakura, are an iconic part of Japan's landscapes, and have awed visitors for centuries. In Kyushu, an island known for its onsen (hot springs) and mountains, there's no shortage of places to see the sakura in their natural splendor.
If you're fortunate enough to visit Kyushu during the sakura season (usually between March and April), here are some top spots:
Uminonakamichi Seaside Park (Fukuoka Prefecture)
Located in Fukuoka City on a peninsula surrounded by Hakata Bay lies Uminonakamichi Seaside Park, consisting of several different areas including flower gardens, playgrounds, an amusement park, a water park, a zoo and large open spaces for picnicking. In addition to over 2,000 sakura trees lining its scenic trails, the park also features beautiful flower gardens with tulips, roses, hydrangeas, sunflowers and more!
Opening Hours
November to February: 9:30 to 17:00
March to October: 9:30 to 17:30

Admission Fee
450 yen for adults (15+), children under 15 free
Must-try dish in Fukuoka Prefecture
If there's one food you should try while you're in Fukuoka Prefecture, it's Hakata ramen. This hearty dish is characterised by its cloudy and aromatic tonkotsu (pork bone broth) soup and thin, Chinese-style noodles.
Suizenji Gardens (Kumamoto Prefecture)
Located about 8km southwest of Kumamoto Castle, the Suizenji Gardens were created in 1637 to reproduce the 53 stations of the Tokaido Road, the original route connecting Kyoto to Tokyo during the Edo Period (1603-1868). The garden landscape features a miniature Lake Biwa and Mt. Fuji, and is surrounded by hundreds of sakura trees that provide a nice contrast to the garden's other flora.
Opening Hours
November to February: 8:30 to 17:00
March to October: 7:30 to 18:00
Admission
400 yen for adults (16+); 200 yen for children (15 and below)
Must-try dish in Kumamoto Prefecture
Kumamoto ramen is the must-try dish in its namesake prefecture, which has a broth that combines pork bone and chicken stock, and noodles that are medium in thickness. It is topped with chashu (braised pork belly) and the ramen's signature ingredients —roasted garlic chips and oil.
Omura Park (Nagasaki Prefecture)
Located in the city with the same name, Omura Park is situated just beyond the outer walls of Kushima Castle, and has over 2,000 sakura trees — including over 300 rare Omura Zakura trees, which have two-layered flowers that can have up to 200 petals! In addition, the park is filled with thousands of azaleas and irises, which add shades of blue and purple to the park's landscape.
Opening Hours
Open 24 hours
Admission
Admission is free
Must-try dish in Nagasaki Prefecture
While Omura is famous for its omura-zushi – a pressed, layered sushi that is served as small squares – the most iconic dish in Nagasaki Prefecture is the Nagasaki Champon, inspired by Chinese cuisine. The thick noodles and flavourful broth (made from chicken and pork bones), are topped with seafood, vegetables, and pork fried in lard to give it a rich and creamy taste.
Oka Castle Ruins (Ōita Prefecture)
Located on the outskirts of Taketa City, the Oka Castle ruins are situated on top of a 325m-high plateau, giving visitors a breathtaking view of the surrounding mountainous landscape. Adding to the sublime scenery are 1,500 sakura trees, mostly of the Yoshino variety, which add beautiful shades of pink and white to the castle grounds, creating a nice contrast with the surrounding greenery.
Opening Hours
Daily from 09:00 to 17:00
Admission
300 yen for adults (15+); 150 yen for children (14 and below)
Must-try dish in Ōita Prefecture
Toriten (tempura chicken) is a classic dish in Ōita Prefecture. Not to be confused with "fried chicken," toriten comprises chicken strips that are fried in tempura batter until it is light and fluffy, and is typically served with ponzu, a combination of vinegar and soy sauce. Some restaurants may fry them twice to achieve a much crunchier texture.
Ogi Park (Saga Prefecture)
Located near the outskirts of Saga City, Ogi Park is considered one of Japan's best sakura viewing spots as its paths and walkways feature over 3,000 sakura trees that bloom in early spring; at night, the trees are lit up. The park also has about 25,000 azaleas that bloom in early summer. Ogi is considered to be like a "little Kyoto", making it a great place to see the traditional side of Japan.
Opening Hours
Open 24 hours
Admission
Admission is free
Must-try dish in Saga Prefecture
You can snack on the famous Ogi Youkan – a sweet red bean jelly – while exploring the park, but a must-try dish in the prefecture is Yobuko squid prepared ika no ikezukuri (live squid sashimi). The squid has a translucent, shimmery appearance, sweet flavour, and soft texture — and is freshly served sashimi style just moments after being taken out of the tank. It's so it fresh it still quivers.
Yoshino Park (Kagoshima Prefecture)
Located in Kagoshima City, Yoshino Park is a situated on a small hill with sublime views of Kinko Bay and the Kirishima mountain range. There are around 800 sakura trees in the park, including the Yoshino variety and the Kawazakura variety which begins blooming in February. In addition, there are over 40,000 azaleas planted around the park's fountain that add vivid shades of pink and purple when they bloom in early April.
Opening Hours
March: 7:00 to 18:00
April to June: 6:00 to 19:00
July to August: 6:00 to 19:30
September: 6:00 to 19:00
November to February: 7:00 to 18:00
 
Admission
Admission is free
Must-try dish in Saga Prefecture
One of Kagoshima Prefecture's popular dishes is a comfort food called gane, which is julienned sweet potato tempura. Gane actually means crab in local lingo, but it earned this name because it looks like crab legs. Adding to its popularity is the fact that it's the perfect accompaniment for shochu (Kagoshima is famous for its sweet potato shochu)!
Mochio Park (Miyazaki Prefecture)
The historic 2km-long sakura-lined road is one of Japan's best sakura viewing spots. During the blooming season, the park's 2,600 sakura trees blanket the landscape with various shades of pink, which includes the Yoshino variety and the double-flowered Yae Zakura. In addition, there's a nearby hilltop where you can get a beautiful panoramic view of the entire park!
Opening Hours
Open 24 hours
Admission
Admission is free
Must-try dish in Miyazaki Prefecture
Miyazaki is the place to go to for simple, charcoal-grilled yakitori, featuring the prefecture's famous, free-range jitokko chickens. Renowned for their tenderness and almost buttery flavour, skewered chunks of jitokko chicken are grilled using the prefecture's locally-sourced charcoal — creating a simple and tasty dish that's famous throughout Japan.