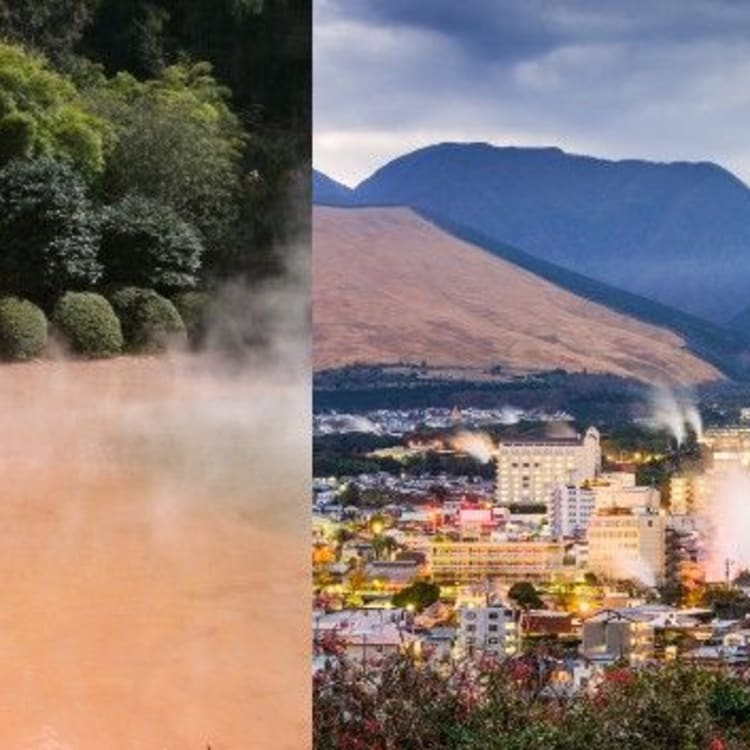 STORY
More than an Experience! Great Scenic Outdoor Baths in Kyushu
by JNTO on 05 September 2019
Kyushu is the paradise of hot spring with gushes here and there! Famous ones include Beppu and Yufuin in Oita prefecture, as well as Kirishima and Ibusuki in Kagoshima prefecture. This time, let us look into some out-of-the-world hot springs with dynamic views of Kyushu!
Kyushu, the Home of Hot Spring Villages and Unique Spa Areas
Kyushu is the home of many famous hot springs, including Beppu onsen in Oita which has been said to be the hot spring area in Japan with the largest amount of water from the largest number of onsen sources. In Beppu city, there are as many as eight onsen sources, resulting in the formation of eight hot spring villages and the "Beppu Eight Hot Springs Tour".
The "Beppu Jigoku Tour" is another famous onsen tourfor deeper understanding of these natural phenomena. Similarly, Yufuin onsen can be spotted at the foot of the magnificent Mt. Yufudake, at where you can also see chic cafes and souvenir shops lining up at the Yunotsubogaito street.In Kagoshima, there are many other unique hot springs such as the Kirishima hot spring village at the center of Mt. Kirishima with nine smaller villages, natural steam sand bath in Ibusuki whereby visitors cover their bodies with hot sand and enjoy the steam for efficient detoxification and enhancement of blood circulation. In Nagasaki, you can discover the Unzen hot spring also known for its positive impacts on health.
Panoramic Ocean Views of Yakushima and Ioujima Islands! Rotenburo- Tamatebako Hot Springs, the Healthy Land (Kagoshima Prefecture)
Ibusuki onsen is a famous steam sand bath at Kinko Bay, southern Satsuma peninsula of Kagoshima. It is a special bath inside hot sand soaked with natural hot spring water. The way to enjoy the bath is to cover your body with the sand.
The special bath is available at "Healthy Land Tamatebako Hot Spring", at where you can also find a popular outdoor hot spring with superb view of the sea.
It has been at the top spot consecutively for four years in the ranking of "Excellent Day-trip Hot Spring & Spa".
There are two hot springs in the hotel; "Fuji in Satsuma", the Japanese outdoor spa, with a great view of Mt. Kaimondake, and "Western outdoor spa" with superb views of Mt. Takeyama and a big sea.
The faraway Yakushima and Ioujima islands can be seen on sunny days, and at the Western outdoor spa, it is always impressive to see the rocks in unique shapes on Mr. Takeyama with waves hitting the steep seashore. Both baths are enormous and the sea view is unblocked, so you can see the horizon right from the bath. The Japanese outdoor bath is open for ladies in days of odd numbers and for gentlemen in days of even numbers, vice versa in the western spa.
Healthy Land Rotenburo- Tamatebako Hot Springs
Address: 3292, Fukumoto, Ibusuki City, Kagoshima
Access: [Railway & bus] Take Ibusukimakurazaki line at JR Kagoshima central (chuo) station and head to JR Ibusukishuku station. Take the bus heading to Kagoshima Kotsu Eco-camp site, Lake Ikeda, and the trip is approximately 25 minutes. Get off at the bus stop "Healthy land entrance".
Alternatively, drop off at JR Yamakawa station, take the bus heading to Kagoshima Kotsu Eco-camp site, Lake Ikeda, and the trip is approximately 12 minutes. Get off at the bus stop "Healthy land entrance".
Operating hours: 9:30 a.m. – 7:30 p.m. (last admission at 7:00 p.m.)
*Closes every Thursday (open if the day is a public holiday, close on the next day in such case)
 
Popular Hot Spring with a Panoramic View of Beppu Bay! (Oita Prefecture)
Suginoi Hotel is a hot spring resort hotel at the highland of Kankaiji Onsen of Beppu, with its huge hot spring as its highlight. Enjoy your private bath on the fifth floor, while admiring the mesmerizing Beppu Bay!
The highest floor (the rooftop) is an indoor bath within glass, and the second floor is a semi-open bath where you can enjoy an undisturbed bird eye's view of the surrounding nature in rainy days. There is also a foot(ashiyu) hot spring on the forth floor.
The night view is also worth looking at. In the day, you can see the Sadamisaki cape of Shikoku if the weather is favourable. Moreover, there is a 150 cm wide cypress wooden bath tub and a sauna, as well as an outdoor hot spring water playground called The Aqua Garden. You can simply enjoy a whole day here!
Kyushu, Beppu Suginoi-Hotel
Address: 1, Kankaiji, Beppu City, Oita
Access: [railway & bus] take Nippo main line (express train) at Hakata station for approximately 1 hr 50 mins, get off at Beppu and take taxi/bus for about 10 minutes. There are also free shuttle buses at Beppu station.
[Rental car]Turn right at the Kankaiji onsen signage of Beppu IC interchange. Turn left, if coming from Beppu down. Or just enter 0977-24-1141 in the GPS system.
Operating hours: 9:00 a.m. – 11:00 p.m. (last admission at 10:00 p.m.)
 
Recommended for Autumn!
"Rotenburo, Kisshonoyu" at Tsuetate Onsenya (Kumamoto Prefecture)
Tsuetate Onsen is located in Oguni-machi, Aso district and lies on the border between Kumamoto and Oita. Trek through some mountain trails and along the Tsuetate River is the small town.And you can see here the hot spring with medical effect being well loved since the old time.
The hot spring facility "Kisshonoyu" is operated by "Hizenya Hotel".
Here along the Tsuetate River, there are five hot springs; the bucket bath, wood bath, lava bath and the rock baths in two sizes. Visiting during the red leave season is highly recommended. This area simply becomes reddish yellow, and you can enjoy the view while staying in your relaxing bath!
Tsuetate Onsen Hizenya Kisshonoyu
Address: 4223, Kankaiji, Shimojo, Oguni-machi, Aso district, Kumamoto
Access: [railway & bus] At Fukuoka airport, take the limousine bus bound for Hita Onsen entrance and get off at Hita bus center. Transit to bus for Tsuetate onsen and get off at "Tsuetate".
Alternatively, take the direct express bus at Nishitetsu bus terminal. There are 4 buses daily.
[Rental car] Via national route number 212 at Hita IC interchange
Operating hours: 11:30 a.m. – 11:00 p.m.