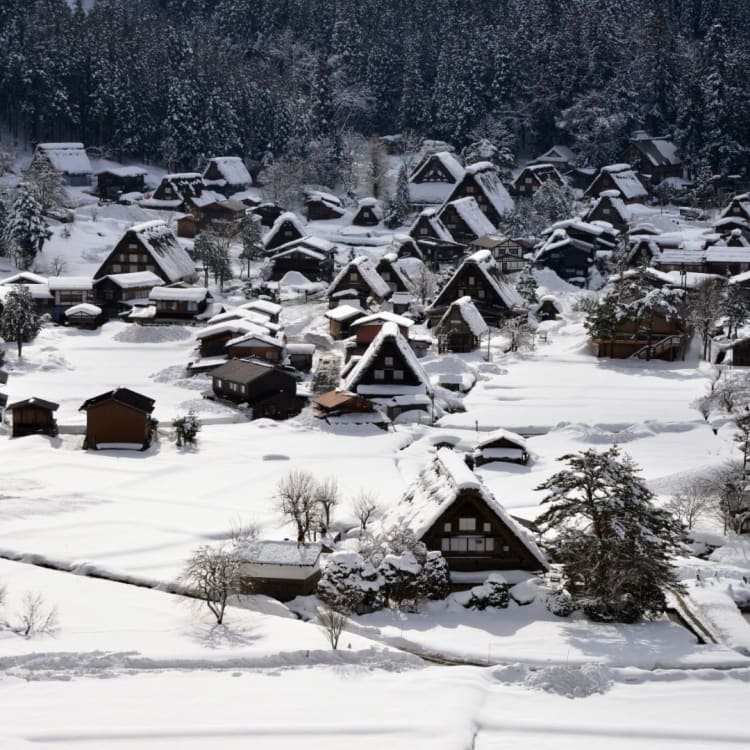 STORY
A Must-See for Winter Sightseeing! Enjoy These Snowy Locales for FREE!
by JNTO on 27 November 2019
As Japan has four seasons, one aspect of Japan's beauty is certainly it's snowscapes. As such, Japan's snowscapes are a must-see when you come visit in the winter. Some popular spots such as ski resorts or Shirakawa-go require reservations or are part of tour packages, but there are also plenty of free sightseeing spots to enjoy the snow throughout the country.
Today we are showing you some amazing spots to view wintry sceneries which do not require additional entrance fees, such as the famous "ice curtain" of Shirakawa Icicles and the mystical snow-laden trees of Metasequoia Namiki Avenue.
Metasequoia Namiki Avenue's snowscape is overwhelming yet enticing ! (Shiga Prefecture)
Metasequoia Namiki Avenue is located in Makinocho in Takashima City which is located in northwest of Shiga Prefecture. A total of about 500 metasequoia trees stand on both sides of the avenue's approximately 2.4 kilometre stretch and continues toward the Makino highlands, creating a special tree tunnel.
In summer, visitors can take in the breathtaking view of the trees' fresh, green foliage and, in autumn, that of their reddish, golden autumn leaves. Especially under sunlight, the surrounding powdery snow appears to glitter while the gigantic trees contrast against the white snow, awes you in winter. To enjoy the uniquely different view of the tree tunnel during winter, please note that Shiga's snow season usually begins early January and ends around mid-February.
Metasequoia Namiki Avenue
Address: From Hiruguchi to Makino, Makinocho, Takashima, Shiga
Access: A 6-minute bus ride on the bus bound for Makino Kogen from JR Makino Station. Then, just get off at Makino Pick Land
 
Enjoy Chihibu's winter splendor
at Onouchi Keikoku Icicles and Misotsuchi Ice Pillars (Saitama Prefecture)
Those familiar with Chichibu may also know that the man-made ice pillars of the Onouchi Valley are truly a sight to behold. The enormous icicle structure spans a total length of 250 metres and at a height of 60 metres. The view from the starting point at the suspension bridge promenade is striking. On the other hand, the Mitsotsuchi ice pillars, which appears to be an art formed naturally over time from frozen spring water exuding from the valley's bare rock surface, is another must-see attraction during winter. The pillars can grow up to 8 metres in height and up to 30 metres in length. Both attractions are lit up at night, creating a particularly fantastical atmosphere. Both spots can usually be enjoyed from mid-January to mid-February.
Onouchi Keikoku Icicles
Address: 996-1 Kawarasawa, Ogano-machi, Chichibu, Saitama
Access: A 20-minute walk after getting off at Onouchi Keikoku Iriguchi bus stop
Misotsuchi Ice Pillars (Misotsuchi no Tsurara)
Address: Wood Roof Oku-Chichibu Auto Campsite, 4066-2 Otaki, Chichibu, Saitama
Access: From Seibu-Chichibu Station, ride the Seibu Tourism Bus bound for Mitsumine Jinja or Mitsumineguchi/Chichibu Lake and get off at Misotsuchi bus stop
like an Icy Curtain
"Shirakawa Icicles" (Nagano Prefecture)
Nagano's lowest range of temperatures in winter is usually between -10℃ and -20℃. The area's frigid temperatures cause the spring waters exuding from Mt. Ontake's bare rock to freeze, creating a beautiful "curtain of ice!" The frozen structure can grow up to 250 metres in length and up to 50 metres in height. The illumination from light fixtures surrounding the attraction create a mystical atmosphere you will be awed by the magnificient ice curtain.
 
Shirakawa Icicles
Address: Ihara Mitake, Kiso, Kiso District, Nagano
Access: A 30-minute car ride from JR Chuo Main Line's Kiso-Fukushima Station
 
Blue Pond and White Snow make for a magical experience!"Blue Pond"(Hokkaido)
 
As its name suggests, the vivid blue reflected in the water's surface is what makes Shirogane Blue Pond such a mystifying body of water. The beautiful greenery and withering Japanese larch trees reflected in the pond's surface make this a popular spot for the cameras. The pond has also garnered attention for the mystical contrast between the brilliant blue nature of its waters and white, powdery snow that settles around its bank in winter. The sight of Hokkaido's pure, white snow nestled atop the frozen pond's waters will take your breath away! Biei Shirogane Hot Spring is also located near the pond, so visitors in the area can enjoy beautiful wintry scenery and then head over for soothing hot springs waters!
Shirogane Blue Pond
Address: Shirogane, Bieicho, Kamakawa District, Hokkaido
Access: A 20-minute car ride from JR Biei Station, or a 20-minute ride on the Douhoku Bus from JR Biei Station