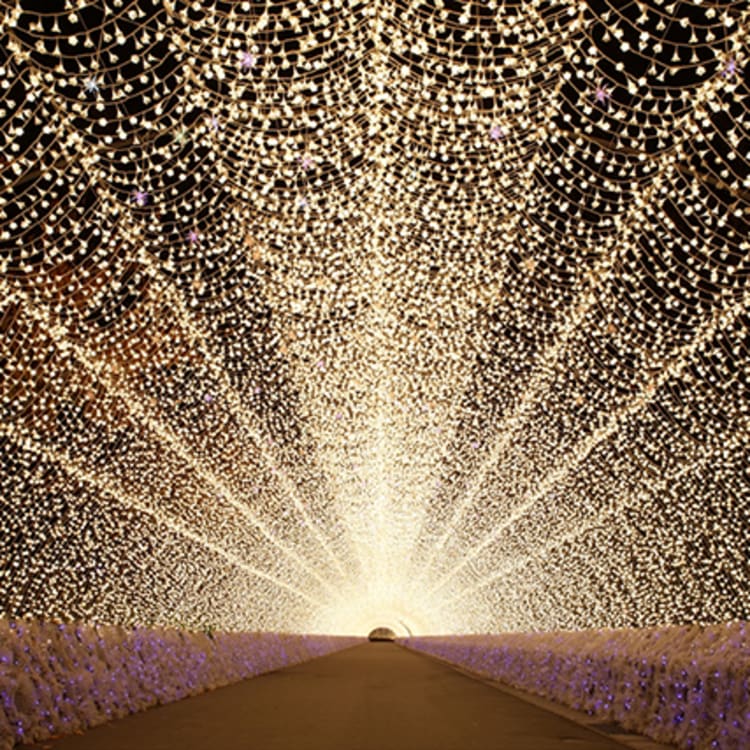 GUIDE
NABANA NO SATO WINTER ILLUMINATION
by JNTO on 09 September 2018
Step into a warmly-lit wonderland of Nabana no Sato in the chill of winter and experience their breathtaking winter Illumination! Located within the vast Nagashima Resort in Mie prefecture, Nabana no Sato is a flower park famous for hosting the largest illumination event in Japan.
Stretching from mid October to mid May, these illuminations are some of the longest in Japan. This means that during the day, you can feast your eyes on seasonal blooms like tulips in spring and cosmos in autumn. By night, the landscape lights up to depict beautiful scenes of nature from Japan and around the world thanks to the millions of LED light bulbs.
The theme changes every year; earlier this year, the highlight was Kumamoto. Previous years saw spectacular light shows of majestic landmarks such as Mount Fuji, the Swiss Alps and Europe's Northern Lights. Be awed by magical displays as trails of twinkling lights wind in and out of foliage, running across bushes and even gliding over water.
From the illuminated lake in the centre of the park to the flying observatory ride that soars up to a height of 45m, giving you a bird's eye view of the vibrant park, Nabana no Sato is a sight to behold. Stealing the show are the Instagram-worthy illuminated tunnels that are decorated with millions of light bulbs.
For a spot of relaxation, stop by the Nagashima Beer Garden, or soak in an onsen at the nearby Nagashima Spa Yuami no Shima.
Address:
Nabana no Sato Flower Park, 270 Komae, Nagashima-chō, Kuwana-shi, Mie-ken
Tickets:
During Winter Illumination
2,300 yen (adults) – Includes 1,000 yen worth of food and souvenir vouchers to be used within the park
*Entrance to Begonia Garden, Onsen and the Island Fuji are charged separately
Opening Hours: 9am - 10pm during illumination season
How to get there:
By train and bus [30 minutes]
It's 20 minutes by train from Kintetsu Nagoya Station to Nagashima Station, then a 10-minute bus ride to Nabana no Sato
By bus [30 minutes]
Take a bus from Nagoya Meitetsu Bus Center to Nabana no Sato
MATSUSAKA BEEF
Mie prefecture is the best place to sample the famous Matsusaka beef. This delectable local favourite hails from the Matsusaka region in central Mie where cattle are raised by hand in extremely small quantities due to the amount of care needed. These calves are pampered with straw brush massages, beer, and soothing music. Their special treatment results in an ultra-delicate meat with high-ratio fat distribution and trademark marbling patterns that border on fine art.
Despite the marbling, it has a more robust beefy taste than any other Wagyu beef thanks to the thin and evenly-spread layers of fat that melts in your mouth almost instantly. Of course, this special treatment also makes Matsusaka one of the most expensive beef in Japan, with a simple steak starting from 3,500 yen.
Drop in on any Yakiniku store throughout Mie prefecture and you can expect to be served top-notch A5 Matsusaka beef. You can also travel to Matsusaka City (2 hours from Nabana no Sato by train and bus), home to the namesake beef, where several noteworthy restaurants like Isshobin Honten, Gyugin Honten, and Beef Club Noel serve this quality meat.