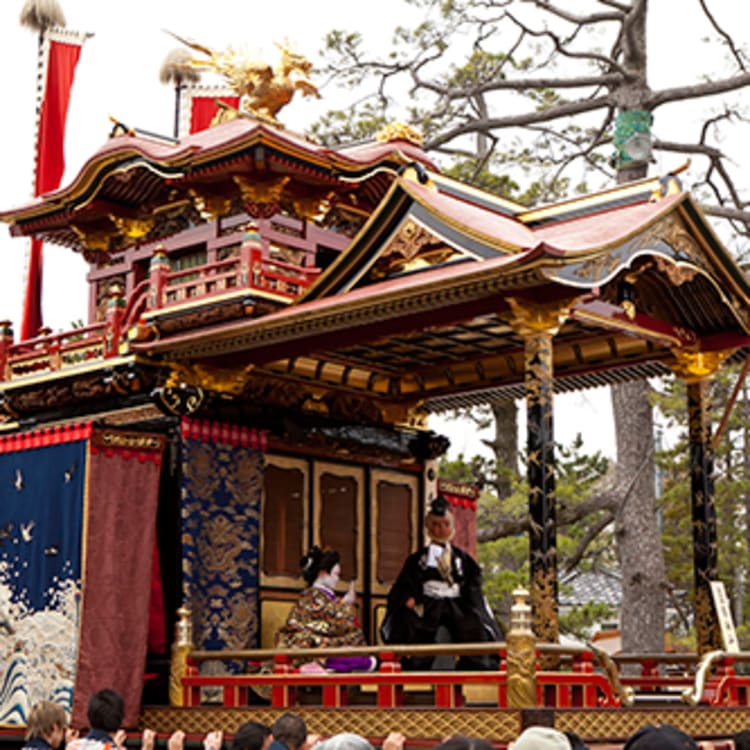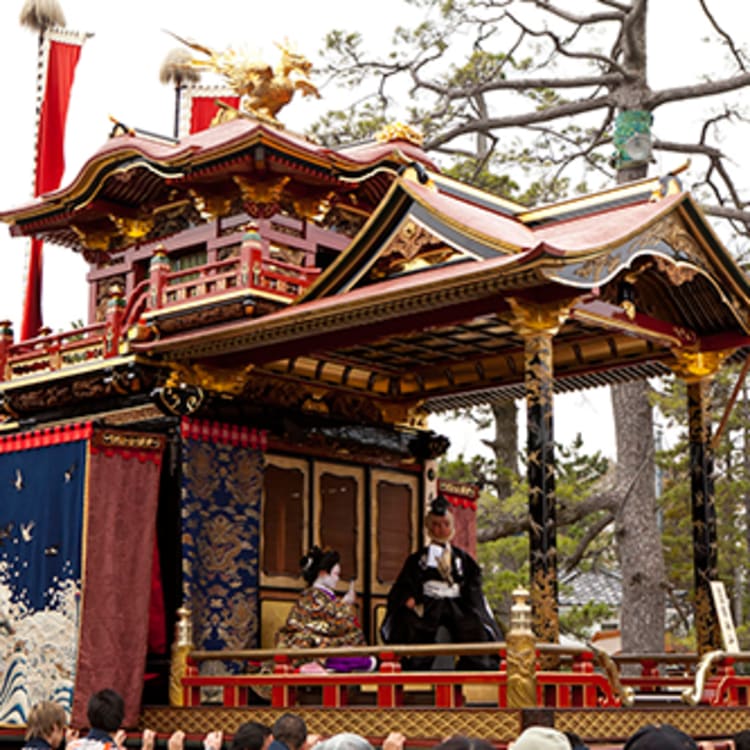 GUIDE
Nagahama Hikiyama Festival, Shiga
by JNTO on 08 February 2019
The glorious Edo period of Japan birthed numerous cultural marvels, but perhaps none as grand as the Nagahama Hikiyama Festival where dozens of hikiyama (an elaborate wooden float with a kabuki theatre stage) are slowly paraded through the streets of Nagahama in Shiga Prefecture.
Held between the 13th and 16th of April every year, this 'moving theatre' is one of Japan's three great float festivals and has a history stretching back to the middle of the Edo period (late 17th century). The festival is all about children's kabuki, performed by boys aged 5 to 12 – playing both male and female roles in full makeup and costume – on the hikiyama.
The kabuki floats
Each of the individually-designed hikiyama has a name, and divided into three groups of four floats; only one group is paraded each year. There is also a "guardian" float – which has no stage – named Naginata-yama that appears every year.
The floats centre around the Nagahama Hachimangu Shrine where legend says a former lord of Nagahama Castle – Hideyoshi Toyotomi – spread his wealth among the townspeople in honour of his first son. Part of that treasure went into building 12 hikiyama to be celebrated at the shrine annually.
Over time, float teams developed a healthy rivalry that encouraged increasingly beautiful and intricate designs, some housing 400-year-old Belgian tapestries depicting domestic and battle scenes from ancient Japan. These marvels of construction have two storeys – the first housing a kabuki stage and dressing room, with a pavillion on the second floor capped by storied gabled roofs.
Each year the floats are remodelled, which is quite a feat considering many of the floats are hundreds of years old. Outside of the festival season you can see them at the Nagahama Hikiyama Museum.
Where can you see the festival
From April 10-12, you can watch the boys practise their kabuki performance (three times daily) at each of their float's neighbourhood practice halls. During this time, you can also see scantily-clad young men (wakashu) from the four floats create a frenzy by splashing themselves with cold water and running from the Nagahama Hachimangu Shrine to the Hokoku Shrine across town where they splash in a well again. This is done to wish for a successful festival.
While the main festival happens on April 15th (called honbi), the hikiyama procession and kabuki performances start from April 14th, when each float travels from their respective neighbourhoods to Nagahama Hachimangu Shrine, pulled by the wakashu as they shout 'Yoisa! Yoisa!'
The honbi starts from morning when the hikiyama are paraded from Hachimangu Shrine to Hokoku Shrine, with kabuki performances taking place successively on each float until night falls. You can catch the festival at any time during the day, especially along the Otemon-dori shopping arcade.
What to eat in Nagahama
Located on the shores of Lake Biwa, Nagahama is an Edo-era port city that once had the ancient Hokkoku Kaido highway (which connected both coasts of Japan) running through its heart. Today, its history can be relived by strolling through historic Kurokabe Square, following ancient canals, and visiting its temples and shrines.
When it comes to classic dishes, everybody in town salivates for the Mackerel Somen, or Yakisaba Somen. This warm bowl of goodness is Nagahama's most iconic dish: tender, slow-cooked mackerel on a bed of soupy noodles. The dish was born out of necessity – many women married into farming communities and made this relatively simple dish to save time, since their strong hands were needed in the fields during harvest time. The mackerel is boiled for two days seasoned soy sauce, Japanese sake and sugar before it is grilled and then served on top of somen noodles in dashi (fish broth).
Yokarou is the most famous establishment serving Yakisaba Somen – this 200-year old restaurant is run out of an old wooden house along the ancient Hokkoku Kaido highway. There's always a crowd – but the reward is a bowl of Nagahama's finest noodles in an authentic, traditional setting.
Another popular dish is Noppei Udon – a bowl of udon noodles in thick, starchy soup garnished with fried tofu and fishcake. Nagahama's most famous place to try this is Momijiya Noppei Udon, whose udon is served with momiji (maple leaf) tofu and a giant shiitake mushroom. With its traditional setting, it's also a popular filming spot.
For a tipple, you can head to Nagahama Roman Brewery – a local craft beer bar that's known not only for its ale, weizen, pilsner, and stouts, but also for its local pub fare like Ohmi beef and funazushi (fermented fish) that's unique to Shiga prefecture.
How do you get to the Nagahama Hikiyama Festival
The Nagahama Hachimangu Shrine is a 15-minute walk from JR Nagahama Station. The terminus of the hikiyama festival procession is at Hokoku Shrine, which is about 10-minute walk away and just a 5-minute walk from Nagahama Station. The Nagahama Hikiyama Museum is also a 15-minute walk from JR Nagahama Station.
Date: 13 - 16 April (15 April is the main day)
Time: 7am - 9pm
Entrance fee: Free