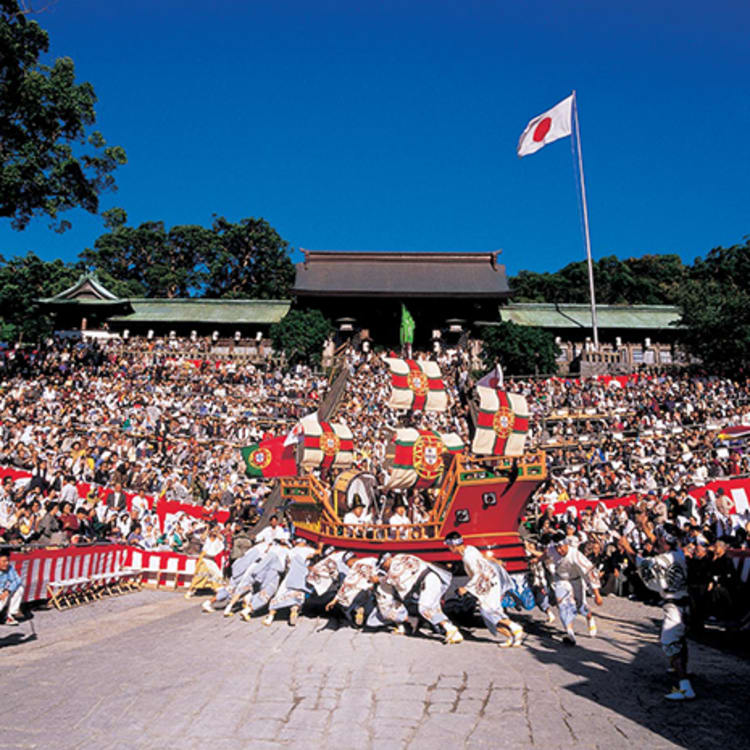 GUIDE
Nagasaki Kunchi Festival
by JNTO on 09 September 2018
The Kunchi Festival is a must-see cultural event if you plan on visiting Nagasaki in early October. The festival is a rich local tradition that dates back to 1634 when residents made an offering to local deities at Suwa Shrine. Over time, these shrine offerings transformed into a popular 3-day celebration involving folk performances and float (kasaboko) parades.
What makes Nagasaki's Kunchi Festival unique is that it incorporates Dutch, Portuguese, and Chinese cultural and aesthetic elements into its performances —such as Chinese-inspired dragon dances, floats built to look like Dutch ships, and even Dutch comedies.
This was due to Nagasaki's status as an open port during the Edo Period (1603-1868) when trade flourished with the West and trading posts like Dejima were established — which is another fascinating historic site to visit!
Speaking of cultural influence, there's one other thing you should try during your time at the festival —Shippoku Ryori! Considered Nagasaki's most famous cuisine, Shippoku Ryori infuses Dutch, Portuguese, and Chinese elements. This feast is served on a round table in lacquerware dishes and features eclectic dishes like kakuni, a Chinese inspired pork belly dish, and tai (red snapper) fin soup.
You can find Shippoku Ryori at several famous traditional establishments such as Shiseki Ryotei Kagetsu, Nagasaki Shippoku Hamakatsu, and Sakamotoya.
Where to catch the Kunchi performances
In Nagasaki, there are four "main" stages (Honbasho) where performances take place —Suwa Shrine, Central Park, Otabisho, and Yasaka Shrine. Entrance to these shows is free for standing viewers. However, if you want to get a prime spot in the seated viewing sections, you'll need to purchase tickets months in advance as they are practically impossible to get last minute.
The main stages aren't the only venues to catch the Kunchi performances though —the Niwasaki-miwari, or "street performances" are another way enjoy festival. These performances take place in a variety of place including government offices, businesses, and even private homes. Maps for these performances can be found at tourist information desks and at Nagasaki station.
Getting to the Kunchi performances
Riding the streetcar is the most convenient and cost-effective way to see the Kunchi Festival performances in Nagasaki. The streetcar uses a flat fare system, so you'll only need to pay 120 yen (adults) or 60 yen (children aged 6-11) per trip. You can also purchase a day pass for unlimited travel for 500 yen (adults) or 250 yen (children aged 6-11).
Date: from October 7 to October 9, 2018
Time: 15:00-21:30
Entrance fee: Free, but there's a fee for seating to view the performances. Tickets for seating at Central Park Kunichi Observatory, Suwa Shrine, and Yasaka Shrine can be found here.