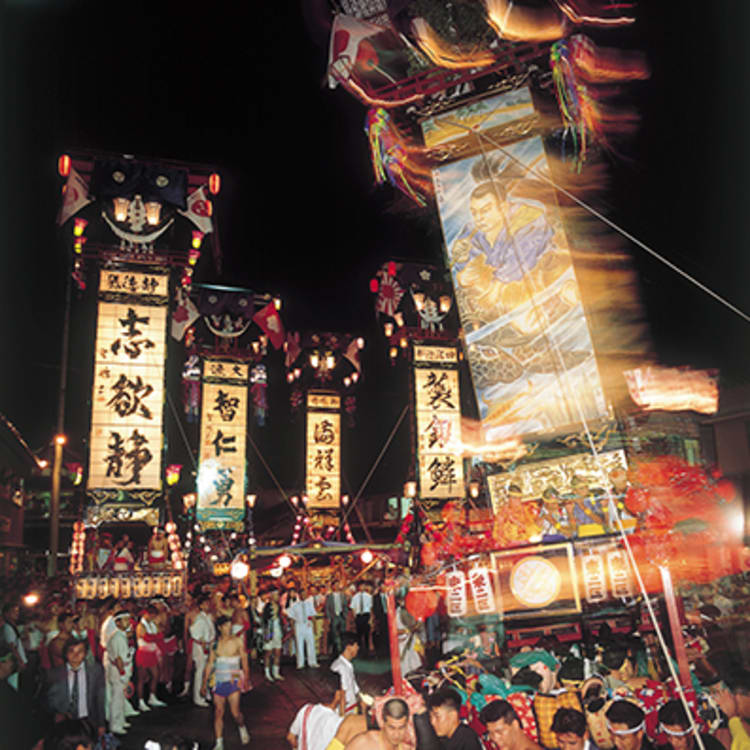 GUIDE
Noto Kiriko Festival
by JNTO on 12 February 2019
Half of the northern part of Ishikawa Prefecture is made up of the Noto Peninsula, which extends about 100km into the Sea of Japan. While not extensively served by public transport, this sparsely-populated region is known for its coastal scenery, rice terraces, and quiet villages.
The peninsula has two main towns: Wajima City and Wakura Onsen. The former is famous for its lacquerware while the latter is a seaside hot spring town. Not far from Wajima, you can see the beautiful Shiroyone Senmaida – rice terraces that seem to tumble into the ocean.
When visiting in summer, Noto Peninsula is famous for its spectacular summer night festivals that feature Kiriko. These giant lanterns – some 15m tall – are used to light up the mikoshi (portable shrines) which are paraded during one of hundreds of summer festivals staged on the peninsula, all held between the months of July and September. In Wajima City alone, there over 30 Kiriko festivals.
Each festival is unique and differ in scale and characteristics. The most popular is the Wajima Taisai Festival in Wajima City, held over four days (and celebrating four shrines) from August 22 to 25 featuring Kiriko lanterns that are decorated with Wajima lacquer. Highlights include a parade of mikoshi carried into the sea by young men dressed in colourful female costumes and makeup, and bonfire rituals where young men scramble to catch the gohei (decorative strips of white paper used at shinto rituals) that fall from the top of the Kiriko.
Elsewhere on the peninsula are other unique Kiriko festivals, like the Issaki Hoto Festival (Nanao City) which features over 100 Kiriko carriers who dance wildly, and the Saikai Festival (Shika) where it's the women who carry the Kiriko floats. Both the Horyu Tanabata Kiriko Festival (Suzu City) and Okinami Tairyo Festival (Anamizu) feature Kirikos carried into the sea.
The Kiriko themselves are remarkable – some are decorated with gold leaf or lacquer, some are cloud-shaped, and some are decorated with large dolls. During these festivals, it's a common custom for people to invite friends, relatives, and acquaintances into their homes for yobare, a feast to give thanks to deities for their abundant harvest and good catch.
Local specialties on Noto Peninsula
Thanks to the surrounding ocean, it's no surprise that seafood is famous in this region, particularly queen crabs and deep-water shrimps, which you can sample at many sushi restaurants on the peninsula, or at Wajima City's morning market where you can purchase your fresh catch and grill on-site it for free. Okunoto, the northernmost region, is known for Noto-Don, a rice bowl consisting of local rice and seafood.
During the summer months, a handful of traditional women divers called ama still come here to dive for abalone, turban shells, and wakame seaweed at the small island of Hegurajima, just off Wajima City. Seaweed is a big part of Noto's cuisine – wakame is used in soup or eaten as a crunchy snack. In summer, you can see tengusa seaweed being dried before it can be made into tokoroten, a clear noodle-like dish typically served with vinegar and soy sauce in summer.
A popular Noto dish is Ishiru hotpot of vegetables and seafood, the broth of which is flavoured with a local fish sauce called ishiri (or ishiru), an essential Noto ingredient made from sardines, squid, or mackerel, fermented for up to two years.
Wajima has a traditional sweet called maru-yubeshi, an amber-coloured sticky rice cake made with ripe yuzu. It takes up to 6 months to prepare, and can only be made once a year, which makes yubeshi very valuable.
How to get to Noto Peninsula?
Located at the tip of Ishikawa Prefecture, Noto Peninsula has only one railway station at Wakura Onsen which is accessible via the JR Limited Express from Kanazawa (1 hour). The JR Hokuriku Shinkansen from Tokyo gets you to Kanazawa in about 3 hours. Alternatively, you can take a 1-hour flight into Noto Airport from Tokyo's Haneda Airport.
While buses connect between the towns on Noto Peninsula, including the airport, Wajima, and Anamizu, a self-drive is the best way to explore the region.
Date: The Wajima Taisai Festival is held from August 22 to August 25
Time: from sunset
Entrance fee: Free