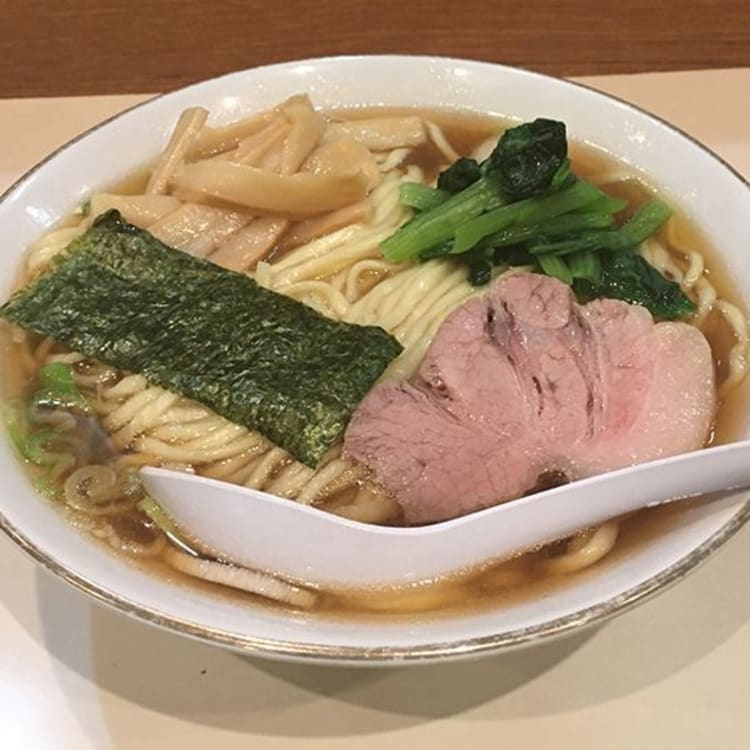 GUIDE
Popular Ramen Shops from Shinjuku to Ikebukuro along the JR Yamanote Line
by JNTO on 26 June 2018
With thousands of ramen shops across Japan, it's easy for anyone to sample this very popular authentic Japanese dish. While it originated in China, it was the Japanese who popularised this culinary masterpiece. There are countless ramen variations in Japan, each with its own unique flavour, so choosing the "best ramen in Japan" is virtually impossible.
If you're in Tokyo, you can sample some of the best ramen shops along the JR Yamanote Line with the JR Tokyo Wide Pass. Since many ramen shops are cramped with limited counter seats, you can take advantage of coin lockers at JR train stations to store your luggage.
Here are some ramen hotspots along the Yamanote Line from Shinjuku to Ikebukuro.
---
Ramen Horiuchi (Shinjuku Station)
Shinjuku's Ramen Horiuchi offers classic Tokyo-style ramen characterised by thick noodles in a shoyu-based soup and topped with chopped onions, bamboo shoots, a slice of laver, and a big slice of charsiu. Located 4 minutes from Shinjuku Station's West Exit, it's particularly notable for the owner's dedication to quality noodles: the boiling time is adjusted daily according to the weather. The thick noodles don't get soggy easily and the generous portion of ramen is served in a clear, subtly-flavoured amber soup.
It costs just 800 yen for a regular size and there is a considerable amount even at the ordinary level.
Shop Information:

Address 1-4-7 Nishi-Shinjuku, Shinjuku, Tokyo

Operating hours Monday through Saturday: 11:00 – 23:00

Related Website https://www.tripadvisor.com/Restaurant_Review-g1066457-d1693831-Reviews-Horiuchi-Shinjuku_Tokyo_Tokyo_Prefecture_Kanto.html
---
Menya Yusaku (Shin-Okubo Station)
Tucked in the neighbourhood of Shin-Okubo, Tokyo's Koreatown, Menya Yusaku is popular among locals for its unique seafood, miso-based ramen. Based on the French dish Soup de Poisson, the thick soup is the result of long hours of boiling crab, prawns and other seafoods, and has an intense seafood flavour with miso paste added. Its distinct aroma whets your appetite, while the pork charsiu melts in your mouth. Its flat noodles, which absorb more soup and flavour compared to round noodles, are handmade by the chef.
A 900 yen bowl includes the basic toppings like braised pork belly, dried and fresh seaweed, but for a minimal fee, marinated egg, corn, prawns, and even clams can be added. Try this French-inspired masterpiece!
Shop Information:
Address 2-19-11 Hyakunincho, Shinjuku, Tokyo
Operating hours All days of the week except Wednesday, 11:30 AM – 8:00 PM
Related Website https://www.tripadvisor.co.uk/ShowUserReviews-g1066457-d1705031-r309756645-MENYA_YUSAKU-Shinjuku_Tokyo_Tokyo_Prefecture_Kanto.html
---
Vegipota Tsukemen En-ji (Ikebukuro Station – North Area)
Just 4 minutes from Ikebukuro Station (North Exit) is Vegipota Tsukemen. Perfect for hot summer days, this is an original tsukemen – cold noodles that you dip in hot soup – inspired by French potage. Their original vegetable paste is added to the broth – made from simmering pork bones, fish, and shellfish for long hours – to create a creamy soup that's richer than ramen broth to complement the thick noodles. You can get a free soup refill if you run out. Made of wheat germ that's packed with vitamins and minerals, choose between a chewy mochi-type noodle or a firmer noodle which is darker in colour. Once you finish the noodles, add the wafu wari (light broth) to dilute your leftover soup for easy drinking.
Try this original dish at only 800 yen.
Shop Information:
Address 2-48-2, Ikebukuro, Toshima-ku, Tokyo
Operating Hours Weekdays, 11:30 AM – 4:00 PM and 5:30 PM – 11:00 PM
Weekends and Public Holidays, 11:30 AM – 10:00 PM
Related Website https://www.tripadvisor.com/Restaurant_Review-g1066460-d7493957-Reviews-Bejipotatsukemen_Enji-Toshima_Tokyo_Tokyo_Prefecture_Kanto.html
---
Mutekiya (Ikebukuro Station – East Area)
Muteki in Japanese means 'unrivalled', and –ya means 'store', so Mutekiya literally translates to 'unrivalled store'. The long queues and highly-rated blog reviews are proof of this declaration. Their traditional Tonkotsu ramen consists of high-quality ingredients carefully selected from top producers in Japan, with wheat from Hokkaido and leeks from Aomori. With 15 types of ramen to choose from, their bestseller is the namesake Mutekiya Ramen, with broth made from pork thigh bones simmered for 16 hours. It's topped with flavoured egg, three pieces of grilled charsiu, rape blossom stalks, chopped leeks, and bamboo shoots. Unlike the usual Tonkotsu soup, theirs is not greasy, with a savoury yet subtle taste, and their thick charsiu melts in your mouth.
Their bestseller is available at only 1,100 yen!
Shop Information:
Address 1-17-1 Minami-Ikebukuro, Toshima, Tokyo
Operating Hours All days of the week except New Year holiday, 10:30 AM – 4:00 AM
Official Website http://mutekiya.com/world/english.html