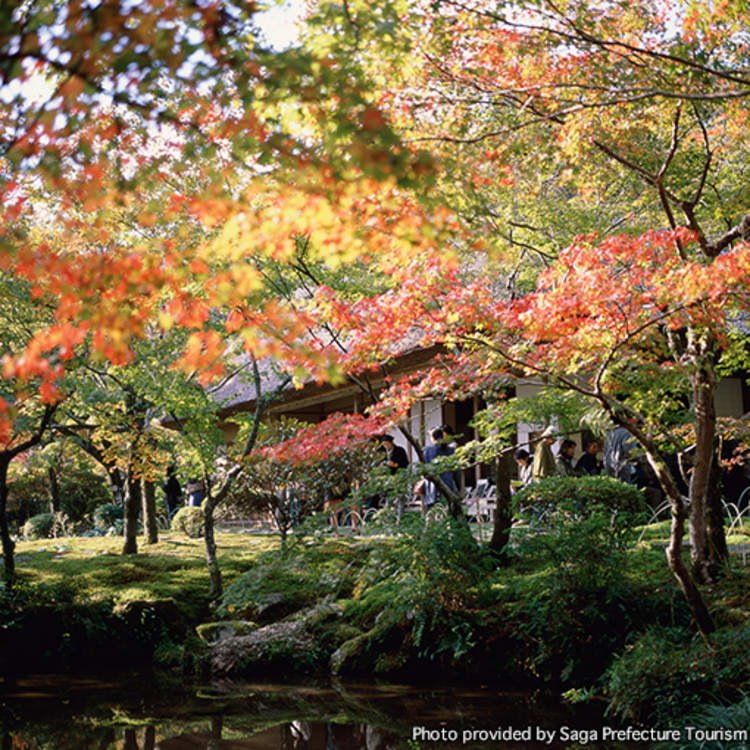 GUIDE
Saga Prefecture: Kunenan Villa
by JNTO on 10 September 2018
Saga Prefecture on Kyushu island is often overshadowed by its more famous neighbours, Nagasaki and Fukuoka. But if you're visiting in autumn, you should experience the natural beauty of Saga — its mountains and lush green mosses provide a sublime contrast to the bright red and orange hues of it seasonal foliage.
Located near Kanzaki City is one must-see autumn destination that's only open to the public annually from 15 to 23 November: Kunenan Villa. The villa's famous seasonal garden was created under the guidance of a Zen Buddhist priest named Hotori, who used the principle of shakkei (borrowed scenery) to incorporate local landscape flora including 40 kinds of green mosses into the garden. The "borrowed" landscape, combined with the garden's seasonal elements such as its 134 maple trees, create the remarkable colours the garden is famous for.
True to its name, which means "nine-year old home" in Japanese, Kunenan Villa — first built in 1892 by businessman Yataro Itami — took 9 years to complete, and it's only open to the public for 9 days. The villa's dwellings were built in the sukiya-zukuri style, which is minimalist in nature and uses traditional wooden pillars for support and sliding paper screens for walls.
Where can you see Kunenan Villa?
Kunenan Villa is located in the northern part of Kanzaki City, near the Chikushi Plains and Sefuri Mountains. The villa is in a rural area that's a good distance away from the bustle of city life, so you'll need to take bus or cab ride to reach it.
A small fee is required to enter the villa and garden, which is now owned and maintained by the Saga Prefectural Government. Whether you're into photography or simply want to add to your Instagram, the delightful architecture and gardens surrounding Kunenan villa will certainly be a feast for the eyes.
What to eat?
If you're looking to dine around within the vicinity of Kanzaki City, one dish that's easily within reach is Kanzaki somen, thin noodles with a history dating back 370 year when a nameless priest taught the locals how to make somen. Over time, Kanzaki's somen noodles have earned a reputation throughout Japan for firmness and flavour, which locals attribute to pristine water around Mt. Sefuri and the fertile plains of Saga. Kanzaki Noodle Factory Hyakunenan is considered the go-to spot for a variety of dishes featuring Kanzaki somen which is served either hot or cold.
Other dishes that Saga is known for are mutsugoro-no-kabayaki (grilled mudskipper served with a sweet and sour sauce), maeumimon (seafood from Ariake Sea, like mantis shrimp, sea bass, and turban shell), and ika-no-ikizukuri which is translucent squid that's freshly sliced straight from the tank and remains transparent after preparation. One of the most popular restaurants to try ika-no-ikizukuri is Yobuko Osakanadokoro Genkai in the town of Yobuko in Karatsu City.
How do you get to Kunenan Villa?
The easiest way to get to Kunenan Villa is to take a bus from Kanzaki Station to the Showa bus for Kanzaki/Mitsuse. After 10-15 minutes, you'll get off at the Niiyama Jinja Mae stop and walk another 2-3 minutes to reach the villa. Otherwise, you can just take a 15-minute cab ride from Kanzaki Station.
Don't forget, Kunenan Villa is only open to the public in autumn for 9 days from 15 November to 23 November! If you miss this, it's also open during spring from 3-6 May when green maples and mosses dominate the scenery.
Date: from 15 November to 23 November 2018
Time: 08:30-16:30 Daily
Entrance fee: 300 yen