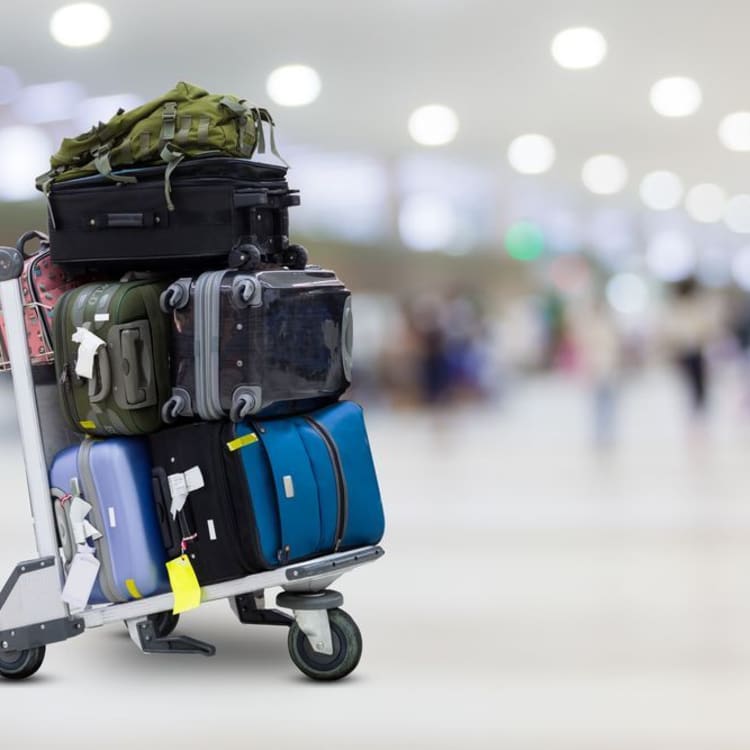 GUIDE
Say goodbye to heavy baggage! An easy, empty-handed tour! The "Hands-Free Travel" Service
by JNTO on 30 July 2019
An issue when travelling around is the transport and management of baggage.
It is undoubtedly difficult to carry a big suitcase and travel among sightseeing spots, and from airports to other cities. "Hands-Free Travel" is a convenient service to help make your trip easy. Let's have a look and learn how to use it.
"Hands‐Free Travel" is a service that visitors can check in their luggage at the reception counters of airports, stations, and business facilities during their stay in Japan that the heavy bags will soon be delivered to their accommodation like hotels, inns, even their home in overseas countries, or to any other location of their choice. The usage flow, sizes of baggage and location of reception counters are as follows.
How to use?
1. Go to the reception counter with these logos
The logos show you the different types of services available at the counters. Just watch out for the correct logo for the services you require.
The logos of both delivery and temporary storage
The logo of "delivery only"
The logo of "temporary storage only"
2.Fill out an application form
For baggage delivery or temporary storage, simply fill out an application form at the counter! As a price reference excluding tax for one suitcase (length + width + height less than 140cm (up to 20kg)),it costs JPY 800 for the storage and JPY 1,680 for same-day delivery to hotels in Tokyo 23wards.The precise price depends on location and size.
※As in July 2019. Information provided by Sagawa Express, Tokyo Service Center at Tokyo station.
The sum of the height, length, and width of the baggage should be within160cm, the weight should be within 30kg.
※ The handling policies of items exceeded the above conditions are different in different delivery couriers
Counters in major spots are as follow:
Airport
SKYLINER & KEISEI INFORMATION CENTER(Narita Airport Terminal 1 station), Kansai International Airport Arrival JAL A, B, C Counter
Station
Tokyo station Marunouchi North exit, JR Shin-Osaka Station
Others
In Tokyo, Tokyo Skytree town, Soramachi Tower first floor (Tokyo Skytree town, Delivery & Temporary Baggage Storage service center), Shinjuku station South exit Tourist Information Center, , Harajuku Tourist Information Centre, etc.
In Osaka, Kansai Tourist Information Centre at Daimaru Shinsaibashi
The following services can be used when making a reservation from visit date via the Internet. https://www.luggage-free-travel.com/travel/index.php?lang=1
You can check the usage and search the counter on the JNTO website. https://www.jnto.go.jp/hands-free-travel/
"Hands-Free Travel" brings you a lot of advantages.
The three merits of using "Hands-Free Travel" service
① you don't need to walk to find coin locker with suitcase around terminal station.
② you don't need to use taxi to hotel only to leave your baggage.
③ When you use same-day delivery, they will bring your baggage to your hotel as if your own porter.
For example, in case that you send it by 11am from Tokyo Station, you can receive it after 4 pm at your hotel in Tokyo 23 wards.
it provides only in specific routes.
it is possible to check its status with track number.
it is compensated for baggage lost and damaged during delivery within certain conditions.

Two points you may want to keep in mind
Firstly, please do not forget to pick up your stored baggage. There have been travellers who just enjoy touring around and forgot to claim their belongings.
Secondly, please do not put your valuables such as passports, returning tickets, credit cards and money in the baggage. Remember to check for the items that should not be in your baggage at the point of depositing at the application counter!
Visit the website below for more information on the "Hands-Free Travel" service!https://www.jnto.go.jp/hands-free-travel/