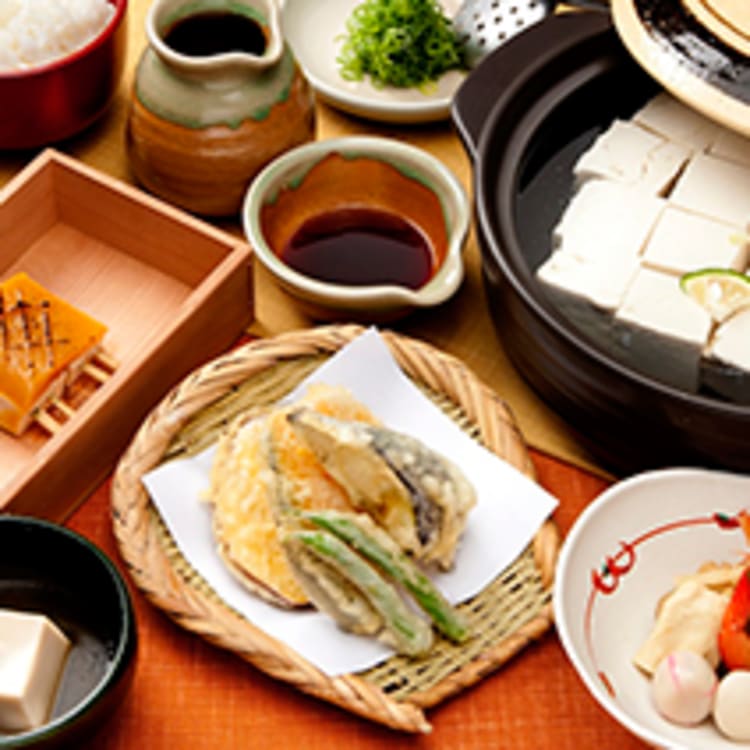 GUIDE
Share the warmth of a hotpot during the cold weather (Kansai region)
by JNTO Gourmet on 16 January 2019
During the cold winter time, nabe (hotpot) becomes a popular meal both at home and in restaurants across Japan. It's a great dish during this season because it's cooked on the tabletop so it provides warmth, and the ingredients used are very seasonal and nutritious. An interesting aspect of nabe is that each region in Japan has its own nabe characteristics. Here are some of the more popular nabe varieties in the Kansai (West Japan) region.
Kyoto: Yudofu (tofu hotpot)
One of the most popular nabe dishes in Japan is its most simple. Yudofu is basically tofu that's cooked in kelp stock in order to preserve its natural flavours, and then dipped in a variety of sauces for flavour before eating. When boiled at the right temperature, the sweetness of tofu is enhanced.
The best place to try yudofu is in Kyoto, where you can enjoy a course meal that includes starters made from various types of tofu before tucking into the hot pot. This healthy, low-calorie dish is also suitable for those on a halal diet, a menu option offered at select restaurants like Okabeya (Halal-certified) which is situated in a traditional townhouse near Kiyomizu-dera Temple. They make their own original tofu where you can try both yudofu and yuba (beancurd skin) course meals that include vegetable tempura, fresh tofu, steamed egg, and rice. You can also make your own fresh tofu at their tofu factory situated inside the restaurant.
Okabeya
Location: Near Kiyomizu-dera Temple; take bus 206 from Kyoto JR Station or walk 20 minutes from Kiyomizu-Gojo Station (Keihan Line)
Price: Yudofu Fuji set, Yuba Fuji, and Otemae Fuji set 2,160 yen
Hiroshima: Oyster Hotpot
Hiroshima is one of the most famous places in Japan for oysters, which is a specialty during the winter season. While you can enjoy the oysters grilled, raw, or deep-fried, the best way to warm yourself up in winter is to have oyster nabe. While there are many types of soup bases, the most common is dote-nabe, which is miso that's mixed with dashi stock. You can adjust the thickness of the miso, since it gradually melts into the soup as the oysters and other ingredients – like Chinese cabbage and eggs – are being cooked. The aromatic flavour of the miso goes perfectly with the oysters.
Geisyu (website in Japanese only) is a traditional Japanese restaurant that specialises in fine Japanese dining, and offers oyster nabe course meals which includes oyster dishes like deep-fried oyster and raw oyster, as well as sashimi and chawanmushi. You can also enjoy the nabe as an a la carte, together with other oyster dishes like oyster tempura and oyster gratin.
Geisyu
Location: 2F of Hiroshima Kokusai Hotel, a 25-minute walk from Hiroshima Station or a 3-minute walk from Tatemachi tram stop
Price: Dote-nabe Specialty Course 5,400 yen/person (min. order 2 persons)
Yamaguchi Prefecture: Mikan Nabe (orange hotpot)
A famous winter dish in Yamaguchi Prefecture is mikan (mandarin orange) nabe, especially on Suou-Oshima island which is nicknamed Island of Oranges, or Mikan no Shima.
Mikan nabe consists of dumplings, fresh seafood, and fishcakes – all of which are flavoured with orange peel – cooked in a hot pot together with vegetables and whole, uncut baked oranges. Items in the meal are seasoned with mikan kosho, a spicy condiment made with mandarin peel. This local hot pot is savoury with a fresh, citrusy tang; at the end of the meal, rice and egg are added to the soup to make a meringue-like porridge. The oranges themselves are often eaten as a dessert, since their sweetness is enhanced after cooking.
Mikan nabe was originally created on Suou-Oshima island by the locals in order to enjoy their bounty of mikan which are in season from October to December (you can also go orange picking during this time). You can enjoy the dish at a number of restaurants on the island, including Sunshine Sazanseto Hotel & Resort where you can dine at their oceanfront restaurant.
Sunshine Sazanseto Hotel & Resort
Location: Suou-Oshima Town, 1.5 hours by car (50km) from the port
Price: 2,000 yen/person (min. order 2 persons), including rice set
Wakayama Prefecture: Kue Nabe (fish hotpot)
Kue (longtooth grouper) is a highly-prized winter fish thanks to its rarity (it's nicknamed 'Phantom Fish') as well as for its soft texture and rich, meaty flavour. As one of Japan's most expensive fish, it can be found in the waters off Wakayama Prefecture where it is a local specialty. Weighing up to 50kg, fans of the fish will pay up to 10,000 yen per kilo! While you can eat it as sashimi, the best way to enjoy kue is as a luxurious nabe, where you can enjoy the soup stock made of its bones and dissolved collagen found in its skin.
A typical kue nabe course meal includes kue sashimi, along with tofu, vegetables like leeks, mushrooms, and shungiku (chrysanthemum leaves) that are added to the soup. After all the ingredients are eaten, rice is added to the remaining broth, topped with eggs and scallion, to make a rich porridge. You can sample the popular kue nabe standard plan at Kyukamura Kishu-Kada, an onsen resort with stunning ocean views where the freshly-caught fish is prepared in a number of ways, from sashimi to deep-fried, and in a hotpot.
Kyukamura Kishu-Kada
Location: 10 minutes by bus from Kada Station (25 minutes from Wakayamashi Station)
Price: Kue nabe mini course from 6,980 yen/person; Available from November to March.
After the ingredients are eaten…
When eating any nabe dish in Japan, the meal is not complete without 'shime' – which basically means 'to finish up' in Japanese. In this last stage of a nabe dinner, some starch – most commonly noodles or rice, or sometimes mochi (ricecakes) – is added to the remaining broth in order to absorb its intense flavour by the end of the meal.
You can choose rice or noodles (there is no set rule); some people prefer rice, which is often mixed with raw egg to make zosui (porridge). Some set course meals include a 'zosui set' (which consists of rice, egg, chopped onion, etc.); you can order this towards the end of the meal.