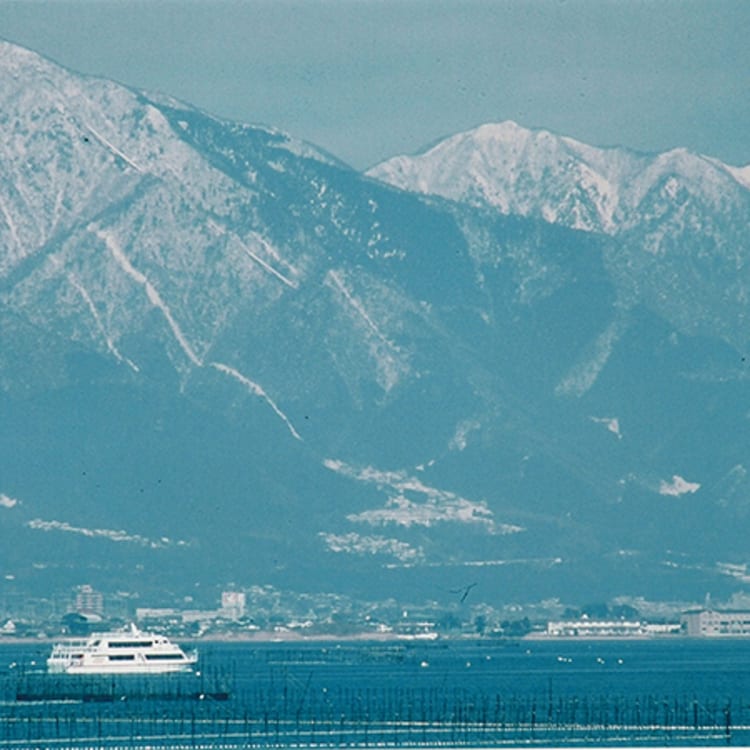 GUIDE
Snow Ship Cruise, Shiga
by JNTO on 11 September 2018
Shiga Prefecture rings the beautiful Lake Biwa, the largest in Japan with a 235km-long shoreline. The history of the lake dates back millions of years, and is the primary source of water for Shiga, Osaka and Kyoto. Nature-lovers can hope to catch sight of about 5,000 migratory water birds that come to the lake every year, including egrets, herons, ducks, geese, and cormorants. For a more hands-on activity, Biwa is Japan's most famous lake for bass fishing.
There's something to enjoy all year round – the weather is most pleasant to take a boat cruise in summer, while in the autumn months you can feast your eyes on the fiery colours of the trees on the shoreline. The 'Michigan Cruise' runs year-round with three cruises (ranging from 60-80 minutes) with music and meals.
The winter months offer something spectacular – a snowy landscape from the warmth of the snow ship cruises that run from January to March each year. A "Yukimisen (Snow Appreciation) Cruise" sets sail between Otsu Port and Nagahama Port. You can board the cruise from either end; the ship departs from Otsu in the morning, and returns after lunch. On board, passengers will be given a commentary on the wildlife, history and specialties of the lake. Bento lunch boxes (1,500 yen) will be served throughout the 2-hour journey.
Otsu has some beautiful, ancient temples to admire before heading on to the cruise. Monks set up the Tendai and Shingon sects of Buddhism in the 9th century, and have left behind two unmissable temples: Miidera, and Enryakuji Temple close to the summit of Mount Hiei. A cable-car runs up to the top year-round, and the summit has panoramic views of Otsu and Lake Biwa. On New Year's Eve, you can try your hand at ringing the famous temple bell at Miidera to bring in the new year.
Along the cruise, you can look out for the large, vermillion‐lacquered Torii gate of Shirahige Shrine jutting out in the middle of the lake. Situated on the opposite side of the lake is Okishima, a small island that's known as the "Town of Cats" thanks to population of cats that grew around the local fishing industry on Lake Biwa's only inhabited island. The cruise also stops at Hikone Port, where you can stop to visit the majestic Hikone Castle.
At Nagahama, take some time to wander through the historic town that once housed a magnificent castle in the 16th century – now replaced by the Nagahama Castle, a replica and museum that has authentic tools that date back to the Jomon people, Japan's oldest recorded inhabitants.
Or take a trip down Japan's industrial history at the Nagahama Railroad Square, Japan's oldest preserved railway station dating back to 1882. This Meiji-era station displays early steam and diesel models, while outside there are quaint flea markets and craft stores for your unique souvenir shopping.
What to Eat
Lake Biwa has over 80 varieties of fish, some unique to the lake including ayu (sweetfish), nigoro buna (crucian carp), honmoroko (minnow), and biwamasu (Biwa trout), and shellfish like sujiebi (shrimp) and setashijimi (basket clam). A unique food culture has developed in Shiga, exemplified by lake-caught delicacies as funazushi (fermented nigoro buna) and tsukudani (food boiled in soy sauce) of lake fish.
The nigoro buna has become a time-honoured delicacy and staple of the prefecture. The fish is prepared in a variety of ways – fermented, raw, or in chazuke where the fish is boiled in green tea with rice.
You might smell the distinct tart aroma of funazushi before you even see it. This traditional dish uses nigoro buna pickled with salt and rice, and then left to steep between one to three years. The process of pickling the rice together with the fish was another innovation that eventually evolved to become the sushi rice we enjoy today.
Locals used to offer funazushi to the gods as a protection against their harvests – a practice which dates back over a thousand years. The fermented fish is rich with lactic acid, minerals and vitamins which give it its distinctive cheese-like aroma. As you might expect, the flesh and bones are soft – and it's a perfect pairing with sake for an after-dinner snack. You can sample some at Ganso Sakamotoya, a shop with over 100 years of history.
How do I access the Yukimisen (Snow Appreciation) Cruise?
The Yukimisen Cruise operates between Otsu Port and Nagahama Port, stopping at various ports along the way including Hikone Port and Ogoto Onsen. Nagahama Port is 10 minutes' walk from JR Biwako Line's Nagahama Station; Otsu Port is a 15-minute walk from JR Otsu Station, or a 3-minute walk from Keihan Hamaotsu Station.
Date: The cruise operates between January and March
Time: Otsu to Nagahama (10am-12.40pm); Nagahama to Otsu (2pm-4.50pm)
Fee: One Way 3,000 yen (adult), 1,500 yen (child) / Return 5,000 yen (adult), 2,500 yen (child)