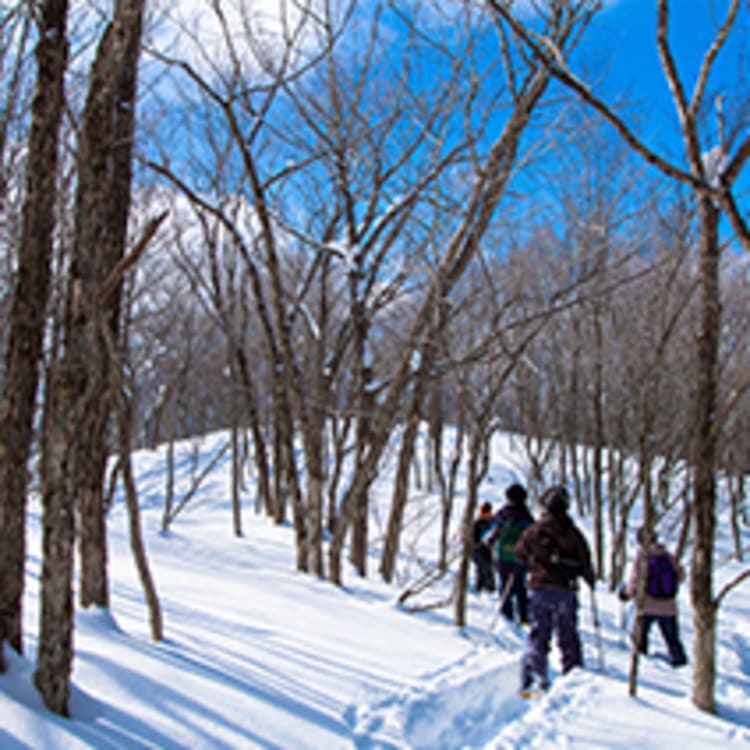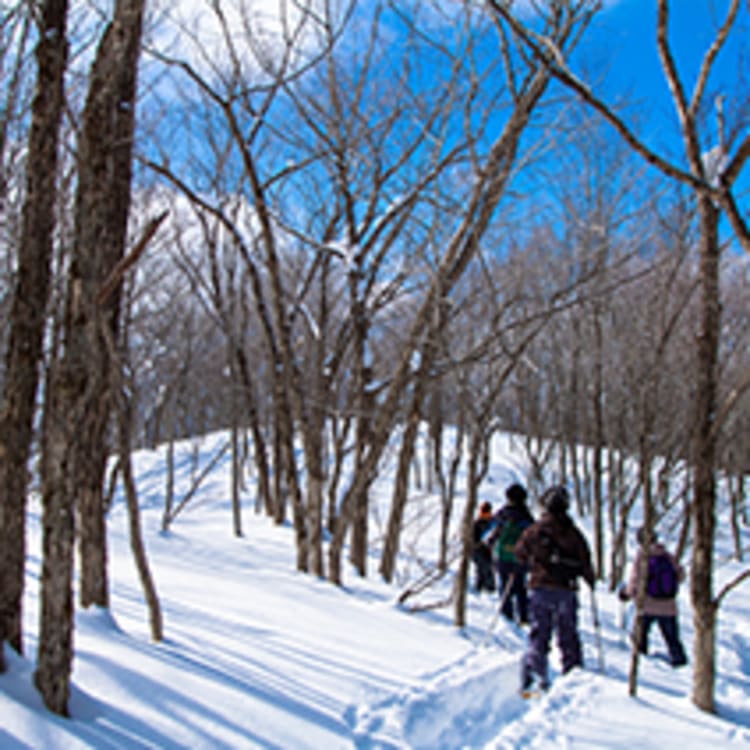 GUIDE
Spring and summer family fun
by JNTO Family on 14 March 2019
Japan is culturally rich and filled with nature beauty, and there are also many family-friendly activities for visitors to fully enjoy all the country has to offer. Spring and summer are great seasons to enjoy the outdoors, from late-season snowshoeing to hot air balloon rides across the plains. Here are some suggestions for great outdoor activities suitable for both adults and children:
Snowshoeing in Minakami (Gunma Prefecture)
Situated in the mountains of Gunma Prefecture, Minakami remains covered in snow until the end of March or April, when the crowd typically thins out for snow activities. You can enjoy Minakami's winter landscape on a leisurely snowshoe hike – simply strap on a pair of specialised racket-shaped snowshoes, and walk on the snow!
There are plenty of snowshoe tours available, ranging from short, easy hikes to longer, strenuous ones. Operators like Forest and Water offer both half- and full-day tours that vary in length and difficulty. The half-day course (3 hours; 5,500 yen) is ideal for families to see first-hand the beauty of the mountains. The full-day tour (7 hours; 9,000 yen) showcases ice stalagmites of the 'Big Ghost' cave and the peaceful Acorn Forest.
On a side note, remember to be prepared with your winter gear (snow boots, jackets, etc) as it is still relatively cold, especially in the mountains. If you do not have the gear, you can rent them from the operators. The snowshoes are provided for the tours.
After a day of hiking, you can enjoy a hot spring dip at Minakami Onsen area. At the hot spring resort of Ryokan Tanigawa, you have the option to bathe in its private open-air bath which offers majestic views of Mt. Tanigawa – more interestingly, you can enjoy the bath until 9pm while drinking local sake or eating ice cream from traditional masu (wooden) cups.
Fishing boat ride in Okinawa
For a true Okinawan experience, take a ride on a traditional sabani boat. Built entirely of wood, they are constructed using traditional techniques without any nail or steel. A sabani travels without motors, relying on the wind and the strength of the rowers using Ueku paddles. Used long ago as fishing and transportation boats, the thicker bottoms and the thinner sides of the boat allow fishing nets to be pulled onboard with ease.
The Sabani has made a comeback in recent years, thanks to the annual sabani boat race during the Itoman Hare in Itoman City; a highlight is the kunnukase, which tests the skills of the sailors as they flip their boats to show the underside before flipping it over to resume the race.
You can take a leisurely sabani tour along the Hirakubo peninsula on Ishigaki island. Ku-ra Sabani Tour's excursion involves a stopover at a local cave filled with crystals where you can snorkel among the corals in the clear blue water, and refreshments are served on board. You can also visit the boat workshop to learn about the traditional construction methods. Accommodating up to five people at a time, a sabani tour takes 1.5 hours and costs 5,000 yen (2,500 yen for children between 7-13 years old). There are also sunset tours.
Horse trekking in Aso (Kumamoto Prefecture)
Kumamoto Prefecture is known for its natural beauty, specifically around the Aso region which is home to one of the largest volcanic calderas in the world. An iconic scene of Aso is of Kusasenri – the vast green grassland plateau where you can find grazing cows and horses, set against a backdrop of the smoking Mt. Nakadake.
From April when the grass is green again after the annual Noyaki (a tradition of controlled burning), Kusasenri becomes a popular place for horseback riding, especially in summer. The Aso Kusasenri Horseback Riding Club offers options for short horse rides ranging from 5 minutes (1,500 yen) to 25 minutes (5,000 yen). The facility is also safe for young children as the horses are carefully selected.
For a more in-depth horseback riding experience, head to Blue Grass which offers a variety of equestrian classes and activities for beginners. There is a log cabin and lodging facilities, where horseback riding and lodging packages are offered. Another unique option is a night horse trekking course, which you can try with Aso Highland Riding Club (link in Japanese) – it's a great way to enjoy the starry night sky.
Hot air balloon over the Tokachi Plains (Hokkaido)
Hokkaido has always been famous for its natural scenery, thanks to its wide open spaces and mountains interspersed with colourful patches of farmland and forest. A great way to see this gorgeous landscape is from the air, where you can marvel at its beauty in any season from a bird's eye view. There are several hot air balloon sites and two types of excursions – one is tethered to the ground, and the other is a free-flight (only in winter).
Centered around the town of Obihiro, the Tokachi Plains is the prefecture's leading farm belt, and its landscape is a representative of the image of 'Hokkaido' with its vast patchwork of farmland. Activity Japan's hot air balloon ride (2,000 yen per person) here is tethered, where you'll gradually rise until you reach a maximum altitude of about 30m above the ground. From here, you'll be able to see a 360º bird's eye view of the Daisetsuzan Mountains, Hidaka mountains, and the Tokachi plains. The 5-minute flight is available once a day in the early morning.
For an untethered, free-flight hot air balloon experience, Asobiya in Furano offers a 20-minute (14,000 yen) or 30-minute (17,000 yen) flight around the beautiful Daisetsuzan National Park and Mt. Tokachi at up to 1,000m above the ground. The free-flight is only available until the end of March, while the landscape is still blanketed in snow and the wind conditions are ideal.