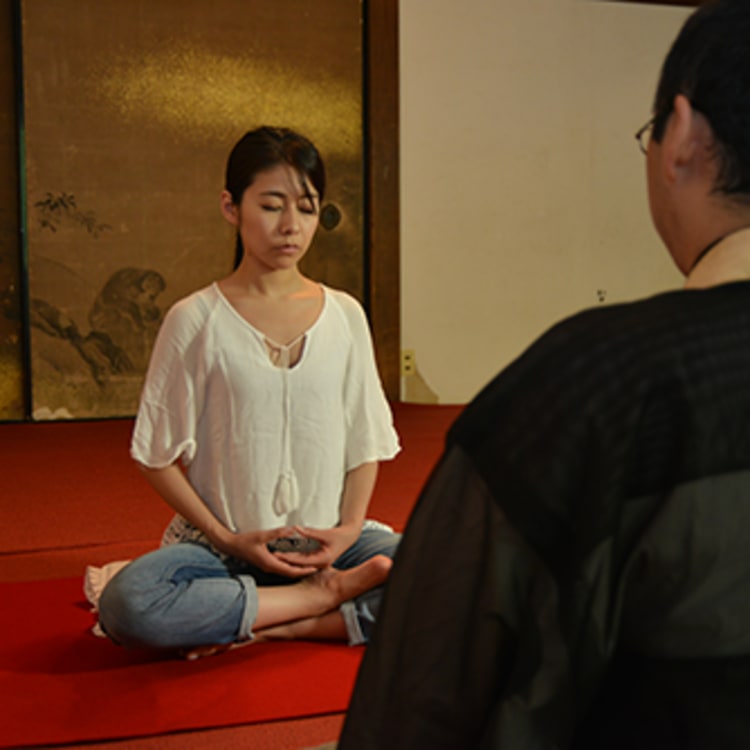 GUIDE
Stay in these unique places in Japan
by JNTO Travel on 25 January 2019
With thousands of options for accommodation in Japan, hotels are not the only places you can spend the night. In addition to traditional ryokans (inns) and a growing number of minpaku (short-term rental like Airbnb) options, there is a growing variety of accommodation categories for travellers seeking a more local – and unique – experience. Whether you're travelling solo, as a couple, or as a family, why not consider these alternative options for accommodation in Japan?
Going zen in a temple
Most people who live in cities often crave a little rest and relaxation, and where are better than at one of Japan's network of historic temples? Not only do these places offer accommodation, which often come with a vegetarian meal, guests can also participate in activities like Zen meditation, sutra tracing, waterfall training, yoga, and more. There may also be opportunities for tea ceremonies or flower arrangement classes.
A number of temples are open to the public, bookable via websites like Terahaku, including Shimizudaishi-ji, located in the mountains of Shimane Prefecture overlooking the Sea of Japan, which is known for its ancient Sukuyōkyō sutra and gorgeous views. Accommodation is in the old main hall boasting a mandara-painted ceiling, which is reserved only for one party of guests (up to 6 people) with a private bathroom. Rates from 7,700 yen per person, per night including a vegan Buddhist breakfast. Guest can partake in activities like meditation, sutra tracing, and fortune telling (fees apply).
Sleep among the books
Japan has plenty of unique options for travellers on a budget, ranging from capsule hotels to manga kissa (internet cafes with a library of comics and more) – combining a bit of both in a chic way is Book and Bed, which actually has beds built within their bookshelves! Unlike a capsule hotel, the beds are not segregated by gender.
Fans of modern architecture and books can opt to stay in one of these pods, which come in either single or double bed sizes (great for couples or families), at any of the branches in Tokyo (Asakusa, Ikebukuro, and Shinjuku), Osaka, Kyoto, or Fukuoka. Though the design of each branch differs slightly, all rooms are separated by curtains, with facilities including shared toilets and shower, as well as a cafe area; luggages are stored at the reception and there's a small locker in each pod. The rates, chargeable by the room, depend on the type of room and branch; a compact single starts from 3,800 yen, while a large Superior room (Shinjuku and Osaka) starts from 12,000 yen. If you simply want to experience the space during the day, hourly rates start from 500 yen.
Live like a local in a machiya (traditional wooden townhouse)
You've probably seen machiya dotted throughout Japan, especially if you've been to Kyoto where these houses have defined the architectural atmosphere of its downtown for centuries. Built like Singapore's shophouses, they have a narrow street frontage and a long interior, often containing a small courtyard garden. Instead of admiring these gorgeous houses from the outside, you can actually stay in one to experience living like a local, with easy access to attractions like temples and historic districts.
Machiya Residence Inn has over 50 properties in Kyoto and Kanazawa, all renovated with modern amenities while maintaining their traditional features. You can rent an entire machiya like Tsukikusa-an, located near Kyoto's historical Gion district, featuring tatami-style living room and bedroom, as well as a traditional bath, all overlooking a Japanese garden. This 2-bedroom house accommodates up to 6 people; rates start from 27,000 yen per night.
Rural life in a Japanese farmstay
If you're planning to travel to Japan's rural regions, why not try staying at a farm? There are plenty of farmstay opportunities for intrepid travellers – you can stay with a local family who will not only provide meals, but will also allow you to try your hand at farm work.
Experience rural farm life in a traditional 200-year old farmhouse in Tono City (Iwate Prefecture) where you can enjoy local meals prepared with vegetables grown in the garden – you can also partake in farming activities like firewood chopping and planting or harvesting of vegetables and fruits. Rates start from 8,500 yen per person, including 2 meals. The area is famous for its L-shaped magariya-style thatched farmhouses, which you can explore at various folk villages dotted around town.
accommodation options for you to spend the night, where you can soak in the local atmosphere and truly feel the spirit of Japan.