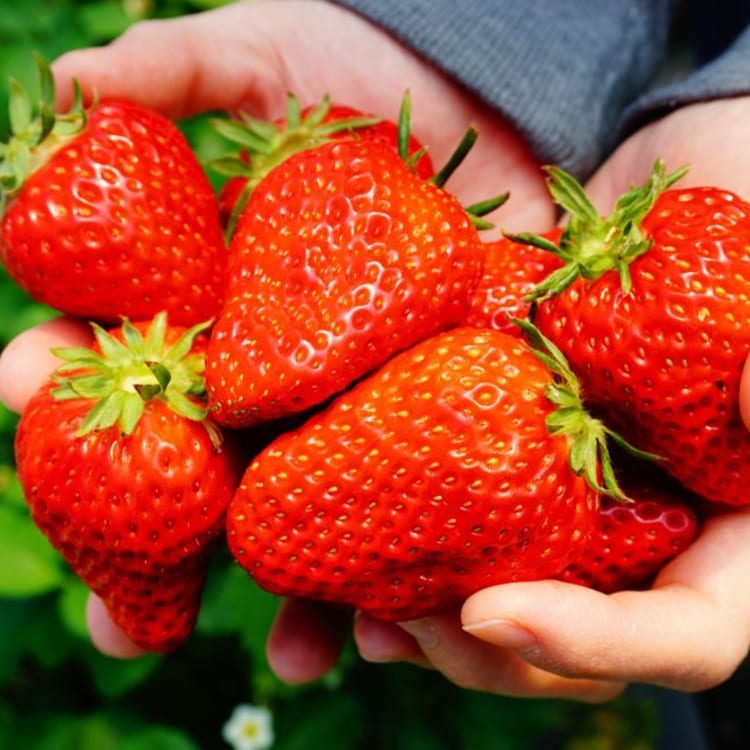 STORY
Strawberry Picking with Dessert Buffet!? Recommended Spots to Enjoy "Made in Japan" Strawberries!
by JNTO on 27 November 2019
Japan produces plenty of strawberries- you see plentiful of them in grocery stores especially through the Christmas season until May next year; the best season for strawberries. In this article, we have picked up some fun strawberry picking activities and Instagrammable strawberry dessert buffets in hotels!
You Do Not Want to Miss These in Japan
Recommended All-You-Can-Eat "Strawberry Picking" Spots
Strawberry picking refers to the fun activity of picking fresh, juicy berries, and enjoying them on the spot in the farm within a certain time limit. A 30 minute all-you-can-eat package usually comes at about 2,000 to 3,000 yen. You can also choose to pay a bit more (around 200 yen per 100 grams) to bring some along for the rest of your Japan trip. Some farms even provide condensed milk to visitors as well. Strawberries can be found in prefectures all across Japan with various species like "Tochiotome", and some farms offer multiple choices of berries too! Yet, please be mindful that some require reservation, so check the official websites before you go.
Tasting of 3 to 5 Species at Different Timings! Tsukushino Strawberry Fields(Fukuoka)
This particular strawberry farm is at a convenient location within reach from Fukuoka City by subway. With 3 to 5 species including Sagahonoka (from Saga) and Benihoppe (from Shizuoka) for tasting, the rare white berries are also available at certain timing. The strawberries are grown at higher positions, so you do not need to squat to pick them. As such, it is definitely a place friendly for kids, seniors and persons with disabilities ! Do not miss out the café on the opposite end of the farm, with lots of mouthwatering desserts made from farm-fresh strawberries.
 
Tsukushino Strawberry Fields
Information and Reservation: https://strawberryfields.jp/
※By reservation only
Address: 1278, Chikushi, Chikushino-shi, Fukuoka
Access: [by railway] the nearest stations are JR Haruda station, Nishitetsu Railway Chikushi or Sakuradai station, then about 5-minute drive from any of these stations
Opening hours: 9:00 a.m. - 5:00 p.m.
※Last admission at 4:00 p.m.
Opening Season: 23rd Nov 2019 – 7th June 2020 (tentative, please check the official website for the confirmed dates)
※ Close on Mondays (or the next day when Monday is a public holiday)
 
Strawberries Picking Throughout the Year!
"TOKYO STRAWBERRY PARK"(Kanagawa)
 
This strawberry park is actually an amusement park opened in April 2018 in Yokohama City, Kanagawa. Strawberries are grown in polytunnels with complete temperature and humidity monitors, making strawberry picking possible throughout the year here! It generated buzz for its easy access and timeless fruit picking enjoyment. Polytunnels and greenhouses are paved to keep your shoes clean, and they are also friendly to persons with disabilities. Different strawberries are planted each season in rotation schedule, so as to make sure they are serving the best strawberries!
Moreover, visitors will be amazed when dining in "PARK SIDE KITCHEN" by the Italian style buffet, "ICHIGO LAB". Serving strawberry parfait, "Berry Good Shop" also have plentiful of snacks and souvenirs available for your choosing, as well as the "STUDiO SWiTCH" for handmade snack workshops- it can be a day-long sweet amazement.
TOKYO STRAWBERRY PARK
Information and Reservation: https://tokyo-strawberry-park.jp/
※By reservation only
Access: [by railway] At East exit of JR Tsurumi station,or Keikyu Mainline Keikyu Tsurumi station, take Yokohama City Bus for about 15 minutes, then get off at bus stop "Yokohama Thermal Power Station" and you can see the park right there.
Opening hours:【Monday to Friday】11:00 a.m. - 4:00 p.m. ,【Saturday/Sunday/holidays】10:00 a.m. - 6:00 p.m.
※Close on Wednesday, 30th Dec – 1st Jan for end year/New Year
 
Popular Dessert Buffets in Japan's Hotels to Complete Your Strawberry Savouring Experience
 
In the season of strawberry, you can see many hotels and restaurants holding special strawberries buffets with cakes, parfaits, and many other mouthwatering choices. The amazement comes with different themes in different year, while what have drawn much public attention was the one presented by "Westin Hotel Tokyo" with monthly menus from the end of 2018 to May 2019, presenting as many as 100 variations of desserts made with strawberries in the four months! Furthermore, "Strawberry CATS collection" from "Hilton Tokyo" and luxury desserts made from "Hakata Amao®" only available in "New Otani Hotel Tokyo" are also popular;advanced reservation is a must!