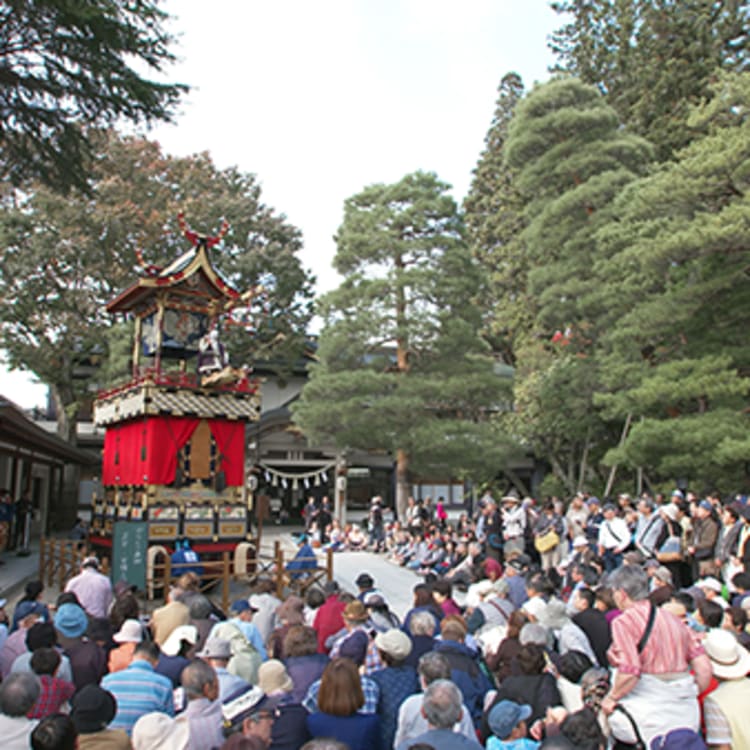 GUIDE
Takayama Matsuri (Takayama Festival)
by JNTO on 09 September 2018
Autumn in Gifu is particularly beautiful – the prefecture is ringed by mountains and the steep vertical slopes burst to life with vivid shades of yellow, pink and orange between November and December each year.
Gifu is about halfway in between Tokyo and Osaka, easily accessible either by a short flight from either city, or by high-speed rail.
The prefecture's shining jewel is Hida-Takayama, a town boasting a stunningly well-preserved old town that looks like how Edo Japan once did. Locals and tourists alike flock to the old town twice a year for the Takayama Matsuri, a festival celebrated in autumn and spring. As a result, hotels are often booked well in advance ahead of festival months.
Where to catch the Takayama Matsuri
The autumn festivities (9 to 10 October) – the Hachiman Matsuri – take place in the northern half of the town, at the Hachimangu shrine to celebrate a good autumn harvest.
The highlight are 11 lavish, individually-designed ornate floats called yatai that move magisterially down the old streets from about 9am to 4pm. Some floats take on a distinctly unique Japanese flavour as can be seen in the karakuri ningyo performances (twice a day) on one of the yatai, which feature marionettes that dance and move about to enact the old Japanese legends and tales, controlled by six to eight puppet masters (tsunakata).
A portable shrine (mikoshi) which contains its deity is paraded around town during the two days of the festival, accompanied by shishimai (lion dance) performers and hundreds of people dressed in traditional costumes like the kamishimo (samurai costume).
The pièce de résistance of the festival happens on the evening of the first day, when the yatai are paraded through the old town for a couple of hours, lit with approximately 100 lanterns on each float. The yatai take on a new, almost ethereal aura in the evening, set against the darkening sky when most of the tourists start streaming in from about 6pm.
If you miss this autumn festival, there is the spring iteration – the Sanno Matsuri – which occupies the southern half of the town, celebrating the Hie shrine from 14 to 15 April.
If you're visiting outside of festival season, some floats remain on permanent display at the Yatai Kaikan museum, located in the north of Takayama's old town.
Street food delights
Festival or not, the old town, especially Sannomachi Street, is rich with amazing delicacies from award-winning sake to Hide beef cooked (or not) and served in a variety of ways. The area has several restaurants (and stalls) that do quick and easy Hida beef sushi platter served on a plate-sized rice cracker for about 1,000 yen – each platter consists of two pieces of beef nigiri (grilled, aburi style) and one gunkan maki (raw) which has a raw egg yolk split over the top. Every part of the platter is edible, making eating it a fun challenge.
The queues can get long, but keep in mind that Hida beef is considered one of the best in Japan. Unlike wagyu from other regions, Hida's prized beef has marbled fat running through all the cuts, like the chuck and flank, making it significantly juicier.
Another local specialty is the goheimochi – resembling crispy golden banana fritters, this Japanese street delight is a mildly sweet treat of mashed rice grilled on a skewer, and then delicately glazed with afurae, a sesame sauce that gives it its distinctive taste and colour. Several stalls in the old town sell goheimochi which goes for anywhere between 100-200 yen, and is a perfect snack to accompany your sightseeing.
The town also has two daily markets that start at 6am: the Miyagawa Market (along the Miyagawa river) and the Jinya-mae Market (in front of Takayama Jinja). This is where locals get their fresh produce – occasionally a stallholder might offer you a bite of black garlic, a fermented garlic rich with umami flavours.
Getting to the Takayama Hachiman Matsuri
From JR Takayama Station or the adjacent Takayama Hida Bus Center, it's a ten-minute walk to Takayama's old town just across the river. You can check out Takayama City's attractions from Hida Takayama's website.
Date: 9 October to 10 October
Time: 09:00-16:00; 18:00-21:00
Entrance fee: Free