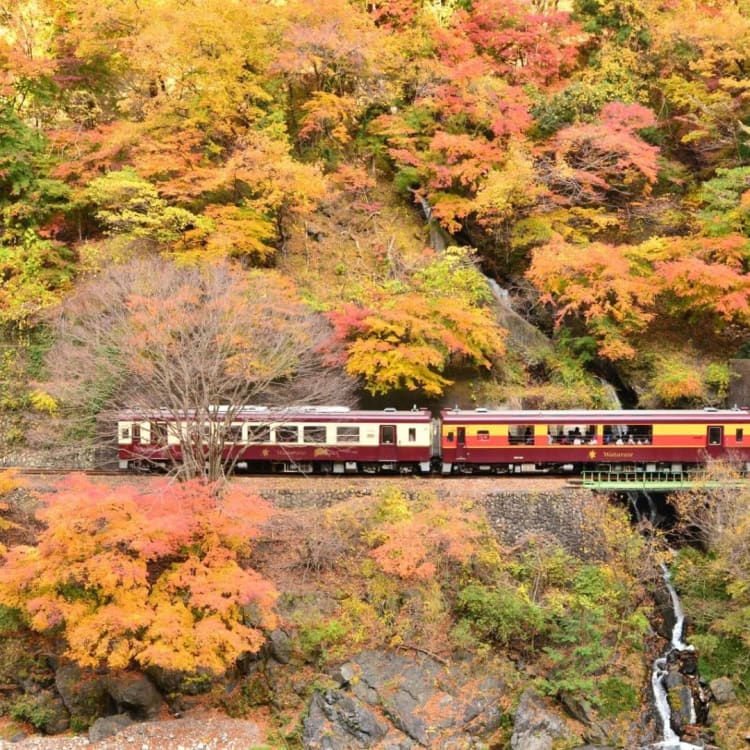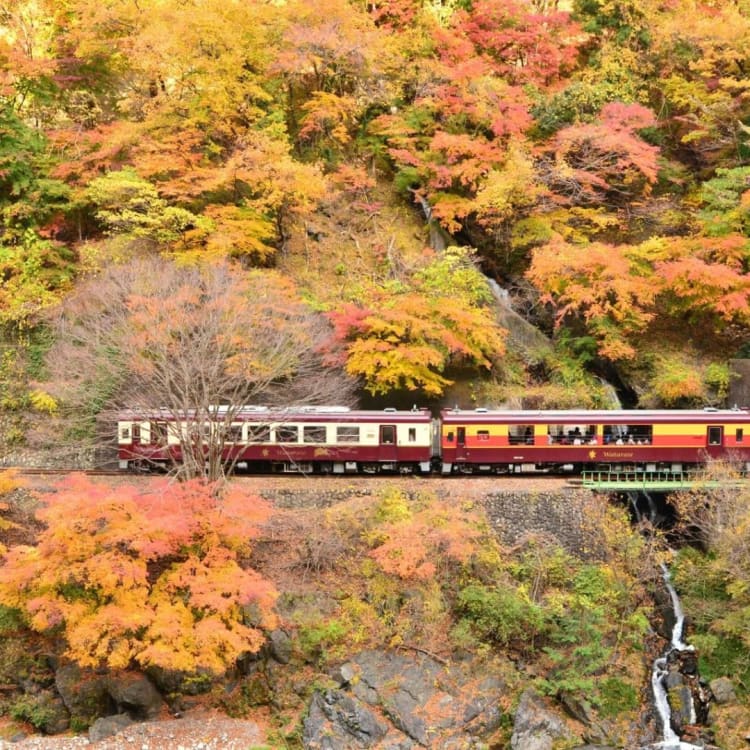 STORY
Take a Local Train Trip on Watarase Keikoku Railway!
by JNTO on 30 September 2019
Watarase Keikoku Railway line, approximately 44.1km long, connects Kiryu Station in Kiryu City of Gunma Prefecture to Mato Station in Nikko City of Tochigi Prefecture. We will introduce how to purchase tickets for popular trains during the autumn foliage season, with highlights along the line!
In Your Next Trip to Japan in Autumn, Try the Japanese Local Train with a Superb View!
In autumn, we recommend travelling on a local route where you can see the autumn foliage of the mountains from the train window. In addition to the Watarase Valley, which we will further touch on, has the only mountain railway in Japan that runs between Odawara Station and Gora Station, the Hakone Tozan Train. This train is very popular during the autumnal season.
Particularly at Hayakawa Bridge, between Tonosawa Station and Ohiradai Station, you can see the autumn leaves and the valley right from the train window. There is also a service which the train stops once on the bridge. We also recommend the Chichibu Railway that connects Hanyu Station in Saitama Prefecture with Mitsumineguchi in Chichibu City, also a part of the Saitama Prefecture.
Ride the Trolley Train with a Window View of Watarase Gorge in the Autumn Foliage Season!
A trolley train is an open-type vehicle usually without window glass, but would be fitted with window glass during the winter. At Watarase Gorge Railway, "Torokko (trolley train in Japanese) Watarase Gorge" (between Ohma and Ashio), a series of trolley vehicles (featuring a mascot character design on their bodies) run primarily on Saturdays, Sundays, and Japanese holidays from April to November. There are two types of trolley trains on the Torokko Washii. Another pointer is that Kiryu Station and Mato Station have an altitude difference of about 550 metresm., soAs the leaves gradually turn red over the course of about a month, beginning from late October at various paces over areas of different altitudes, you can see the varied red and yellow of the autumn foliage.
If you ride during this period, it is also recommended to have a lunch box that can be purchased before boarding while admiring the vivid autumn leaves!
The Route and Highlights of Watarase Gorge Railway!
The ride time is about 1 hour and 20 minutes each way. After passing Oomama Station, passengers begin to approach the mountains ascend in altitude. There is a difference in elevation, and you cannot miss the colourful leaves from the top to the bottom of the mountain. In the Torokko Watarase Valley, you will be delighted by an illumination display of about 12,000 LED bulbs on the ceiling lights for about 10 minutes when traveling through the Kusaki tunnel between Godo Station and Sori Station.It is indeed quite romantic! If you want to get off the train along the way, it is recommended that you first take the trolley train and then take a regular train to return.
Recommended Stops & Photo Spots
Takatsudo Gorge
Takatsudo Gorge is a 5-minute walk from Oomama Station. This valley is in the middle of the Watarase River, and there is a promenade along the river where you can view the beautiful autumn leaves.
Mizunuma Station Onsen Center (Mizunuma Station)
The entire station building is also a hot spring facility, and you can see Watarase River from the large window of "Kappa Bath".
How to Purchase Tickets for Watarase Keikoku
1. How to Buy a Ticket
To get on the trolley train, you need a regular ticket and a trolley ticket. For regular trains, reservations are not required, but the trolley trains are limited in capacity, so be sure to purchase a ticket in advance. Reservations are available at station counters from 11:00 AM one month before the boarding date. However, purchase and boarding are possible on the day if there are seats available.
2. Access to Kiryu Station, The First Station
It takes about 1 hour and 40 minutes from Asakusa Station via the Tobu Limited Express "Ryomo". Alternatively, you can take the Tohoku Shinkansen from Omiya Station for about 15 minutes, then change to JR Ryomo Line at Oyama Station and get off at Kiryu Station.
※Please note that "Torokko Wasshi" train heads to Kiryu Station, and "Torokko Watarase Keikoku" train heads to Oomama Station.Take a local train from Kiryu Station to Oomama Station.