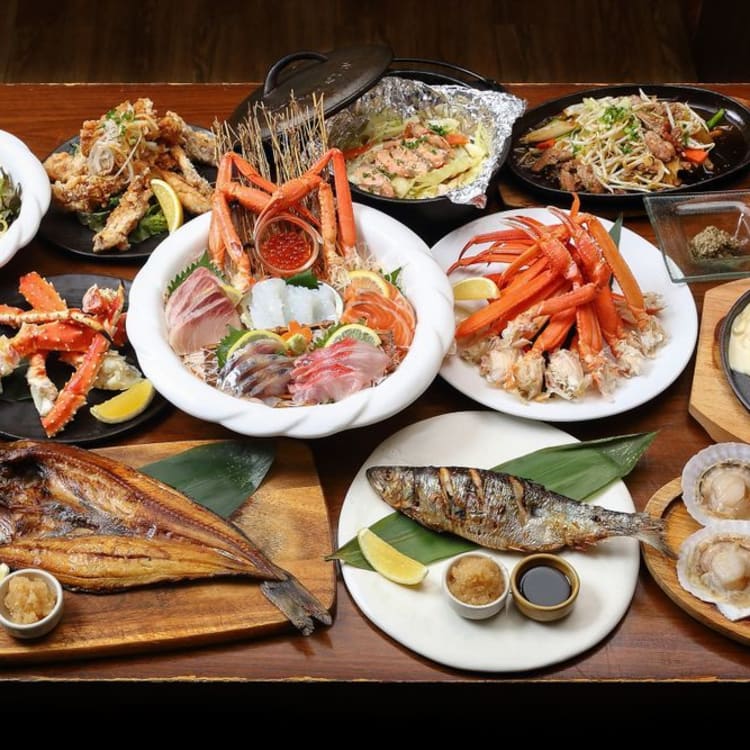 GUIDE
A Taste of Hokkaido
by JNTO on 19 June 2019
Whenever people mention Hokkaido, the first things that usually come to mind are snow and hot springs. But many tourists may miss out on other treasures that this beautiful island has to offer. Other than skiing on perfect powder snow and enjoying the beautiful scenery, there's another big reason why tourists should visit Hokkaido.
It's FOOD! With ideal farming conditions, Hokkaido produces world-class beef, seafood, fruit, vegetables and dairy products, and Sapporo is becoming a famous foodie destination.Still unsure about what are the must- eats in this amazing city? Check out all the amazing food we have recommended below.
Genghis Khan (Mongolian barbecue)
When you first see this name, you might not have a clue what kind of dish this is, but it's actually one of Hokkaido's most famous local dishes!
Genghis Khan is a type of yakiniku (grilled meat) consisting of mutton and vegetables. The main difference between Genghis Khan and regular yakiniku is that Genghis Khan meat is cooked on a special concave skillet, shaped like a helmet. The meat and vegetables also need to be cooked together.
History of Genghis Khan
The name of this dish is rumoured to have come about because, in pre-war Japan, many Japanese believed that Mongolian soldiers reared and ate lamb, and the unique round skillet represents the soldiers' helmets that they used to cook their food.
In 1918, Japanese government published a policy to increase the national flock to one million sheep for wool industry.Five sheep farms were set up in Japan, but all except two in Hokkaido were demolished. This is why people in Hokkaido consumes much more mutton than other regions.
How does it taste?
Now you must be curious about how different this dish tastes from other yakiniku. Genghis Khan uses both lamb and mutton: the meat from lamb is soft and sweet, while mutton has a distinctly gamey taste to it. For those who are more adventurous and like something that is stronger flavoured, I would recommend you to try the latter. Some restaurants provide mutton imported from New Zealand or Australia, while some serve locally raised rare Suffolk sheep. When ordering, you can choose seasoned meat which is marinated in special sauce, or unseasoned meat which you can then dip into a sauce before you eat. Each restaurant has their secret recipe for their sauce which makes every food hunt interesting. Have fun exploring all the restaurants and find your favorite seasoning and way of eating Genghis Khan.
Recommended shop
Sapporo Genghis Khan
Address:6 Chome Minami 5 Jonishi, Chuo, Sapporo, Hokkaido
Access:From the Nanboku Subway Line Susukino Station Exit 5, 5 minutes walk
Opening time:17:00~21:30 ※Earlier if the meat runs out
Soup Curry
Soup curry is the latest fad not only in Japan but the whole of South East Asia.
I'm sure you have tried tasty Japanese curry, whether sweet or spicy, and you probably love the distinct yet comforting flavour that goes well with all sorts of ingredients.
Soup curry is made with spices used in curries from different South East Asian countries. In the early days of soup curries, the chefs even blended in spices from India and Sri-Lanka.
How did soup curry come about?
Sapporo is the birthplace of soup curry, which made sense as what's better than a bowl of delicious and drinkable curry in cold weather? In 1970, a restaurant in the city called Ajanta served a "medicine curry soup" with lots of spices and herbs. About 20 years later, another restaurant re-created this dish without the medicinal ingredients, and called it "soup curry". This creation became a hit, and this dish has become wildly popularall over Japan. More and more speciality soup curry restaurants have popped up like mushrooms. Sapporo alone now has 250.
What is the difference?
You be wondering what is the difference between Japanese curry and soup curry? Is soup curry a soupy version of normal Japanese curry? Of course not! Soup curry is richer and has amuch more complex taste profile. It is often loaded with fresh vegetables and meat and served with white rice, making it a perfect hearty meal in cold weather.
Recommended shop
Suage+
Address:2F 5-5Minami4-jonishi, Chuo, Sapporo, Hokkaido
Access:From the Nanboku Subway Line Susukino Station, 4 minutes walk
Opening time:11:30~22:30
 
Nama uni - Raw sea urchin
Hokkaido is famous for its top quality seafood. Among Singaporeans, uni is one of the most popular sea products. Japan has two famous main types of edible uni—murasaki and bafun, classified as "shiro uni" (white uni) and "aka uni" (red uni) respectively. However, the best uni come from Hokkaido prefecture. They are classified as kita-murasaki (northern murasaki) uni and Ezo-bafun uni—named after the old Japanese name for Hokkaido. These two type are considered the cream (literally) of the crop.
Kita-murasaki uni has a more delicate texture and more intense sweetness than regular murasaki uni, while Ezo-bafun uni is deeper and brighter in color and has delicate traces of the ocean in its flavour.
Different ways to enjoy your nama uni
There are countless possibilities to enjoy this jewel of the sea, both raw or cooked, but I definitely suggest you try the most simple and authentic way: just savour it the way it is.
At some seafood markets, you can just grab a freshly popped spiky Uni and scoop it out like you are eating a passion fruit!
Or if you prefer a hearty meal, you can choose to order uni donburi. That is simply a lot of uni served on top of a bowl of rice. Uni is one of the most luxurious toppings for kaisendon (rice topped with fresh seafood) and can be enjoyed with uni alone or alongside buttery scallops and salty ikura (salmon roe). Let's not forget the most popular and traditional way to enjoy nama uni: sushi. It can be served as nigiri sushi, delicately topped on a ball of seasoned rice and brushed with soy sauce, or as a topping for gunkanmaki, which has a piece of nori seaweed wrapped around the side of sushi rice to create a vessel for soft toppings.
If you've never tried nama uni before or you always thought that uni is not your thing—then you have to try it in Japan. The fresh and high quality uni found here and the wide variety of dishes are sure to make you fall in love with uni.
Recommended shop
Nagisashokudou
Address:21 Raikishicho, Shakotan, Shakotan District, Hokkaido
Access:From Otaru station,Hokkaido Central Bus to Raikishi
Shop opening season: mid-June to early September
Opening time:6:00~20:00
Hokkaido sweets café
Hokkaido is famous for delicious desserts thanks to its high quality dairy products.
Most of you would definitely enjoy a Hokkaido ice cream with its rich and smooth texture.
There are all sorts of specialty sweets café where you can satisfy your cravings if you have a sweet tooth. The best known are ice-cream cafes, parfait cafes or cafes serving traditional Japanese desserts.
However, there are a lot of other desserts that remain hidden gems, waiting to be discovered.The café that I'm about to introduce is a specialty café for coffee and cosy home-made desserts.
MORIHICO. is a café popular for its different of blends of coffee which are home-roasted, and, of course, homemade desserts.The café sits in a wooden house down the historic neighbourhood of Sapporo.
This long-established café has been in town for 23 years. All their coffee beans are tenderly roasted and drip-brewed by hand. Looking at the view through the windows, you will feel like you are immersed in a forest and as you sip your flavourful coffee, time seems to slow down.
What to expect at MORIHICO.
Their seasonal handmade cakes and pastries and of course their aromatic coffee will definitely win your heart over. As long as you are not visiting in the depths of winter, don't forget to take a stroll in the park right outside to refresh yourself in Hokkaido's marvellous climate and soak up the historical ambiance.
Recommended shop
MORIHICO.
Address:26-2-18, Minami 2jonishi, Chuo, Sapporo, Hokkaido
Access:4 minutes walk from Maruyama Park Station
Opening time: 10: 00-21: 00 (LO.20.30)