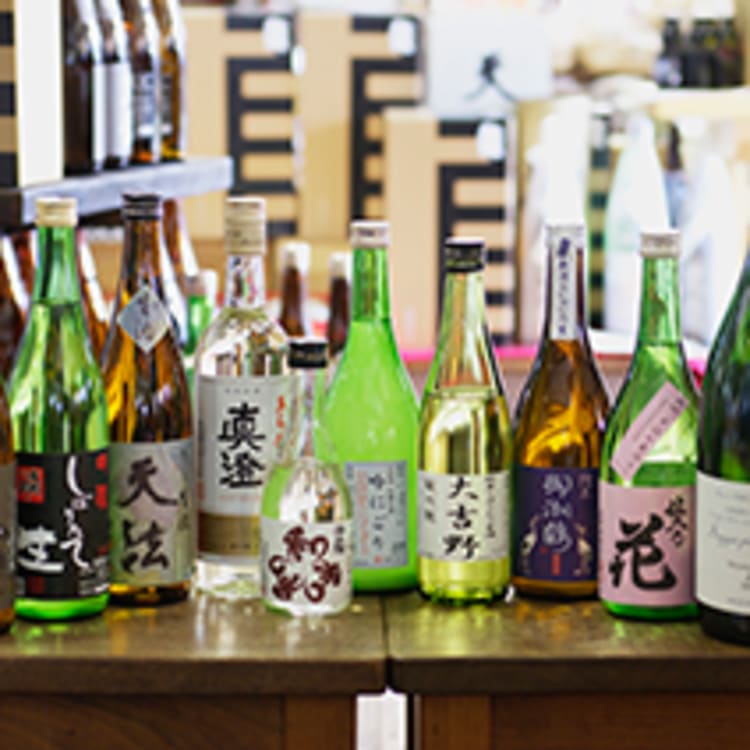 GUIDE
Tasting Japanese sake
by JNTO Gourmet on 20 February 2019
In Japan, sake is not just a drink to be paired with a meal – it is also widely drunk at celebrations, accompanied by traditional rituals, and revered as a sacred drink at ceremonies. While there is a growing number of restaurants in Singapore serving Japan's national tipple, you will find a greater variety of it in its birthplace, where you can also learn about its history, brewing process, and maybe partake in some of its rituals. Do take note that the legal drinking age in Japan is 20.
Many types of sake
While many people are familiar with sake, the most popular is undoubtedly the clear daiginjo. With its pleasant fragrance and delicate sweetness it's no wonder it's popular with drinkers. However, there are many more varieties of sake, ranging from clear to honey-tinted and even milky, with flavour profiles that include dry and fresh, or sweet like dessert wine, or even savoury. The most common types of sake we see include ginjo and daiginjo which means that the rice has been milled down to at least 60% or 50% respectively. Junmai means that no extra alcohol has been added, although this doesn't diminish the quality since the added alcohol is meant to control the flavour. You may also come across kimoto and yamahai – both refer to the traditional and rarer method of brewing which results in stronger, more masculine flavours.
Good sake is dependent on the availability of good natural mineral water, quality rice, and the brewer's technique; but when it comes to which sake is 'best', it all depends on personal preference.
Is there something non-alcoholic or low in alcohol?
There is a milky version of sake called amazake which is made from fermented rice and has a sweet taste. The non-alcohol version made from koji (malted rice) and the one made from sake kasu (sake lees) has very low alcohol. Normally served hot during winter by street vendors, this healthy drink is loaded with B vitamins and amino acids.
Clear, filtered sake usually has an alcohol content of about 15% but a growing number of brewers are producing sake with lower alcohol content – the most popular of which is sparkling sake, usually with an alcohol content of around 5-7% and are generally on the sweet side.
There are also other types of sweet sake with low alcohol content (from 3-5%), including those that include yuzu, umeshu (plum wine), and even those that are similar to Korean makkoli.
Sake products
While we commonly drink sake, it can also be used to make other types of sake-based products. Sake yoghurt is made with rice, koji, and lactobacillus (the bacteria in yoghurt) which contain essential amino acids – many are made with amazake, so the flavour is slightly sweet. Some sake breweries also produce rice milk. A relatively popular recent product is sake jelly – usually clear and sweet, with a low alcohol content of about 1.5%.
Even the leftover bits of the sake-making process – called sake kasu (sake lees) – are often used for cooking. You can sample foods made with sake kasu (sake lees) , including ramen at Ginzakazami, and ice cream at FujiReika in Hokkaido, or Jokamachi udon in Hiroshima's Saijo sake district.
Where to sample sake
There are plenty of places to sample sake in Japan, from restaurants to izakayas and sake bars. However, the best way to experience the essence of this drink is to head to one of Japan's sake districts where not only can you sample and buy fresh sake, you can also watch the brewing process. Here are some popular sake districts:
Saijo (Hiroshima Prefecture):
There are eight breweries here, with seven along the main road of Sakagura-dori
Saijo is known as the pioneer of ginjo sake, with a mostly sweet flavour profile
Sample Jokamachi udon which is made with sake
Suwa (Nagano Prefecture):
The 400m stretch of road houses five breweries
The flavour profile of Nagano sake is light, often fragrant and easy drinking
"Suwa Goko" coupon (¥1,800) – available at any brewery – gets you free tasting, as well as a souvenir sake cup from each brewery
Kobe Nada (Hyogo Prefecture):
Nada houses about 40 breweries producing nearly 30% of Japan's sake
The sake produced here is generally sharp, dry, and 'masculine'
Many breweries also house museums where you can learn about sake
Fushimi (Kyoto Prefecture):
A district along the Horikawa River, lined with nearly 40 sake breweries
Its underground springs create sake with a slightly sweet, mildly fragrant, and elegant flavour
Hop on a sightseeing river cruise to see the town from the willow-lined river