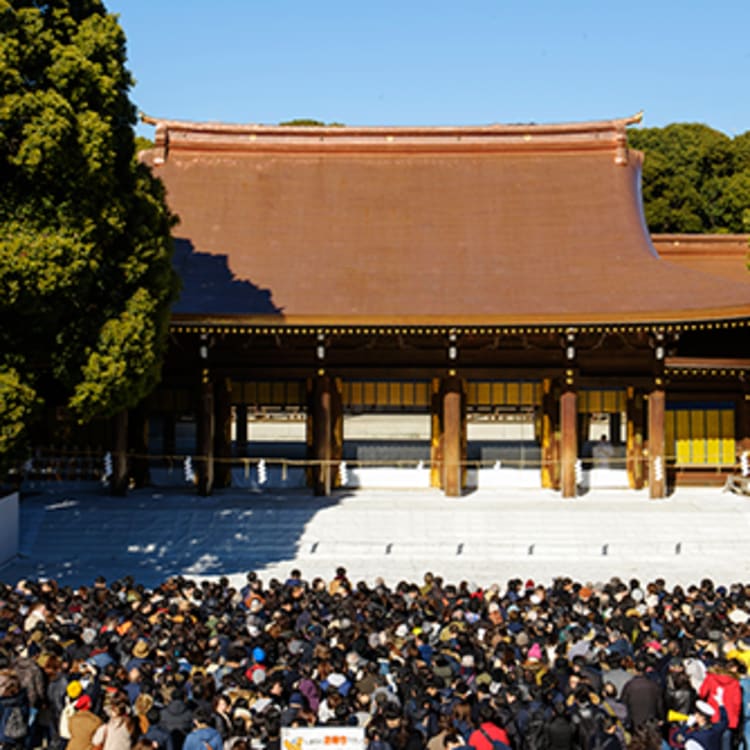 GUIDE
Things to do during New Year season
by JNTO Family on 21 December 2018
There are many things to do during the New Year season, from visiting temples (for fortune telling or prayers for a good year ahead) to catching the first sunrise of the year or attending countdown events. If you're in Japan during this time, here are some traditional customs you can partake in!
First visit of the year to shrines/temples (hatsumode)
While people in Japan pray at shrines or temples all year round, it's extra special during New Year – that's when they are at their busiest, and many visitors come dressed in their kimono. Visiting a shrine during the first three days of the new year is called hatsumode, where people pray for the new year, purchase lucky charms, and draw fortunes.
New Year Customs
Worshippers often line up for a few hours before the stroke of midnight to literally ring in the new year. There are slightly different customs between a Shinto shrine and a Buddhist temple – you can identify a shrine by its red torii gates (with a horizontal beam supported by two pillars), while entry into a temple is via a sanmon (a sheltered wooden gate). At shrines, visitors would first ring the bell and drop a coin in the offertory box before proceeding to the standard ritual of "2 bows, 2 claps, prayer, 1 bow" – there is no clapping at a temple.
In the last moments before December 31, temples ring their bells 108 times – representing the cleansing of 108 worldly passions – to usher in the new year. At some temples, visitors are even allowed to ring the bell. Early in the morning on New Year's Day, temples/shrines perform a ritual where priests pray for the safety and happiness of the nation.
During hatsumode, it's a popular time to draw fortunes called omikuji, which are printed on paper strips. You can get English omikuji at places like Sensoji temple (Tokyo), Nishiki Tenmangu shrine (Kyoto), and Kushida-jinja shrine (Fukuoka). Traditionally, you keep those telling good fortunes with you, while ones reading bad luck can be tied to a designated rack so that any misfortune can be left at the shrine.
Also, this is the best time to buy special New Year omamori (charms) for all manner of wishes, from good health to successful business. You can also purchase an ema, a wooden plaque decorated with the year's zodiac animal, onto which you write your wish for the upcoming year, and hang it on special racks within the temple grounds.
Famous shrines
Some famous shrines can get very crowded during hatsumode. Adding to the festive feel are the rows of yatai (street vendors) selling hot drinks and snacks (like udon, yakisoba, etc) that often line the streets outside the temples.
In Tokyo, the most popular shrine is Meiji-jingu in Harajuku which sees more than 3 million visitors every hatsumode; it can take a couple of hours for your turn to pray at the main hall. This huge Shinto shrine is one of the most prestigious in Japan, and celebrates its 100th anniversary in 2020.
Nagoya's Atsuta-jingu, an important Shinto shrine, sees over 2 million visitors during hatsumode, and enshrines the sacred sword Kusanagi-no-Tsurugi, a symbol of the Imperial throne. The temple also houses an impressive collection of Japanese treasures. Founded almost 1,900 years ago, people come to the shrine to pray for family wellbeing and business prosperity. On January 5, the shrine hosts Hatsu Ebisu, a festival which prays for a prosperous business and family safety where people come to obtain a special picture of Ebisu (God of Fortune).
First sunrise of the New Year
In Japan, sunrise on New Year's Day is believed to have special powers, and praying to the first sunrise of the year has become a popular practice since the Meiji era. As such, many people flock to the Pacific coastline, mountains like Mt. Fuji or Mt. Takao (Tokyo), or shrines like Shimotsui Gion Shrine (Okayama) and Shirahige Shrine (Shiga) to get an unobstructed view.
You can also catch hatsuhinode from tall buildings like Tokyo Tower or Fukuoka Tower; if you're based in Tokyo you can take the Inubo hatsuhinode train to Cape Inubo (Chiba) where you can see the earliest sunshine on mainland Japan. There are also other special hatsuhinode train services to various locations across the country.
Countdown Events
In addition to traditional customs, there are also plenty of New Year Countdown events that happen throughout the country, ranging from quiet hotel celebrations to large-scale countdown events involving entertainment and fireworks.
In Tokyo, some of the more famous ones include the Tokyo Tower light-up, a Tokyo Bay fireworks countdown cruise, or the Shibuya Crossing for a rowdier celebration. For some family fun, Asakusa Hanayashiki near Sensoji Temple – the first amusement park in Japan – celebrates the New Year with rides and entertainment.
Elsewhere around Japan, there's a countdown event at Huis Ten Bosch theme park in Nagasaki City, while in Wakayama there's free live music and a fireworks display at Wakayama Marina City. In Osaka, the countdown at Universal Studios Japan has fireworks and entertainment.
Public transport during the New Year
Since the crowds for New Year's Eve can be very intense, public transportation in cities like Tokyo, Fukuoka, Nagoya, and Osaka normally operate throughout the night to ferry people to and from major temples/shrines, countdown events, as well as hatsuhinode spots.
The easiest way is to check if trains operate 24 hours is to ask at your hotel or tourist information centre, or simply use Google Maps. You can also check the official websites of public transportation companies for updates.