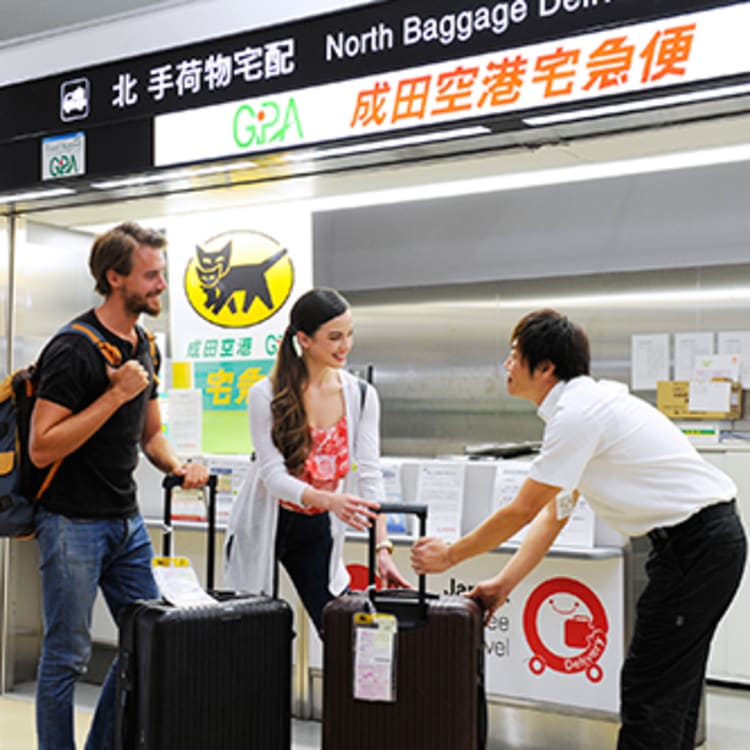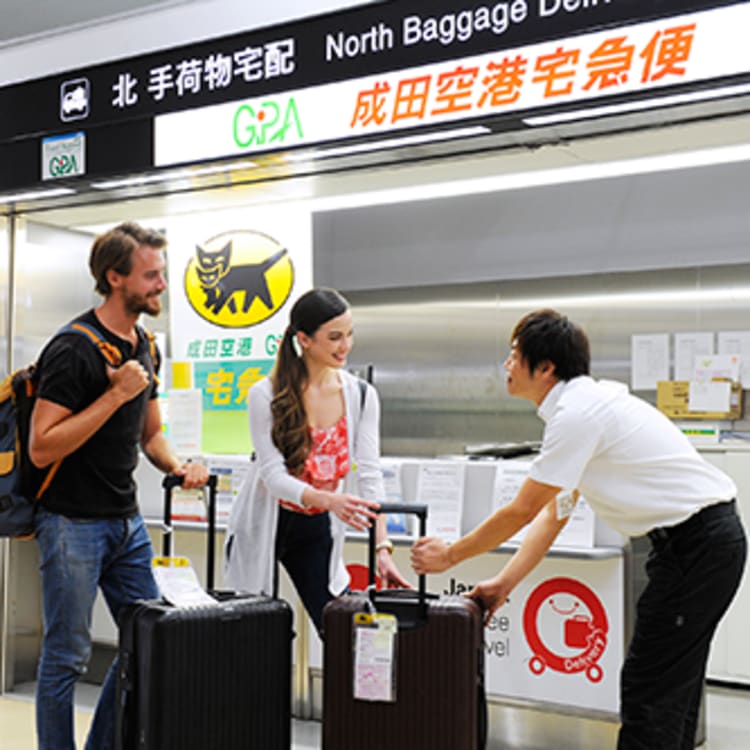 GUIDE
Travel around Japan luggage-free
by JNTO Travel on 14 November 2018
One of the biggest hassles about travelling is often the issue of handling your luggage, especially when you're taking public transport to get around. You don't want to be burdened with dragging your luggage around an unfamiliar city, or carrying them up and down the stairs at train stations. It's a lot more tricky when you take public transport during rush hours.
Thankfully, there are multiple ways to handle your luggage so you can enjoy travelling with ease of mind, and without the burden, thanks to the nationwide 'Hands-FreeTravel' network.
What is Hands-Free Travel?
Simply look out for the 'Hands-Free Travel' logo at places like airports, train stations, hotels, and department stores, and you'll be able to deliver your baggage between two locations, or store them in a safe place so that you can enjoy luggage-free travel (some locations may have limited service).
Luggage Delivery
Between airport and accommodation
Hotel to hotel
Train Station to City
Between tourist sites or along tourist routes
Luggage Storage
Coin Lockers (train stations, airports, etc)
Storage sites (info centers, department stores, stations)
Commercial places (online reservation at shops, offices, etc)
Luggage Delivery:
From the airport to your hotel, or vice versa
How do you get your luggage from the airport to your hotel when you've just arrived early in the morning and your check-in is in the afternoon? Or what if you don't want to drag your heavy luggage – after you've stuffed it full of souvenirs – from your hotel to the airport?
There are several luggage mail service options, some of which offer same-day services if you send before 11am. Prices normally depend on the size and weight of the luggage; most companies charge between 2,000-3,000 yen to deliver a piece of check-in luggage (up to 30kg; 160cm dimension). Most also offer delivery for odd-sized luggage like sports gear (ie. snowboards, bicycles) as well as insurance for lost items up to 300,000 yen.
From the airport to your hotel:
Simply drop your baggage off at a designated delivery counter – look out for signs that say 'Hands-Free Travel'. Staff will be at hand to assist you with filling in the forms; your luggage will normally be sent to the hotel reception.
Some credit cards and airlines may offer discounted luggage delivery; for example, JCB and UnionPay customers get discounts on select operators when they pay with their card. JAL passengers can also take advantage of discounted baggage delivery to and from major airports.
From your hotel to the airport:
There are several options, but all require advance booking at least a day ahead. Your luggage will normally be delivered to a designated counter to be picked up before you check-in.
Some hotels have a 'Hands-Free Travel' counter, where you can arrange for your luggage to be delivered to the airport
Schedule a pickup via services like Airporter or Luggage-Free Travel online, and they will pick up your luggage
Travel between hotels and cities without your luggage
Are you travelling to another city by train and don't want to bother with dragging your luggage onto trains, up the stairs, or across platforms? On trains, there is limited storage space, so what do you do? You can have your luggage sent to your next accommodation, so you can easily get to your destination without the burden, and even go sightseeing along the way!
Depending on the distance, some companies offer same-day delivery if dropped off before 11am. There are several options for delivery depending on your accommodation:
Check with your hotel if they offer a 'Hands-Free Travel' service
Yamato operates nationwide, so you can simply drop your luggage at the nearest service counters. Sagawa Express has drop-off counters at train stations and tourist centres in Tokyo, like Asakusa and Tokyo Skytree
Schedule a pickup via services like Luggage-Free Travel (nationwide) or QL Liner (Tokyo, Kyoto, Osaka) which will pick up your luggage from your hotel
 
Same-day delivery for your luggage is also ideal in these situations:
From major JR stations in cities all over the country to various hotels within the city; each station will have different courier providers like Yamato or Sagawa Express
Between the stations and hotels along the Tateyama Kurobe Alpine Route; depending on the distance, fees cost between 1,000-2,200 yen
Between the towns of Tsumagoi and Magome in the Kiso Valley, which is handy if you're walking the Old Nakasendo Road; drop your luggage off at either tourism information center between 8:30 and 11:30, and it will arrive at 13:00 (not valid during winter) at 500 yen per luggage
Here's a sample price list to deliver one check-in luggage (160cm dimension)*:
Operator
Cities
Delivery locations
Price (in yen)
Order via
Yamato
(also courier service)
Nationwide
Any address including airports
From 2,578
Counter
Luggage-Free Travel
Nationwide
Airport, Hotel, Tourist Centres
From 2,500
Online
JAL ABC
Nationwide
Airport, Hotels, Tourist Centres
From 2,360
Counter/Online
Sagawa Express
(also courier service)
Tokyo, Nationwide
Airports, Train Stations, Bus Terminals, Hotels, Tourist Centres
From 2,031
Counter
QL Liner
Tokyo, Kyoto, Osaka
Airport, Hotels
From 2,160
Online
Airporter
Tokyo, Osaka
Airport, Hotel, Apartments
From 2,000
Online
*Check directly with the service provider for a more accurate quote. Dimensions calculated as width+height+depth
Luggage storage:
Store your luggage for hands-free day trips
Ever wondered what to do with your luggage when you want to go sightseeing without the burden? Or what if you went shopping and bought a ton of stuff and you don't want to drag it around town with you? If you're in these situations, there are several ways for you to store them safely.
Coin lockers
Most train stations all over Japan have coin lockers where you can store your luggage or bags – usually, the locker sizes are only large enough to accommodate small backpacks, although larger stations may have lockers large enough for luggage. These lockers are ideal if you've got a lot of small bags to carry, or if you don't want to lug heavy packs around. Coin lockers at train stations charge by the day, whereas lockers at airports like Narita and Centrair can store them for longer period (up to 8 days).
Coin lockers cost from 300 yen (small), which is usually valid for a day. If you don't have coins, some lockers accept Suica or Pasmo (similar to our MRT card) payment.
Left luggage
If you have odd-sized luggage that don't fit into lockers, the best place to store them is with a luggage storage service. Most services have a size limit of 200cm in dimension (height + width + depth). Prices range from about 500 yen per day.
At cafes and offices:
A growing number of cafes, shops, and offices (in addition to selected JR stations and post offices) are offering luggage storage service via a service called ecbo cloak. You can store your items in Tokyo, Kyoto, Osaka, Fukuoka, Okinawa, Hokkaido, Ehime, and Iwate. With your smartphone, locate available spaces and reserve a spot.
If you're in Tokyo, Voyagin offers luggage storage at their Shibuya office, while Sagawa Express has several luggage storage locations at tourist sites like Tokyo Skytree.
At train stations, hotels, and commercial areas:
Some train stations, VIP Liner bus lounges, department stores (like Daimaru and Aeon Mall), and tourist information centres (like Kansai Tourist Information Center) offer luggage storage – simply look out for the 'Hands-Free Travel' logo, or look out for Yamato (with its iconic black cat logo).
At the airport:
If you want hands-free travel at the airport, like Narita International, Haneda Airport, and Kansai International Airport – usually offer luggage storage. You can store large/bulky items as well, and prices are determined by size.