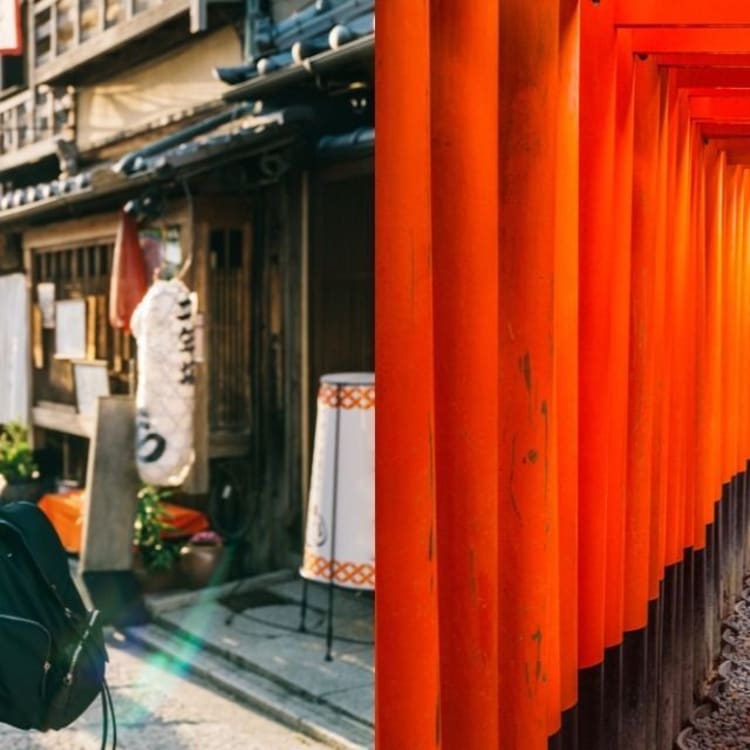 STORY
A Truly Authentic Japan Experience in Kyoto
by JNTO on 03 October 2019
For anyone who has never been to Japan, Kyoto city is surely one of the first cities to visit. Different from the energy and momentum in Tokyo and Osaka, this former imperial capital promises a uniquely Japan experience enriched by centuries of tradition.
Kyoto's olden-style architecture is one of its biggest draws. Many of these are called machiya, which are historical wooden houses that used to house common folks.
As they are costly to preserve and many of them have been destroyed or damaged, several groups of concerned citizens in Kyoto have taken it upon themselves to restore and protect machiya. Their intention is to preserve a part of their history. As such, Kyoto is one of the best places to experience this slice of Japan's quintessential culture.
Machiya's interior, of course, is traditional too – the tatami (floor mats) in Japanese-style rooms, made out of rush and cloth, exude a faint, earthy fragrance that immediately sets one's heart at ease. In these Japanese-style rooms, it is customary to sit in seiza style – a formal sitting position in which one kneels down with the tops of their feet flat against the floor.
Exploring Kyoto's traditional cityscape is one of the best ways of enjoying this city, and there are countless ways to further immerse yourself in these olden-style structures. Here are some places and activities to get you started, to help you get that unique Japan experiences.
Machiya Café
While the Western concept of café was first introduced to Japan in the late 1800s, it was thereafter influenced by Japan's own style and evolved to blend the best of both worlds. In fact, many machiya in Kyoto have now been converted into cafés serving all sorts of food – Japanese meals, snacks, desserts, and even Western cuisines.
There are several areas in Kyoto where you can find many machiya cafés in close proximity, such as the Gion, Kawaramachi, and Karasuma areas, all of which are near the Kamogawa River.
Make a visit to "D&DEPARTMENT KYOTO", a quaint machiya café housed within Bukkoji temple grounds.
The café is collaboratively run by the Kyoto University of Art and Design; it offers a specialty set meal appropriately titled "Kyoto Teishoku". This meal packs the very essence of Kyoto into simple yet flavourful dishes using seasonal ingredients originating from Kyoto itself.
Alternatively, head for Taigokuden Honpo, a Japanese sweets stop that boasts over 130 years of history. This stop serves in-house desserts and drinks, but visitors may also purchase their sweets to go. This café's specialty is the "Kohaku Nagashi"(Dessert made from agar), an elegant glass of chilled jelly that comes paired with syrup flavours that change depending on the month. This dessert can nearly be mistaken for sparkling jewels, as the jelly reflects the light off its smooth surface.
Each machiya café has its own charm and one could spend an entire day just café-hopping in this city. Amidst the simple, welcoming interior, take in the laid-back atmosphere while you partake in a scrumptious meal. This juxtaposition of modern and traditional, old and new, is sure to draw you in.
Japanese Calligraphy and Zazen
Of course, cafés are not all that Kyoto can offer. For those who want to immerse themselves in art, try shodo, or Japanese calligraphy. This art form is more than just writing, there is meaning in every stroke, as well as in the sequence.
One's mind is revealed upon putting brush to paper to create an aesthetically-pleasing, yet expressive piece. Many cultural centres and dedicated calligraphy schools in Kyoto offer one-off shodo lessons. The lessons are also held at temples, as this art form is closely intertwined with the concept of "Zen" in Buddhism.
Speaking of Zen, the temples in Kyoto are good places to get another experience – Zazen. Zazen is a method of meditation that encourages practitioners to be rooted in the present, letting thoughts and distractions go as they come to us. In other words, it is a means of training to achieve a state of Zen.
While many may not be able to fathom the idea of sitting still for minutes or even hours, you might surprise even yourself as you step away from the stress of daily hustle and bustle, and sink into the stillness of your mind.
As these activities are highly popular, advance online registration is often a must. Cultural centres offering shodo lessons, such as "WAK JAPAN" or "Ami Kyoto", accept both credit card and cash payments. Temples that organize zazen sessions, such as Tenryuji, require neither bookings nor payment, but it is customary to give a token of appreciation. Other temples, such as Taizo-in, offer a combined experience of both shodo and zazen – do make your booking online in advance, but remember that they only accept cash.
Above all, remember that temples are a place to worship, and that you should demonstrate care and consideration when visiting. Unlike shrines, you do not need to clap your hands when giving your respects. Also remember to remove your shoes when entering a temple's main hall.
Ramen Factory
No trip to Japan can said to be a completed one without a bowl of good ramen, but how many tourists have ever made their own ramen? For a complete hands-on experience, Ramen Factory in Kyoto lets you prepare your very own ramen, throughout the process.
Find out how to knead and punch the wheat flour for that ideal noodle texture, and how to best combine different soups to create the unique flavor you are looking for. For those who are vegetarian or vegan, fret not – every element in the ramen, from the chicken chashu to the soup, can be prepared without using any meat ingredients. Ramen Factory also enforces a strict no pork, no alcohol policy, so if you are a halal food eater, rest assured that you will be able to enjoy the ramen here.
The Ramen Factory offers three different courses depending on how involved you want to get. Those with a tight itinerary can knead and cook the noodles, and combine it with soup made by the staff for the final product; for a full experience, take the appropriately named "luxury" course and go all out! The factory is always full, do remember to make a reservation before you go to avoid disappointment.
Ramen Factory
Address: 15-814-18 Honmachi, Higashiyama, Kyoto
Access: From JR Nara Line Tofukuji Station, walk for three minutes.
*Ramen-making courses available between 11:00 a.m. and 6:00 p.m.
Kyoto's historical and cultural significance is indisputable, but it is not just its beautiful landscape that has captured the hearts of many travellers. Exploring Kyoto and immortalizing its architecture in your mind's eye is a must; experiencing the spirit of Japan through Kyoto's hands-on cultural experiences is irreplaceable.
Take your time to enjoy the comfortable and relaxed ambience that this delightful city offers. One visit is never enough, let alone two or three. Let the city's essence touch your heart and sooth your spirits. Be assured that Kyoto will await you with open arms the next time you visit.