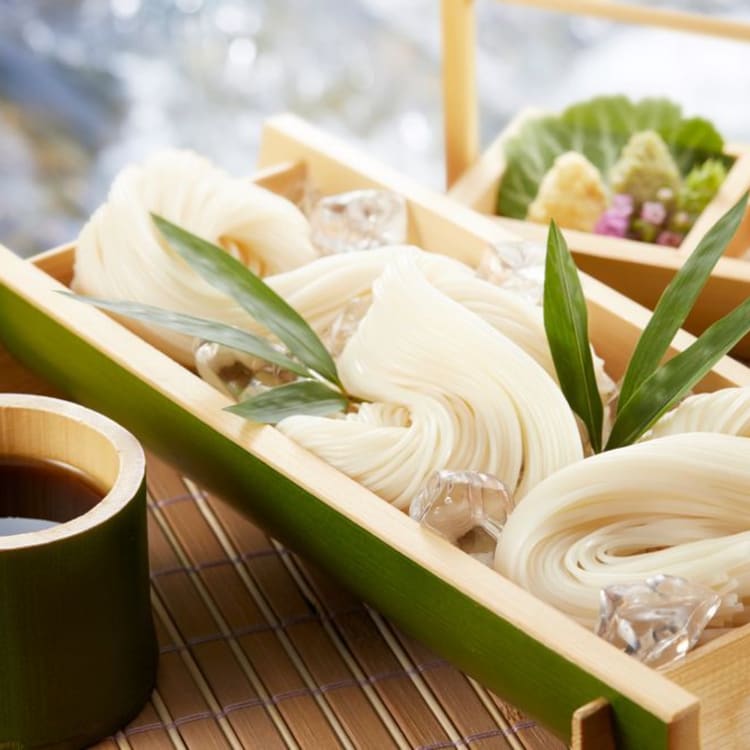 GUIDE
Try to catch Nagashi Somen in Tokyo!
by JNTO on 19 June 2019
One of the fun experiences of Japanese summer is eating "nagashi somen," which literally means "flowing noodles."
Small portions of the wheat-flour noodles are sent sliding down a half-pipe cut from a mature bamboo with water running down it, and people use chopsticks to catch the slippery noodles to eat after dipping them in cold broth.Try it, it's cool and fun!
How did "nagashi somen" originate?
There are different stories, but it is said that nagashi somen started as an entertainment in subtropical Okinawa prefecture during the Edo period (1603-1868).
People put somen in clear water flowing down over rocks, picked them and ate them just for fun as well as to savour the coolness.
How do you eat nagashi somen?
It's very simple!
STEP 1 Sit in front of the bamboo flume and wait for the somen to flow down it
STEP 2 Use chopsticks to catch the noodles when they are in front of you
STEP 3 Dip them in the broth provided (tsuyu) and eat.
*As a courtesy to those eating further down the bamboo slide, you should not keep your chopsticks in the water waiting to catch the noodles.
Where to eat nagashi somen?
Unfortunately you can't have nagashi somen anywhere, but here are three suggestions for restaurants in the Tokyo region where you can find them.
Tsukimachi-no-Taki, Momiji-en
A soba restaurant with superb view that is in front of the Tsukimachi-no-Taki, a famous spot in Ibaraki. Enjoy your meal while listening to the sound of the waterfall and feeling the negative ions. You will be surprised by the uniqueness such as the 'Flying Somen' – somen flying through air, or the somen flowing through the diorama that imitate waterfall and tunnels.
Tsukimachi-no-Taki, Momiji-en
Address: 1369-1 Kawayama, Ooko-machi, Kuji-gun, Ibaraki-ken
Access: 20-minutes' walk from Shimonomiya Station, JR Mizui line
Opening time: 10:30~19:00
Period for nagashi somen: May ~ Mid of September
Nagashi Somen En Uemon
A popular spot to have nagashi somen while enjoying the view of mountain streams at the famous Shosenkyo. There are table seats where clear water circulates, you can sit and enjoy. The side dish of vegetable tempura uses local grown vegetables.
Nagashi Soumen En Uemon
Address: 423 Inakari-cho, Kofu-shi, Yamanashi-ken
Access: 50 minutes' bus ride [Shosenkyo Takinoue-Iki bus] from Kofu Station, JR Chuo line. 5 minutes' walk from Shosenkyo Takinoue (Kage-e no Mori Bijyutsukan-mae; in front of Art Museum). Opposite Takinoue municipal parking lot
Opening time: 10:30 ~ 16:30 (Changed due to weather)
Period for nagashi somen: all year available