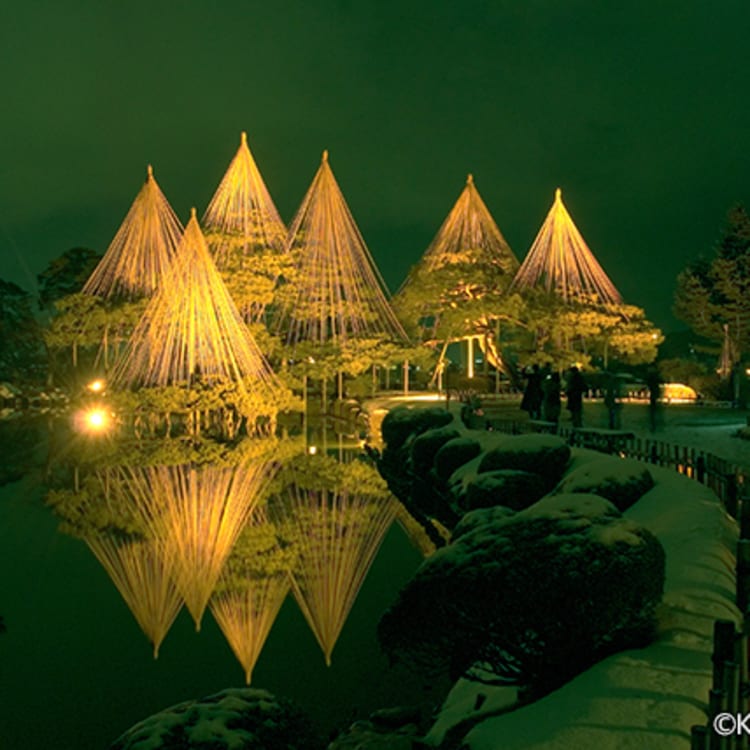 GUIDE
Yukizuri viewing: Winter in Kenrokuen & Kinpaku Kirara in Musashigatsuji
by JNTO on 11 September 2018
Kanazawa is a city that blends uninterrupted history and breathtaking nature in one, graceful sweep. Formerly Japan's second largest city, it avoided most of the air-raids of WWII, leaving behind unblemished parts of the old castle town like the Nagamachi samurai district and the Chaya (geisha) entertainment districts.
Beyond the museums and preserved neighbourhoods stands Kenrokuen – one of Japan's top three traditional landscaped gardens.
Formerly the outer garden of Kanazawa Castle, the park has now been open to the public for over a 150 years and is a treat both for the eyes and the mind. Kenrokuen means 'six attributes garden', which is a reference to an ancient tome that describes six attributes of a perfect garden. Be the judge of whether it meets such high standards yourself, and there are plenty of teahouses and vistas to take a break in.
Spanning 12 hectares, the garden is easily accessible and thrums gently like a green heart of the city. But green turns to a lush, fiery orange in autumn – the maples grow closer to the Kodatsuno gate, which ring a contemplative statue called the Meiji Monument in honour of soldiers who died in the civil war following the Meiji restoration.
Before the first snowfall between late November and early December, the delicate Karasaki pine trees of Kenrokuen are decorated with ropes that are hung from the top and arranged to resemble a conical shape that covers the entire tree. This is to protect the branches from breaking from snow in winter – in Kanazawa, the snow is heavy as it contains a high quantity of moisture. This method of protecting the branches is called yukizuri (snow hanging), and skilled gardeners use up to 800 ropes to create these famous conical shapes which are now a winter symbol of Kanazawa. The best time to witness these beautiful structures is when Kenrokuen is covered in snow from January to February; they are also illuminated at night.
The winter months also host the Kinpaku Kirara & Tree Fantasy Illumination – a colourful and brightly-lit night festival held in various spots in central Kanazawa, especially around Musashigatsuji, one of Kanazawa's three main shopping districts.
Kanazawa is famous for its production of gold leafs, which are used to make golden snow crystals that decorate large conical art installations created using yukizuri ropes to mimic the conical trees of Kenrokuen. The effect takes on a dreamlike quality, with the gold leafs gently shimmering against the snow. Closer to the Musashigatsuji crossing, it appears as though the whole city is covered in gold, thanks to tens of thousands of LED lights strung up on the trees.
Winter Delicacies
Kanazawa sits right by the Sea of Japan, and fishermen have been pulling in an incredible variety of fish for centuries. The cuisine is, as expected, rich with tradition and innovation. Winter is the time for crab in Kanazawa – with zuwaigani (snow crab) the most prized for its sweetness and creaminess. Visitors start pouring into town from November onwards when the fishing boats start to return with fresh zuwaigani. You can head to Benkichi and stuff yourself with their Bottomless Boiled Crab Course (5,500 yen).
Ishikawa Prefecture is a rice producer, which means it also produces great sake. The best time to sample sake is during winter when the sake producers prepare their fresh brews, which you can try at most restaurants in Kanazawa. Sake maker Fukumitsuya (established in 1625) offers tours of their brewery during their brewing season from October to April, and you can watch their toji (master sake brewer) and kurabito (sake workers) at work during the winter months.
Try kaburazushi as a salty, fermented snack to go with your sake. This local delicacy is unique to the region, and is the result of pickling yellowtail amberjack, seaweed, carrot and turnip. Pick up a box as a gift, as the locals often do, or sample a serving at any sushi restaurant – and savour the delicate balance between the crunchy salt flakes and the sweetness of the yellowtail.
Shijimaya Honpo runs a workshop where you can learn the art of pickling kaburazushi. The staff have already done all the preparation, leaving you more time to practise the skills to fill the sushi and pickle it.
As the winter sets in Kanazawa, daikonzushi, another local delicacy, starts to appear in homes and shops. Similar to kaburazushi, daikonzushi is a pickle of radish (daikon) and herring – and is also an excellent pairing with sake.
How to get to Kenrokuen?
Kenrokuen is accessible via the Kanazawa Loop Bus (stop number LL9) and the Kenrokuen Shuttle Bus (stop number S8) from Kanazawa Station, taking 20 minutes. There are also Hokutetsu buses and JR buses that take from the station to the park.
Date: Open year-round; winter months are January to February when you can see the yukizuri covered in snow.
Time: 8am-5pm during winter
Admission fee: Adults 310 yen / Children (6-17 years old) 100 yen
How to get to Fukumitsuya Kanazawa?
The brewery tour is available at Fukumitsuya Kanazawa, which is accessible by bus from Kanazawa Station (Line 11 or 12), stopping at Kodatsuno. There is also another branch located in the Higashi Chaya district where you can sample and purchase sake.
Fukumitsuya Kanazawa
Time: 10am-7pm (tours at 11am and 3pm)
Admission fee: Free
Sake tour: Reservations required.
Standard Tasting Course (30 minutes) free, with sake sampling
Premium Tasting Course (50 minutes) 2,000 yen, with premium sake sampling