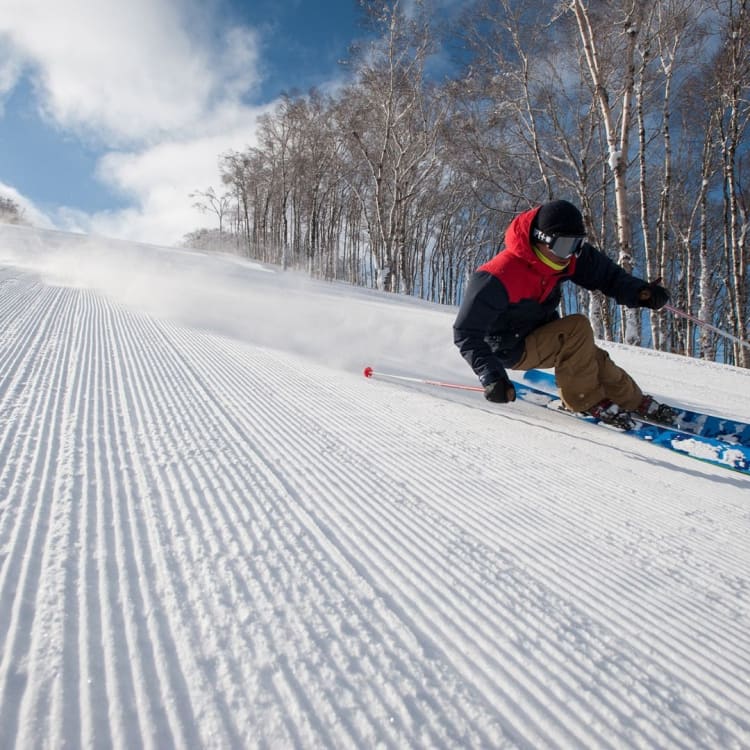 Story
​A 100-Metre Waterfall Freezes! 3 Spots for Hyobaku Ice Falls
by JNTO on 27 January 2020
Between January and February, it is the middle of winter when glittery snow falls across the country. Ski resorts bring in plenty of people visiting to ski, snowboard and enjoy the snow.
One thing you do not want to miss out on is"Hyobaku". Hyobaku is the word for icefalls, when a waterfall freezes over. This is precisely the timing during the winter season when you can find breathtaking views of these ice falls. In this article, we will introduce three very dynamic hyobaku spots that stand out among the others!
The Perfect Season to see Japan's 3 Great Ice Falls!
Fukuroda Falls (Ibaraki Prefecture)
Fukuroda Falls is a famous representative sightseeing spot of Ibaraki Prefecture.
With a height of nearly 120 metres and a width of about 73 metres it is an enormous waterfall among Japan's three great waterfalls. With waters descending four large walls of rock, it has garnered the name "Yodo no Taki" which meaning "four-step falls". This waterfall has a distinct look to enjoy every season, from the greens of summer, to the brilliant colors of autumn, and the frozen spectacle in the winter.
Particularly in winter - when the entirety of the 120-metre waterfall freezes over completely, turning into a beautiful white wall of ice that you just must see. Some days, you can even witness ice climbers challenging themselves to a climb on this icefall.
Fukuroda Falls

Address: 3-19 Fukuroda, Daigo-cho, Kuji-gun, Ibaraki

Access: About 10 minutes by bus from Fukuroda Station on the JR Suigun line

Opening hours: [May to October] 8:00 a.m – 6:00 p.m., [November to April] 9:00 a.m.- 5:00 p.m.
Visiting Hokkaido in February? Make your way to Sounkyo Onsen's Hyobaku Festival!
Sounkyo Gorge (Hokkaido)
Sounkyo is the gorge of Hokkaido's town of Kamikawa-cho. With the Ishikari River between it, the gorge spans 24 kilometres with a picturesque scenery. Right here, a large event takes place from the end of January to the middle of March, the "Sounkyo Onsen Hot Spring's Hyobaku Matsuri (ice fall festival)".
At this event, there are structures and sculptures made of pure ice. The area is illuminated with rainbow colored lights at night, creating a magically beautiful scene worthy of being chosen as one of Japan's night view heritage spots.
At the event of 2020, the main ice structure went with a "Milky Way" theme, going for a space station look. Inside of the structure houses tunnels, where you can look up to view beautiful crystal-like icicles.<picture style="box-sizing:border-box; -webkit-tap-highlight-color:rgba(0, 0, 0, 0.13)">At the stalls and rest areas, you can buy amazake (sweet sake), made from sake lees of the local area, along with handmade Frankfurts. The "Northern Ice Bar" has walls and bar counters made entirely from ice (operating only on weekends and holidays). When checking this unique bar out, you do not want to miss the exclusive drinks of the local "Oyuki Kamikawa Sake Brewing," something you can only experience at this spot. If you are looking for some family fun, there is the "Ice Slide Experience" where participants can go down the slide made of ice riding on rubber tubes!</picture>
Sounkyo Gorge

Address: Sounkyo Onsen, Kamikawa, Kamikawa District, Hokkaido

Access: Near JR Kamikawa Station; from "Kamikawa Mori-no Terrace Bus Terminal", ride the Sounkyo-Kamikawa Line to the "Sounkyo Onsen" bus stop, and then take a 5-minute walk

 
45th Sounkyo Onsen Hyobaku Matsuri

Event period: 23rd January – 15th March 2020

Event times: 1:30 p.m.– 9:30 p.m.,

【

February 4th to 11th

】

9:00 a.m. - 9:30 p.m.
Hirayu-Odaki Keppyo Festival is just as Popular! Hirayu Grand Waterfall (Gifu)
Hirayu Great Waterfall is a waterfall listed among the "One Hundred Waterfalls of Japan". During the severe winter period in February, this massive 64-metre-high, 6-metre-wide waterfall freezes into a giant icicle! At night, the suspension bridge which crosses the Odaki River becomes decorated with illuminating lights, surrounding you in a sight of fantasy.
During the event "Hirayu-Odaki Keppyo Festival", the "Nukutomari Bazaar" serves amazake and has stage shows with local presenting arts that you can enjoy.
Hirayu-Odaki

Address: Okuhida Onsenkyo Hirayu, Takayama City, Gifu

Access: From Takayama Station, take the Nohi Bus towards Shinhotaka and get off at "Otaki-guchi/Camp-jomae", then take a 25-minute walk.

Hirayu Odaki Keppyo Festival

Address: Hirayu-Odaki and Hirayu Onsen

Event period: 15th February to 25th February 2020

Light-up timing: 6:00 p.m. - 9:00 p.m.