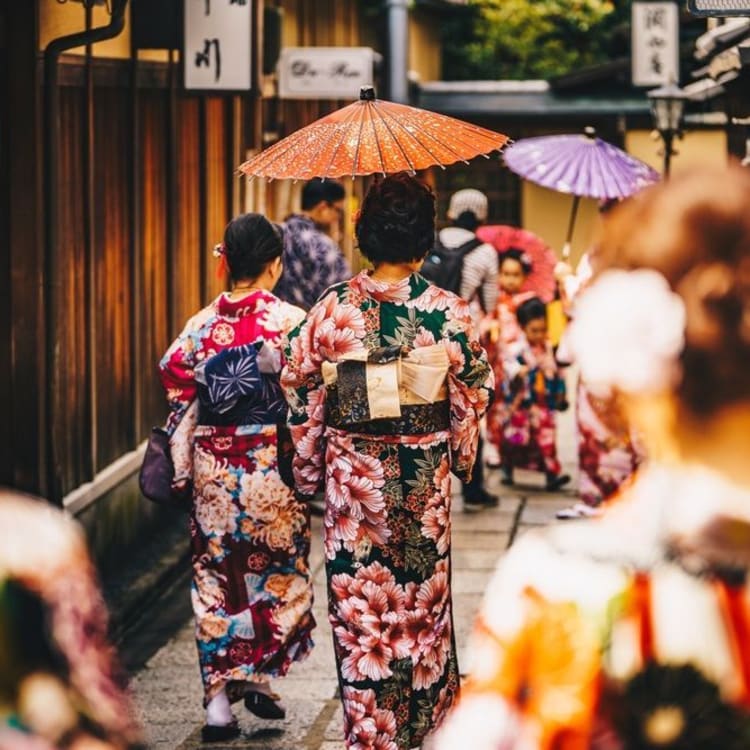 STORY
3 Colourful Instagrammable Shrines and Temples
by JNTO on 11 July 2019
Japan is full of interesting cafes and beautiful scenery and we are sure that you can easily find your favourite instagrammable photo spots with so many to choose from.
Besides these, there are many historic and traditional places that will offer totally different but equally gorgeous views. We have selected three stunningly beautiful shrines and temples in Japan that are highly recommended by even photographers and instagramers. We believe that they will give you the "Only in Japan" experience.
The Wind Chimes of Love Kawagoe Hikawa Shrine
If you are visiting Japan, make your trip more meaningful by making wishes for yourself! Kawagoe Hikawa Shrine is well known with its blessings for good relationships ('enmusubi' in Japanese), family harmony ('katei enman') and happy marriage ('fu‐fu enman'). Every year, hundreds of thousands of people, mostly young women, come to pray and many couples will hold their wedding ceremonies here.
The shrine is almost 1,500 years old and is dedicated to five different deities; the couple Susanoo no Mikoto and Kushiinadahime and their son, Oonamuchi no Mikoto, and Ashinazuchi no Mikoto and Tenazuchi, the parents of Kushiinadahime, which is the reason for people coming to pray for a good marriage and family.
At the entrance to the shrine, you will be awed by one of the tallest wooden torii gates in Japan (15 metres). If you are lucky, you may catch a glimpse of a traditional Japanese wedding!
Once inside the shrine precincts, do not forget to rituallypurify yourself at the chozuya (water ablution pavilion), by washing your left hand, right hand and mouth with the sacred water using one of the dipping cups with a long handle.
We recommend you visit the shrine between July to early September because you will have a chance to enjoy the famous "Enmusubi Fuurin" (Wind Chime Festival).
It features a ten-metres long corridor of 2,000 colourful wind chimes bearing cards inscribed with wishes for love. As the summer breeze blows, while you will hear the beautiful tinkling sound of the chimes, do not forget to make a wish!
Hikawa Shrine is also famous for its cute matchmaking charms;one that you can only get here is the "Aka Enpitsu" (red pencil). It is inspired by the Japanese saying, the "red thread of fate". There is a belief that all couples are connected by the red thread of fate. As such, it is believed that the more you use this red pencil, the closer you will get to your loved one! Besides the red pencil, the shrine hands out "enmusubi dama" stones that will bring good luck to your love life. At 8 every morning, the first 20 persons in line will get these white stones that have been blessed by a priest and wrapped by a shrine maiden.
Kawagoe Hikawa Shrine
Address: 2-11-3 Miyashitamachi, Kawagoe City, Saitama
Access:From Kawagoe Station on JR line or Tobu Tojo Line, take CO-EDO loop bus for Hikawa jinja mae stop, 5 minutes' walk from Tobu Bus Kitamachi Station
Opening hours:8:00 a.m - 6:00 p.m.
Most Instagram-worthy temple in Kyoto Yasaka Koshin-do
The full name for Yasaka Koshin-do is Daikoku-san Kongo-ji Koshin-do. This temple is located in the Higashiyama district of Kyoto.
The temple was built during the Heian period (794 - 1185), and is one of the last few remaining places of worship in Japan of the Koshin folkloric faith that incorporates elements of Taoism, Buddhism and Shintoism. The main objects of worship in the Koshin faith is Shomen Kongo, a blue guardian warrior, nicknamed Koshin-san, and the Three Wise Monkeys.
This tiny temple is brightly painted and is considered to be one of the jewels of Kyoto. It has attracted many locals and tourists as they do not just visit and pray to have their wishes granted, but are also able to enjoy the beautiful scenery. During spring, you can see beautiful cherry blossoms inside.
Visitors to the temple write their wishes on "kukurizaru", each of these colourful stuffed fabric balls representing a monkey, and hang them up. "Saru" in Japanese can mean "to stuff" or "monkey" with the impression of playfulness and desire. The belief is that a desire must be sacrificed in order for a wish to be granted. These colourful talismans give the shrine a vibrant and cute appearance compared to any other! No wonder it appears to be one of the most photogenic temples in Kyoto.
The quantity of "kukurizaru" is limited, so if you want to make a wish, it is better to go early in the morning.
Something else to look out for are the Three Wise Monkeys. The monkeys Mizaru, Kikazaru, Iwazaru represent the maxim "See no evil, hear no evil, speak no evil". If you visit this spot you will surely see a lot of them!
Yasaka Koshin-do
Address:390−1 Kinancho, Higashiyama-ward, Kyoto
Access: Bus No.206 from Kyoto station to Shimizu-do, another 7 minutes' walk after getting off the stop
Opening hours:09:00~17:00
he cutest lucky charm of all Ishiura Shrine
There are various stories about the foundation of Ishiura Shrine, but it is believed to be the oldest shrine in Kanazawa, the capital of Ishikawa Prefecture, dating back to almost 1,500 years. It was founded in 547 in the Kofun Period as Miwa Shrine and changed its name twice.
It was moved to the present location in 1880 and is surrounded by more than 250 trees which are a designated protected forest. Since ancient times, it has been the local shrine for seven villages in the Ishiura district.
This shrine is famous for answering the prayers of people who want to find soulmates. Hence it attracts many visitors, especially young women.
Among the many cute charms on sale are ema (wooden votive plaques) with prints of pink hearts on themand pink polka-dotted fortune papers.
Pick an ema and write your wish!This is not the only reason why so many girls and women love this place. Unlike other more traditional shrines, Ishiura has an adorable mascot "Kima-chan." It is fashionable, yet blessed by the shrine to bring you good luck!
Ishiura Shrine
Address:3-1-30 Hondamachi, Kanazawa, Ishikawa
Access: Take Kanazawa Loop Bus (Right Loop Bus) at bus terminal 7 at the east exit of Kanazawa Station. Get off at Hirosaka・21st Century Museum.
Opening hours: 09:00~16:00(Shrine Office)