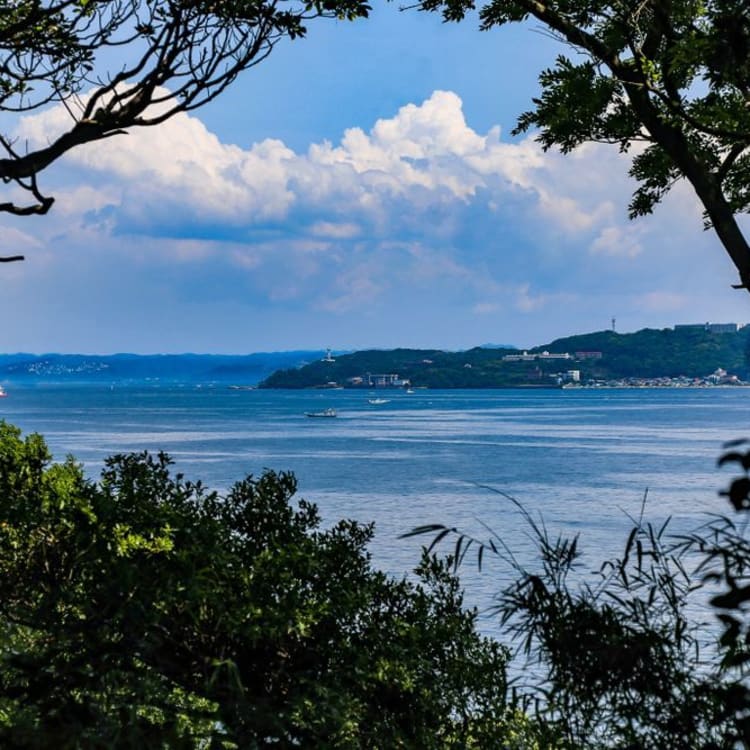 STORY
3 easy-to-reach summer island getaways around Kanto
by JNTO on 16 July 2019
Japan is an archipelago composed of four large "home islands" and more than 6,000 smaller ones stretching from Hokkaido in the north, all the way south to Okinawa and also in the sea around the Tokyo Metropolis. In general, trips to outlying islands conjure the image of taking time and being tiring. But in actual fact, you can be stepping ashore before you know it.
In many cases, it only takes a couple of hours at most by ferry to reach islands with unspoilt nature.
In the sweltering and humid summer months, locals love to enjoy a breezy getaway to the islands surrounding Tokyo, Kanagawa or other prefectures in the Kanto region. They are easy to reach and, despite their proximity to a huge population centre, pleasant enough for a short trip. So here are three suggestions for isolated destinations where you can escape from the city heat and bustle, for a day or two.
Summer paradise in Metropolitan Tokyo
Izu Seven Islands
The Izu Islands, also known as the "Seven Islands of Izu" (Izu Shichito), were created by undersea volcanoes a few million years ago and were never connected to the mainland.
Izu Shichito traditionally refers to seven inhabited islands; Oshima, Toshima, Niijima, Kozushima, Miyakejima, Mikurajima and Hachijojima, although there are actually nine inhabited islands and more than a dozen in the chain, including islets, that are administratively part of Tokyo.
Among the seven, Oshima is the largest and easiest to reach from either Tokyo, Yokohama or Atami, lying approximately 120km south of the capital and less than two hours away by jetfoil.
The island was formed by an active volcano, Mount Mihara and is designated as one of Japan's national Geoparks where landscapes of geological significance are protected and developed sustainably.You can enjoy a variety of leisure activities, such as hiking up Mount Mihara, or cycling around the coastline and being wowed by the exposed strata of volcanic cliffs.
Habu port on the island features in the famous novel by Yasunari Kawabata "The Izu Dancer" as the home of the travelling performers, the protagonist meets. You can enjoy a sense of Japan's past with the traditional houses set against greenery lining along the fishing harbour.
And if you are in Oshima, it is a must to relax in outdoor Miharayama hot spring bath enjoy stunning views of the Mount Mihara, the ocean and Mount Fuji in the distance.
On other islands than Oshima, forest-bathing on Mikurashima, surfing on Niijima and dolphin-watching around Miyakejima are also popular recreations you would not want to miss.
And with insta-worthy picturesque beaches to snap while feasting on freshly caught seafood at local eateries, there are always tempting attractions on the "to do list".
It is advisable to have a well-planned itinerary before your trip so you can fit several islands into the itinerary in one go if you have time.
Access to these islands from Tokyo is either by Tokai-Kisen ferries and jetfoils from Takeshiba-sanbashi Pier or flights from Chofu Airport or Haneda International Airport.
Izu Islands
Access: 【By ferry】 About 2 hours by high-speed jetfoil boat from Tokyo's Takeshiba Ferry Terminal,【By air】 About 25 minutes to Oshima or 35 minutes to Niijima from Chofu Airport (About 1 hour by JR Chuo Line from Shinjuku Station)
The one-of-a-kind uninhabited artillery battery
Sarushima
This island is not exactly what you would expect from the name. Sarushima ("Monkey Island" in Japanese) is so-called because legend has it that the famous monk Nichiren was in a boat in a storm when a pure white monkey appeared and guided him to safety on the island. It is home to no monkeys, however, but it is a true summer paradise for city dwellers.
Before becoming one of Kanagawa Prefecture's best-kept secrets for a summer getaway, Sarushima was also once a military fort protecting Tokyo where civilians were not allowed to set foot until the end of World War 2 in 1945.
Now uninhabited, every summer visitors flock to the only natural island in Tokyo Bay for its military history and for beach activities and barbecues. Thanks to its military past, the island was registered as a National Historic Site in 2015. Fortifications such as artillery battery emplacements, tunnels and barracks are still in place. Intact brick walls covered in moss contribute to the mysterious atmosphere. In addition, Sarushima is said to be the inspiration for Laputa in Studio Ghibli's movie "Castle in the Sky" and as location of the secret base of the evil organisation Shocker in the Kamen Rider series, thus turning it into a pilgrimage site for fiction fans.
Cafes and other shops are open from April to September. For most visitors, an hour is enough to explore the entire island. What better way to spend half a day or so than touring the fortress area after swimming, fishing and barbecuing on the beach of this lush island.
To reach it from Tokyo, take the Keikyu Line from Keikyu Kamata Station to Yokosuka-Chuo Station. It is a pleasant 15minute pleasant walk from the station to Mikasa Pier, gateway to Sarushima.
Sarushima (Monkey Island)
Address: Sarushima, Yokosuka City, Kanagawa
Access: 10 minutes by ferry from Mikasa Pier
Atami's tropical island resort
Hatsushima
Strictly speaking, Atami is not in the Kanto region, but just next door in Shizuoka Prefecture. It is a popular destination for its old-fashioned hot springs. But have you ever thought of venturing a little farther to its outlying island resort?
Just 30 minutes by ferry from the Atami port, Hatsushima offers a whole range of leisure activities and you will be amazed by its subtropical plants in full bloom across the landscape.
As well as year-round flower watching in the botanical garden, you can enjoy marine sports in crystal clear waters warmed by southern currents, and eat succulent, fresh gourmet seafood.

Then there is "SARUTOBI", a fun outdoor adventure experience where you walk among the tree tops secured to cables with a safety harness to enjoy the views over the island, Sagami Bay and, if you are lucky, on a clear day Mount Fuji can be seen.
If you wish to stay overnight, you can enjoy a luxury "glamping" ("glamourous camping" with amenities and meals like a hotel) experience in a trailer or villa at the island resort. Seafood and a fully equipped barbecue are provided so you need not bring anything with you. End of your night with star-gazing and soaking up the laid-back atmosphere!
Hatsushima
Address: Hatsushima, Atami City, Shizuoka Prefecture
Access: 10 minutes by bus from Atami Station to Atami Port, then 30 minutes by ferry