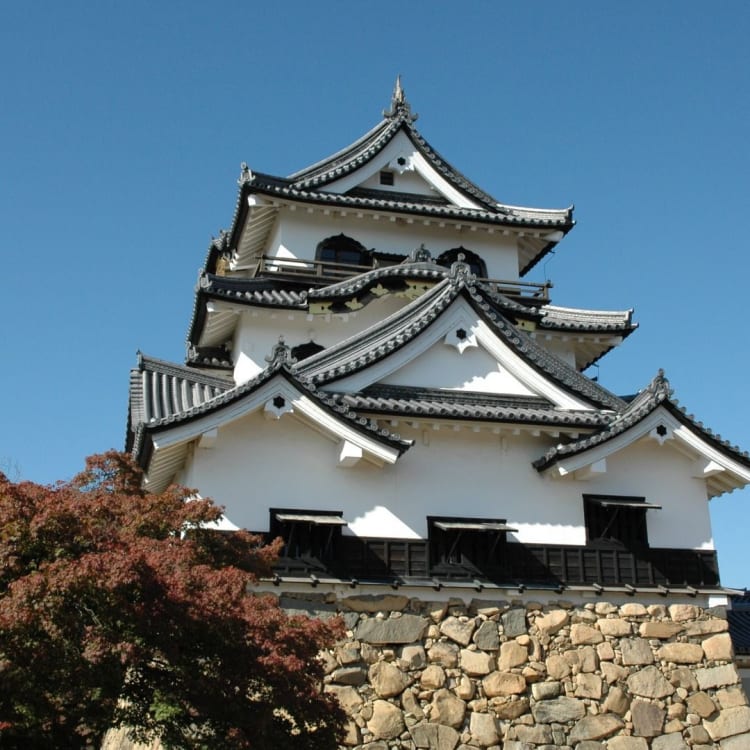 STORY
3 Oriental Castles in Japan
by JNTO on 08 August 2019
Japan is a country with its own historical and traditional culture with a huge number of enchanting oriental castles. The famous castles in Japanese big cities such as Osaka and Nagoya attract many overseas tourists every year, while there are also plentiful of other amazing choices too.
Hikone Castle (Shiga Prefecture)

If you love cultural and historical architectures, Hikone (彦根) is where you should set as your next destination! It is a city in between Nagoya and Kyoto and right next to Lake Biwa which is the largest lake in Japan. It will not take you long to reach the city from Kyoto and it will definitely be worth the journey. Hikone Castle (彦根城, Hikonejo), the majestic castle, is the highlight of this city. Together with Himeji Castle, Matsumoto Castle, Inuyama Castle, and Matsue Castle, Hikone Castle is one of the only five castles in Japan designated as national treasures.
Hikone Castle is one of the rarest historical castles that survived the post feudal era and has not gone through any major destruction or reconstruction. It took 20 years to build and the castle was completed in 1622. It was the base of the feudal lords until 1868, when the feudal age came to its end. Most parts of the castle like walls, guard houses, and the main keep are well preserved without significant reconstruction, which made it the right place to visit for witnessing an original feudal castle.. In the past, Hikone Castle was also known as the "Castle of Water" because of the waterway used as a transport route for products along Lake Biwa.
In addition to the castle itself, there is also a Hikone Castle Museum at the foot of the castle hill. This museum building is a reconstruction of the castle's Omote Goten (front hall). This facility was used as Hikone fief office during the Edo Period (1615-1868). There are several reconstructed corridors, gardens, and rooms with tatami, including exhibition rooms to showcase the clan's treasures such as armours, paintings, masks, costumes, and many more.
Hikone Castle
Access: 15 minutes on foot from JR Biwako Line Hikone Station
Address: 1-1 Konki-cho, Hikone City, Shiga
Opening Hours: 8:30 a.m. - 5:00 p.m.
※open daily
Matsue Castle (Shimane Prefecture)
Matsue Castle (松江城, Matsuejō) is located in Shimane Prefecture. It was built in 1611 by a local feudal lord, Horio Yoshiharu, and was designated as a national treasure in 2015. The 6-storey tower has survived through natural disasters and the castle is now dearly known as the "black castle" as it is painted in black. The castle stands on a 28-meter-high plateau which is called the Jozan (Kamedayama) and is surrounded by a moat and tall walls built by stones. Although it was built for war, it was lucky enough to experience none. In 1950, this castle was designated as the National Important Cultural Properties.
We recommend you go to the top floor of the castle tower from where you can take a birds-eye view of the whole city just like the samurais 400 years ago. When entering the castle, remember to take off your shoes in helping to protect the architect. You can also find an English audio guide for the exhibitions if you wish to learn more about the history of Matsue Castle. If you are lucky enough, you may even spot a samurai or ninja roaming around!
Besides the castle, remember to visit the Matsue Jozan Park. It is famous for beautiful flowers in different seasons including cherry blossoms, azalea, and camellia. You can also hop onto a boat cruise along the Horikawa river.
There are several boarding points for the ride, and the boat rides are usually in intervals of 15, 20 minutes. The whole trip takes about 50 minutes, but you can alight at any stop and board again later. An English audio guide is also available if you wish to know more about the area.
Matsue Castle
Address: 1-5 Tonomachi, Matsue, Shimane Prefecture
Access: 10 minutes by bus from JR Matsue Station
Opening Hours: 8:30 a.m. - 6:30 p.m. (from April to Last of September),
8:30 a.m. - 5:00 p.m. (from October to Last of March)
※Admission ends 30 minutes before closing time
Himeji Castle (Hyogo Prefecture)
Himeji Castle (姫路城, Himejijō) is located in Hyogo Prefecture. As the very first designated world heritage in Japan, it is considered one of the most beautiful castles in the country, owing to its elegance, white exteriors and complex castle grounds. It was the backdrop for many famous Japanese movies and dramas. Himeji Castle is also one of the original castles in Japan which withstood war periods and natural disasters. The castle was reopened again recently in 2015 after renovation. You can enter the main tower and explore your way up via a flight of steep narrow stairs. When you reach the rooftop, you gain access into a small shrine which gives you a panoramic view of the city of Himeji. Nishinomaru is a garden, with 600 cherry blossoms (sakura) trees and is a famous spot for Hanami (flowers appreciation).
Furthermore, there is another famous garden near the castle, namely the "Kouko-en Park". Kouko-en Park is an authentic Japanese garden located at the site of the old samurai residence.