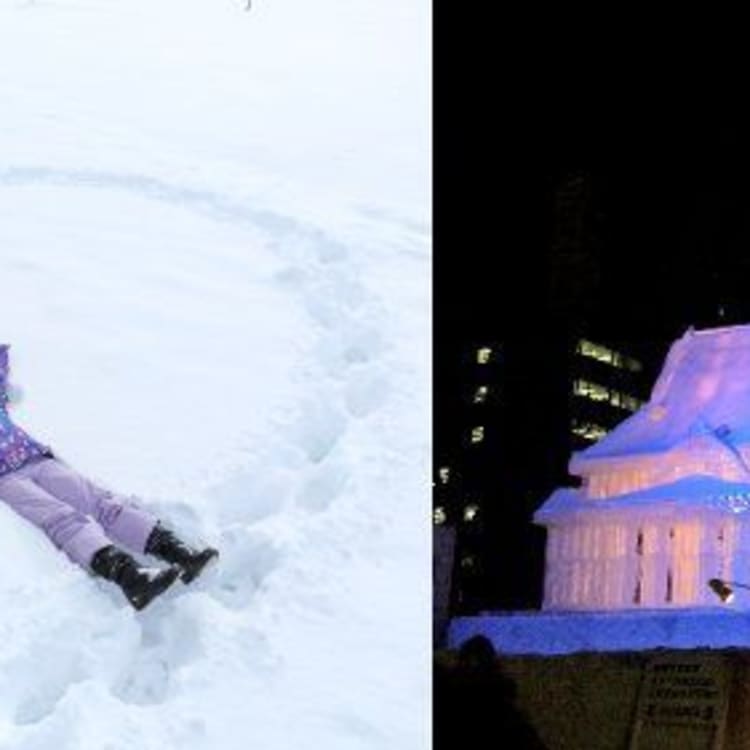 STORY
​3 Recommended Popular Snow Festivals in Winter of Hokkaido and Tohoku
by JNTO on 27 November 2019
Snow festival is a festival of snow and ice. "The Sapporo Snow Festival" is indisputably famous, while in fact there are many other festivals of snow in Japan and each with unique atmosphere. They may not be easily accessible from Tokyo, but they will definitely provide you with special snow experiences. As such, these festivals will be worth your visit!
What Is "Snow Festival"?
Snow Festival is commonly known a festival with statues of snow and ice, while there are also stage performances and even fireworks! Usually, these festivals are available from around January to February each year and are concentrated in snowy regions such as Hokkaido, Tohoku, Hokuriku, and Shinshu.
During these festivals, you can enjoy a wide range of fun snow activities such as snow sliders. At certain ski resorts, you can also catch brilliant displays of fireworks contrasted against the snowscape. Snow Festivals are sometimes called Snow Lantern Festival or Winter Festival instead, depending on the regions and the events themselves.
Snow Festivals Start as Early as December! The Ones in Hokkaido and Tohoku
Beginning in late December, various snow festivals in Hokkaido and Tohoku areas open and attract large crowds. The more traditional ones with long history include "Hirosaki Castle Snow Lantern Festival" at Hirosaki City of Aomori Prefecture and "Namahagesedo Festival" at Akita Prefecture.
During the snow season, visitors are able to catch the different views of the important national heritages as they are covered in snow! Let us look at 3 biggest snow festivals in Hokkaido and Tohoku this time.
Have a Glimpse of the Fascinating Icicles
"Zao Snow Monster Festival"
The "ice trees" ("Juhyo" in Japanese) take on various shapes when they arebeautifully formed by heavy snowfall and freezing winds, being one of the most spectacular winter phenomena you can see in Japan! These snow-covered trees usually form around mid-February at the peak of Zao Ski Resort and look like giants staring down the slopes, so they are also known as the "snow monsters".
Zao Onsen Ski Resort is also where the most famous winter festival in Tohoku is held. Several fun activities including the riding of the ropeway that provides you with a bird eye's view of the "snow monsters", "Taimetsu Kassou" (literally "Torch Sliding") whereby you can go down a slide with a string of LED lights on the slopes, and the viewing of fireworks and many more. A must-see is the light-up at night which illuminates the vast hill with hundreds of snow monsters! You can also get onto the Night Cruiser and have a closer look!
Zao Onsen Ice Monster Festival
Address: Zao Onsen, Yamagata-shi, Yamagata Prefecture
Access: Walk to the Center Building from JR Yamagata station east exit and get onto Yamako Bus for a 40-minute ride, then get off at Zao Onsen Bus Terminal and walk for about 5 minutes.
※The event day of 2020 remains tentative at the moment.
※Ice tree light-up is from 28th December 2019 to 29th February 2020 and from 5:00 p.m. to 9:00 p.m.
The Most Representative Winter Festival
"Sapporo Snow Festival"
Sapporo Snow Festival is a huge annual festival of ice and snow- it is world famous and attracts over 2 million local and overseas visitors. The enormous ice and snow statues are usually displayed in Odori Park, Susukino (one of Japan's famous entertainment areas) and Tsu Dome (community dome) in Sapporo City of Hokkaido. In other words, this particular snow festival is divided into three major zones.
The Odori Park site features a large number of statues and sculptures of various sizes and characters made with snow and ice. Light-up will be held from sunset to 10:00 pm during the festival. As this event is well known and very popular, it is usually filled with large crowds. At the 11-chome venue, you can find the "International Snow Statue Competition" with participating teams from various corners of the world. Videos of the creation process are also shown!
There is also a "Fureai Square" with large slides made from snow and ice for kids, ice statues which you can touch, and a projection mapping show. It is highly recommended to plan your route through the three zones.
 
For even more information, you can also take a look at the other articles contributed by our members : https://japanbyjapan.com/discover/sapporo-snow-festival-1.
 
"Iwate Snow Festival"- Fun in Eight Nearby Locations!
©Iwate Snow Festival
 
A snow festival held in as many as eight locations simultaneously, centering the Iwate Kogen Snow Park with snow statue competition, snow sliders, snow play plaza. You can even sign up to dress as a ninja while participating in the various winter activities. Here you can also enjoy outdoor hot bath with surrounding snowscape, and "Kamakura Jingisukan" the lamb hotpot dinning inside snow house-. With the wide variety of fun activities here, this is certainly one of the snow festivals you will want to include in your itinerary.
For even more information, you can also take a look at the other articles contributed by our members:https://japanbyjapan.com/discover/iwate-snow-festival.
 
Iwate Snow Festival
Address: 【Iwate Kogen Snow Park】Mt. Iwatesan, Nagayama, Shizuku-cho, Iwate-gun, Iwate
Event Date: 7th February 2020 - 11th February 2020