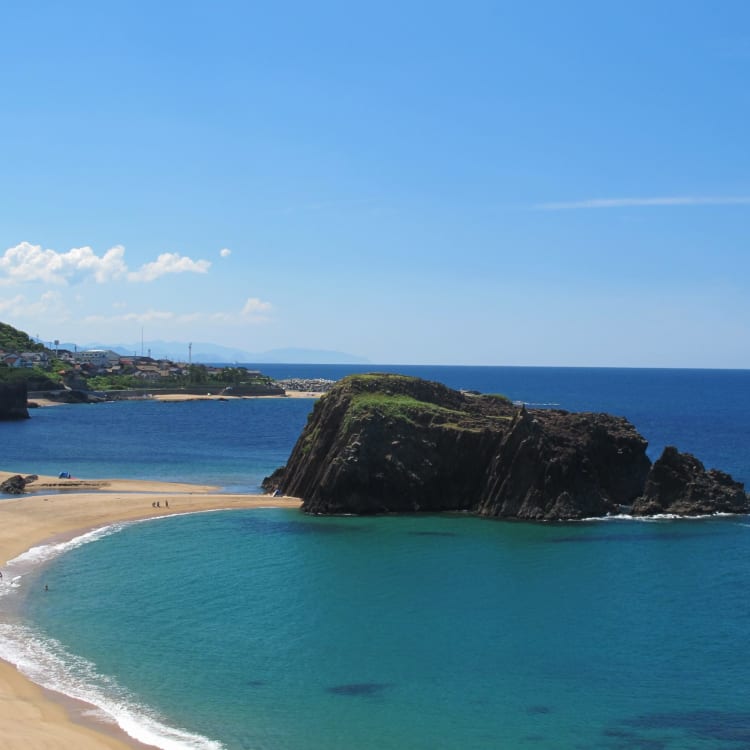 Story
A Wonderland of Magnificent Landscapes
Exploring San'in Kaigan Global Geopark
By JNTO On 31 May 2021
Stretching from Kyotango in Kyoto Prefecture to the Hakuto coastline in Tottori Prefecture, San'in Kaigan Geopark is a UNESCO-designated park that not only showcases the coastal geography along the Sea of Japan, but also consists of inland areas filled with ancient, natural landscapes. In this vast region, you'll find a huge variety of unique geological formations – like mysterious caves and sandbars – as well as coastal sand dunes and geothermal regions where some of Japan's most revered hot spring resorts lie.
As you traverse across 75km from Tottori to Kyotango, the landscapes and experiences vary from west to east, as well as from the coast to inland.
Coastal attractions
Starting from the west coast of the park is the magnificent Tottori Sand Dunes, a coastal topography characterised by undulating sand hills patterned by the wind. The dunes are ideal to try your hand at sandboarding, riding a fat bike, or even paragliding.
If you prefer to explore the waters on a kayak or sightseeing boat, a breath taking collection of shallow coves, steep cliffs, and sandy bays sculpted by wave erosion can be found all along the coast from Uradome in Tottori Prefecture to Takeno in Hyogo Prefecture. A number of interesting islets dot the coast, including Sengan-Matsushima Island, a slanted rock islet topped by a lone tree, and the five interconnected islands of Natane Goto Islands which are carpeted in wildflowers in spring.
The craggy shoreline also boasts sea caves like the Ryujindo Cave which comprises two sea caves carved by waves, making it extremely popular with divers. The Asahi Sea Cave is actually a portion cut out of Cape Nokogiri, creating a tunnel which is particularly beautiful when it frames the sunrise.
There are also beaches with intricate coves, shallow waters, and white sand, like Kamogaiso Beach which is surrounded by cliffs and islets, as well as the scenic Imago-Ura Beach which is popular for camping. One of Japan's top swimming beaches is Takeno Beach in Hyogo Prefecture, which features a white sand beach and shallow, clear waters.
Hot springs to relax in
In addition to coastal attractions, San'in Kaigan Geopark also comprises several geothermal attractions. Hyogo Prefecture has plenty of popular hot spring towns, including the popular Kinosaki Onsen which is famous for its nostalgic atmosphere. Nestled in a lush valley, traditional ryokan buildings line the river that flows through town, which is lit at night with gas lamps to evoke a romantic charm.
Another hot spring area is Shin-onsen, which is home to several hot spring towns, including Shichikama Onsen, Hamasaka Onsen, and the popular Yumura Onsen. Here, natural hot spring water flows into the river in the heart of town in an area known as Arayu, where the 98ºC water is used by both locals and visitors to cook various ingredients, like eggs and vegetables.
For a scenic hot spring retreat by the ocean, there is Yuhigaura Onsen in Kyoto Prefecture's Kyotango region. Situated along Hamazuma Beach, which is famous for its white sand bathing beach, this charming town is a great place to have a soak while watching the sun set over the water.
Cultural influences in the region
This massive geopark's attractions are far more than just geological wonders and thermal hot springs; mankind has also shaped the landscape for centuries.
In Hyogo, the terraced rice fields of Nukita and Muraoka are unique for their graceful, stepped curves that spread out across the mountainous landscape. While in Kyotango, Sodeshi Village, the rice terrace are famous for being located between the steep mountainside and the sea. The land was shaped by earthquake and waves, resulting in the creation of about 400 rice terraces boasting incredible views of the ocean. All of these rice terraces are listed in the top 100 rice terraces in Japan and the best times to visit are early May when the rice is planted, and September when it's harvested.
Other than rice terraces, San'in Kaigan has developed a fishing culture over the ages naturally, being a coastal area. The fishing culture is defined by towns featuring wood-planked, tile-roofed houses huddling along narrow streets at the foot of steep cliffs. 
Make the most of the trip
The diverse nature of San'in Kaigan Geopark offers a wide range of different activities including kayaking in shallow, clear waters along the coast, having fun picking crustaceans along sandy beaches, or sandboarding on the dunes of Tottori. This can be followed up by a scenic trip to a rice terrace before ending the night at a hot spring resort like Kinosaki Onsen. 
To get a lay of the land, you can drop in on the San'in Kaigan Geopark Center to have an in-depth knowledge of the area's attractions and history. 
Official Website: Sanin Coast Geopark (sakura.ne.jp)