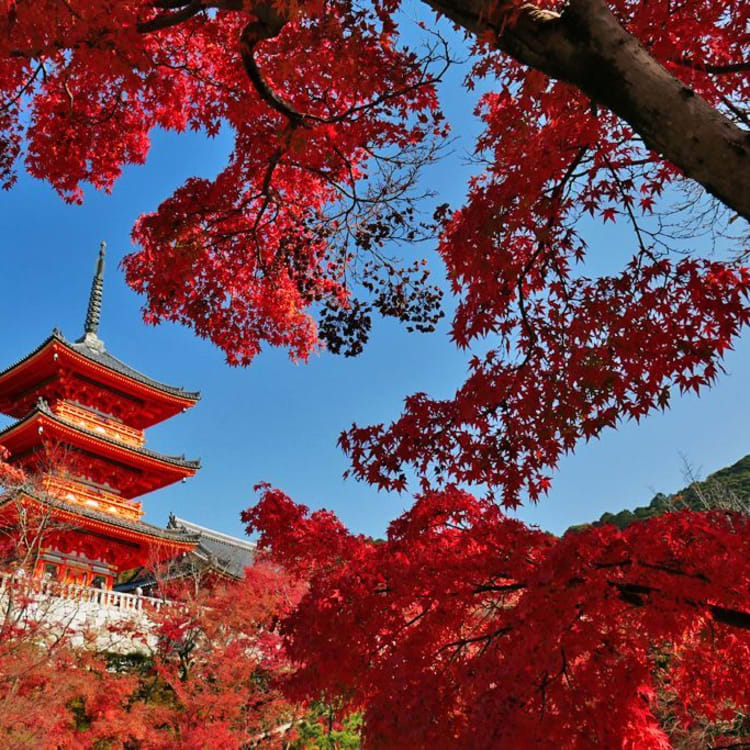 STORY
​3 Recommended Autumn Leaf Spots in Kyoto Elusive to even Japan Connoisseurs!
by JNTO on 31 October 2019
Japan has four distinct seasons and autumn is one of the popular seasons for its breathtaking sceneries of autumn leaves (commonly known as "red leaves").Visiting in December may sound too late for autumn leaves but, in fact, Japan has so many places you can visit and the bright, reddish leaves are likely to be still around in some places! In this article, we are going to look at some hidden spots in Kyoto good for enjoying the splendid views of these leaves even at early December. Here we go!
"Autumn leaves" refers to the leaves of deciduous trees and ginkgo leaves changing into red and yellow. Usually, the splendid colours can be seen in Hokkaido from mid-October to late November. The best season is early October for highlands like Nikko and Karuizawa, and late November for plains like Tokyo. According to broadcast (of Japan Weather Association), red leaves generally came late in 2019 and the bright reddish colours can still be seen even in early December in Kyoto. Hotspots like Kiyomizu Shrine, Kodaiji Temple and Kifunejinja Shrine hold spectacular light-up events at night during the season to reveal another kind of beauty whereby red leaves appears to be glittering in the dark.
You can find out more about Kyoto's red-leaf hotspots here:
https://japanbyjapan.com/discover/kamogawa-duck-river
https://japanbyjapan.com/discover/tofuku-ji
Hidden Red-Leaf Spots for Those who Prefer to Enjoy the Views in Tranquility!
Bright-red Painted Yoshinomon Entrance Perfect for Photos - "Joshoji Temple"
Joshoji is a temple in Kita Ward, Kyoto city. The bright-red Yoshinomon entrance and reddish approach adding different shades of red to the view of the red leaves make this spot worth viewing and clicks from your camera shutters. Besides the magnificent main hall, you can also experience an extraordinary tea break at "Ihoan Teahouse", all surrounded by yellow and orange colours in the seasons. In late autumn, the temple is all covered by leaves, so you should visit especially if you prefer to enjoy the beautiful view with less crowd.
 Joshoji Temple
Address: 1, Takagaminekitatakagamine-cho, Kita-ku (Kita Ward), Kyoto City
Access: Take subway Karasuma line at Kyoto station and get off at Kitaooji station. Transit toKyoto Bus Kita-1 (north-1) at the Kitaooji Bus Terminal,get off at Takagaminegenkoan bus stop, then walk about 2 minutes.
Opening hours: 8:30 am – 5:00 pm
 
"Enkouji Temple", with its gardencovered by the red leaves carpet
Enkouji is a temple located in a mountain valley of the tranquil Ichijoji area in Sakyo-ku (Sakyo Ward), Kyoto. It is a little far from the center of the city and on the mountainous region, thus here is a bit colder.
There are beautiful reddish leaves in autumn every year, particularly, the winning view of its lovely garden "Jugyunoniwa" with a pond and paths all covered by red leaves. The colour contrast is as striking as a picture when you look from within the temple.
 
Enkouji Temple
Address: 13, Kotani-cho, Ichijoji, Sakyo-ku, Kyoto City
Access: Take Kyoto City bus no. 5 at Kyoto station and get off at Ichijojikudari Matsucho bus stop, then walk about 10 minutes.
Opening hours: 9:00 am – 5:00 pm
 
"Shojiji Temple", Dyed Red by Over 100 Trees!
 

Shojiji is a temple at the foot of the mountain of Nishiyama. It is commonly known as "the temple of flower", with the famous "Saigyozakura" cherry blossom tree planted by Saigyo monk who is a cherry blossom lover. However, red leaves here are equally attractive. It has as many as 100 red leaves trees in autumn and its unique dark reddish colour is rare even in Kyoto.
Please do not miss the perfect red at Rurikoden hall. The best time to visit the temple is mid-November.
Shojiji Temple
Address: 1194, Oharano Minamikasuga-cho, Nishikyo-ku, Kyoto city
Access: At JR Mukomachi station or Hankyu railway Higashi-mukomachi station, take Hankyu bus and get off at "Minamikasuga-cho, then walk about 20 minutes.
Opening hours: 9:30 am – 4:30 pm (late admission 4:00 pm)
※Remain closed in February