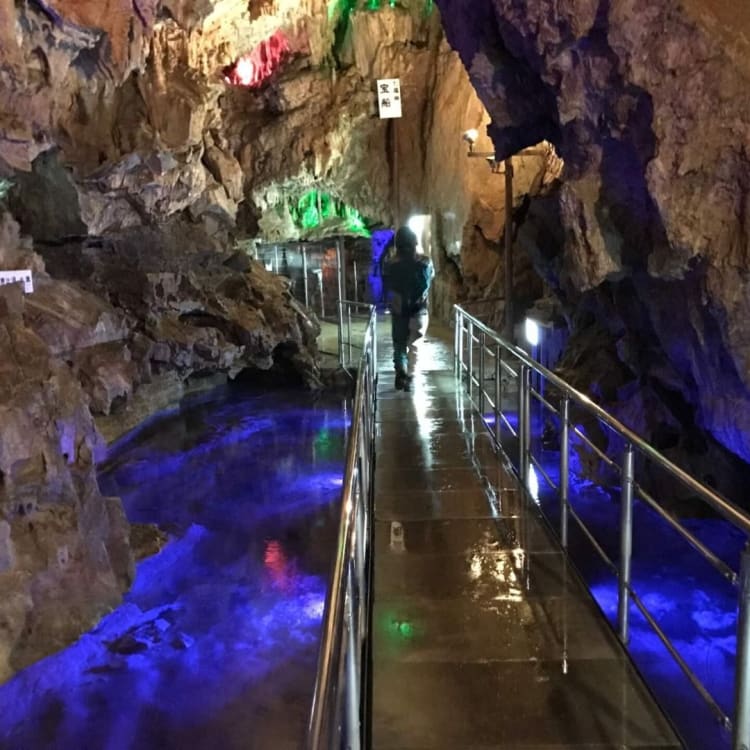 Story
Behold Japan's Natural Wonder: The Great Limestone Cave of Hida
by JNTO on 05 March 2018
Visiting the towns in Gifu is a real sensory treat, especially in Hida where there is no shortage of lovely scenery and great food. But if you are after an experience that will leave you in awe, then the Hida Great Limestone Cave is an attraction you must see.
The Highest Cave in Japan
Formed nearly 250 million years ago, the cave system is the highest in Japan at more than 900m above sea level.
Just as impressively, it extends 1,800m into the earth. Thankfully, you only need to explore the first 800m (the section open to visitors) to enjoy most of its glory.
Ohashi Collection Kan Museum
Upon arrival, decide which of three caves to explore. They vary in difficulty but each is a sight to behold.
Before you begin your adventure, be sure to check out the museum housing the cave founder's more than 1,000 art pieces, including gold blocks once stolen by thieves!
Nightscape of the Dragon's Palace
Known to the locals as Ryugu no Yakei, this is the highest point of the cave and is the first magnificent sight to greet you.
Iridescent red and blue colors radiate from the walls and can distract you from the wet ground so be careful!
The Dream Palace
The colors become more vivid as you venture farther into the cave.
Before long, you'll encounter surreal icicle-like formations lining an area aptly called The Dream Palace. It's so beautiful here, you might end up pinching your own arm to remind yourself that everything you see is real!
Moon World & Fall of Happiness
Over in the third cave, you'll find the Tsuki no Sekai, better known as Moon World. It's a mysterious, lunar-like landscape unlike anywhere on earth.
Move down the narrowing path and you'll come to a surprising sight: a waterfall! Time for pictures because Kofuki no Taki, or the Fall of Happiness, is one view that will earn you endless 'wows' on your social post.
The Sights Outside
Not all the attractions are found inside the caves. Between January and March, you'll see breathtaking ice cascades near the cave opening. And all year round, we recommend exploring the rural life around the famous cave to witness a side of Japan that is just as fascinating.
Gourmet All Around

With all the visual delights, your tummy might feel left out. Don't worry, the many street vendors in Hida have plenty to offer.
Try the famous Hida beef and top it off with a croquet that is bursting with juicy flavors. They are enough to make you come back to Hida sooner than you imagined.
Hida Great Limestone Cave of Gifu
Website: http://www.syonyudo.com/en/
Address: 1147 Hiyomo Nyukawacho, Takayama, Gifu 〒506-2256
Opening Hours: 8am – 5pm (Apr – Oct) / 9am – 4pm (Nov – Mar)
Getting There:
30 mins by car from Takayama City along Route 158 (towards Matsumoto)