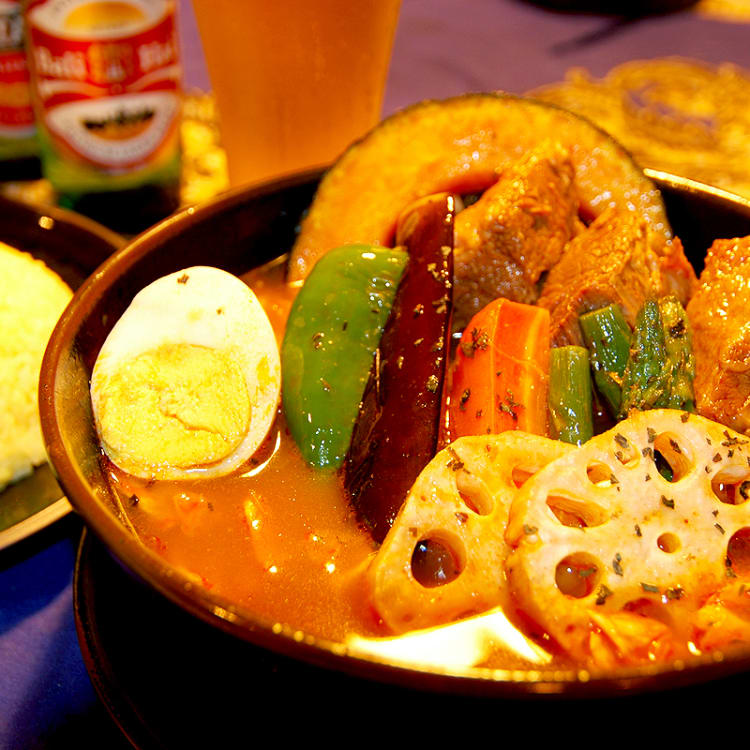 Story
A bowl of piquant goodness Savouring Hokkaido's soup curry
By JNTO On December 3 2021
Japan's northernmost island of Hokkaido is famous for many things, from the world's best ski resorts like Niseko and Furano to amazing wildlife such as rare dancing cranes. It's also home to Hokkaido's unique dish: Sapporo soup curry.
With its customisable spice level, this hearty piquant soup has a hearty amount of meat and vegetables, and is a popular meal for both locals and visitors to the island.
Origin of soup curry
While some dispute its precise origins, aficionados widely agree the first soup curry was created in 1970 at a café in Sapporo, which is still open for business today! It was originally made as a staff meal, and was so popular that it was added to the menu. Its former name was "medicine soup curry" due to its slightly herbal taste, as well as to help differentiate it from other better-known Japanese curries (eg. curry rice, curry udon, etc.).
The original soup curry was largely inspired by Chinese and Korean-style medicinal herbal soups, mixed with regional curry recipes from Southeast Asia (Indonesia and Thailand) and South Asia (India, Nepal and Sri Lanka). Locals often eat it in summer to help them sweat (and cool down), and in winter to help warm up. It quickly grew in popularity, with dozens and eventually hundreds of specialty soup curry restaurants opening up in Sapporo.
Soup curry is a classic example of yōshoku (foreign dishes adapted into Japanese cuisine), a trend which started in the Meiji era and was arguably at its peak around the time soup curry was created.
Hokkaido's soup curry has evolved into something completely unique from what people know as "curry". For instance, pieces of meat and vegetables are placed on top of your bowl, unlike other conventional curries where they're stewed into the sauce. This allows you to enjoy each flavour individually as part of the overall taste experience. Soup curry broth is also thinner than other curries, allowing it to compliment, rather than cover the flavours of individual ingredients.
What goes into soup curry?
While every shop's recipe is different – with vegan and vegetarian options available – the classic soup curry typically includes a main meat. The quintessential choice is chicken (either a tender, slow-cooked chicken leg or chicken meatballs), or thick slabs of pork bacon, and occasionally sliced beef or mutton.
The dish is typically accompanied by a wide range of fresh produce prepared "suage" style (ie. non-battered and deep fried), including carrots, root vegetables like lotus, potato or pumpkin, seasonal mushrooms (maitake, shimeji, shiitake), eggplant, white and green onions, as well as okra.
The soup itself is made with coconut milk, curry powder, garam masala, garlic, ginger, pepper, tomato paste and of course, fresh chillies. A soup curry meal is always accompanied by a side of white rice.
Custom spice level
Japanese cuisine isn't typically known for its spiciness, but soup curry has a customisable spice level which ranges from 1-10 or even higher. Lower spice levels allow you to enjoy the mellow, piquant broth, while higher spice levels can create an extra-sensory experience, as they raise your brain's serotonin levels. For lovers of spice,
Where to savour soup curry
Over the last 50 years, soup curry has become popular across Japan and the world, but there's nothing quite like having Sapporo's most famous food in its own hometown. 
Here, you can find hundreds of soup curry restaurants, including famous names like Soup Curry Garaku, which is known for its rich, dashi-based soup broth and spice levels ranging from 1 to 40! Garaku specialises in the classic chicken soup curry, but they also offer unique twists like bacon-cheese and quail eggs. 
In case you can't make it to Sapporo, Garaku has branches in Tokyo and Bangkok, while many other famous soup curry restaurants can also be found all over the world, from Melbourne and New York to Singapore.
Soup Curry Garaku
Address: 2-6-1 Minami 2-Jo Nishi, Chuo-Ku Okumura Bldg. B1F North Entrance, Sapporo 060-0062
Opening hours: 11.30am to 3:30; 5pm to 11.30pm
Website: http://s-garaku.com/ (Japanese only)