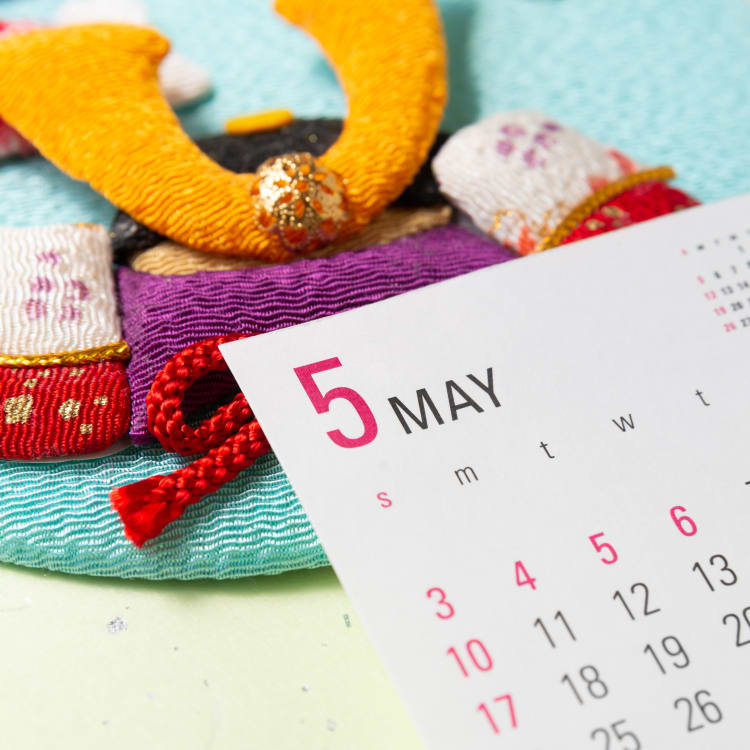 Story
Celebrating the Boys of Japan
The traditions of Tango no Sekku
by JNTO on 28 April 2021
In Japan, May 5 is a public holiday celebrating Children's Day and colourful displays of carp-shaped streamers called koinobori are hung outside homes. This day was originally supposed to celebrate boys and wish for their success in life, and therefore is sometimes referred to by its traditional name: Tango no Sekku, or Boys' Day. 
A Japanese tradition steeped in history 
Before there was Children's Day, there was Tango no Sekku, or "double fifth" because it was celebrated on May 5. The word "go" means both "horse" (the Chinese zodiac name for the fifth lunar month) and the number "five" in Japanese, and Sekku means seasonal festival.  
Tango no Sekku is one of the five ancient seasonal festivals influenced by Chinese customs, and the Japanese observance of the celebration is said to have begun around the Nara period (710–794). The day is dedicated to boys in the same way "double third" – March 3, aka Momo no Sekku or Hinamatsuri – is dedicated to celebrating girls. 
However, in 1948, the Japanese government changed the name Tango no Sekku to Children's Day – or Kodomo no Hi – and made it a public holiday to celebrate both boys and girls. Children's Day falls on the last day of Golden Week, which is Japan's longest holiday period when businesses normally close for 9 to 10 days. 
Traditions of Tango no Sekku 
On Tango no Sekku, households across the country will raise colourful carp streamers called koinobori outside their homes. Not only is the carp a symbol of the holiday, it is also a symbol of success in life and thus is hung to wish boys a healthy and prosperous growth.  
The black carp (magoi), is the largest and it represents the father, while the mother is represented by the red carp (higoi). Traditionally, before Tango no Sekku was renamed Kodomo no Hi, the red carp represented the eldest son, followed by blue, green, and other colours for subsequent sons. Today, the eldest child, whether a boy or girl, is usually represented by the blue carp, with an additional carp added for each younger sibling.  
Dating back to the Edo period, families with boys will also decorate their homes with miniature samurai armour (yoroi) and helmet (kabuto) or a samurai warrior doll called musha ningyo as a tradition. These displays are normally modelled after brave warriors of folk tales such as Momotaro and Benkei – which are set up to inspire boys to be strong and powerful. 
Another Tango no Sekku custom is taking a shoubu-yu, a hot bath with floating Japanese iris leaves, which is believed to ward off malicious spirits and misfortune with its fragrance. Some public bathhouses offer shoubu-yu baths during this time as part of the tradition celebration. 
Celebrate Tango no Sekku like a local 
Celebrating Tango no Sekku includes eating special festive foods believed to build vigour and ward off illnesses. Chimaki, steamed glutinous rice wrapped in bamboo leaves and tied with string are normally eaten in the Kansai area, while kashiwa-mochi, rice cakes filled with sweetened bean jam and wrapped in oak leaves is common in the Kanto region. 
You can find both the chimaki and kashiwa-mochi at Japanese confectionary stores, department stores, and convenience stores all around Japan from April onwards. 
From around mid-April, events celebrating Children's Day are held across Japan, and almost every region has a riverbank or park that's famous for their colourful display of koinobori. Some well-known places to view these koinobori are the Tsuruodagawa River in Gunma, Tsuetate Onsen in Kumamoto, and Tokyo Tower. It's a great time for visitors to admire the landscape painted by the thousands of colourful fluttering fish of different sizes.